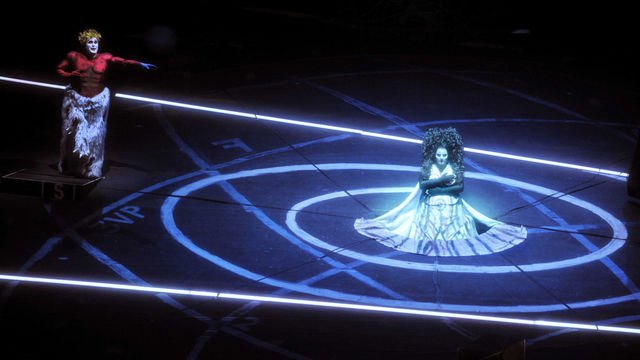 Wagner in LA: The Opera of the 21st Century? (Day 1)
Tuesday
Jun 1, 2010
1:00 PM to 7:00 PM
This is a past program
Sponsored by the UCLA Department of Comparative Literature, the UCLA Program in Experimental Critical Theory, and the Hammer Museum, this two-day conference will examine various aspects of Wagner's music, including its legacy in Southern California, as a major influence on the history of film music and exile culture; and its continuing importance in contemporary music, art, and philosophy. The conference will also examine Wagner's anti-semitism, and the issues that it raises in both of those cultural contexts.
June 1, 2010
1:00PM 
Spectral Gesamtkunstwerk 
Juliet Koss, Chair, Department of Art History, Scripps College 
2:30PM
Re-Inventing Bayreuth for the 21st Century: The 2007 Meistersinger as a Self Reflection of Performance History 
Clemens Risi, Professor of Theater, Institut für Theaterwissenschaft, Berlin
4:00PM 
The Ring in Pieces: Götterdämmerung (Stuttgart Opera, Peter Konwitschny, 2002-2003) 
David Levin, Professor of German and Theater and Performance, University of Chicago
5:30PM
Wagner as a Christian Jew: The Alternate Endings of The Twilight of the Gods 
Slavoj Zizek, Senior Researcher, University of Ljubljana, Slovenia 
7:00PM
Public Reception
ALL HAMMER PUBLIC PROGRAMS ARE FREE. Tickets are required, and are available at the Billy Wilder Theater Box Office one hour prior to start time. Limit one ticket per person on a first come, first served basis. Hammer members receive priority seating, subject to availability. Reservations not accepted, RSVPs not required. 
Easy parking is available under the museum for $3 for 3 hours, or a $3 flat rate after 6:00pm.
Generous support provided by the UCLA Dean of Humanities, the German DAAD Foundation, the UCLA Center for European and Eurasian Studies, UCLA R.U. Nelson Fund in Music, UCLA Department of Musicology, the UCLA Department of Germanic Languages, and the UCLA Center for Intercultural Performance.
Public programs are made possible, in part, by a major gift from Ann and Jerry Moss.
Additional support is provided by Bronya and Andrew Galef, Good Works Foundation and Laura Donnelly, an anonymous donor, the Hammer Programs Committee, and Susan and Leonard Nimoy.