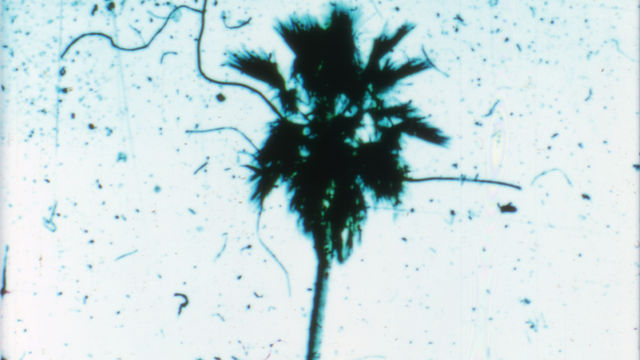 Restoring the Los Angeles Avant-Garde: Things are Always Going Wrong
Saturday
May 30, 2009
7:30 PM to 10:30 PM
This is a past program
Although cinematic experimentation in the shadow of the industry goes back as far as Hollywood itself, the 1960s and 1970s in Los Angeles were a particularly vibrant and exciting time and place for experimental filmmaking. In no other city did there exist such a harmonious and cacophonous intersection of the commercial, the industrial, the underground and the art scene. Perhaps the most bluntly rendered illustration of this melding of worlds can be found in the Sears commercial made by Pat O'Neill, Chick Strand and Neon Park.
Despite the astounding variety and volume of strong, unique and diverse work coming out of the Southland during this time, much of it has been unseen here for many years. This screening will showcase a broad range of work made between 1963 and 1980, all in restored prints from the Academy Film Archive. Featured works include two of Gary Beydler's mesmerizing and moving recompositions of local landscapes, David Wilson's oft-referenced but rarely seen Stasis (1976), and Bruce Lane's unc. (1966), a recently revived masterwork of distilled intensity. Rounding out the program will be a range of rarely seen films by Fred Worden, Chris Langdon, Roberta Friedman and Grahame Weinbren, Diana Wilson and Pat O'Neill.
By the Sea
Directed by Pat O'Neill and Robert Abel
Organic and inorganic forms observed and captured at Muscle Beach are flattened onto slides beneath carefully applied cover slips and prepared for closer examination.  
(1963, 16mm, B/W, sound, 10 min.)
Throbs
Directed by Fred Worden
Demonstrating a remarkable subtlety and restraint, Fred Worden explores the small epiphanies and nuanced areas of visual delight resulting from the energies created by a vibrant chemical reaction of intermingling footage.  
(1972, 16mm, color, sound, 7 min.)
Pasadena Freeway Stills
Directed by Gary Beydler
Possibly the most lucid, vivid and awesome demonstration of the building up of still images to create moving ones, Pasadena Freeway Stills simply, gracefully and powerfully shows us the process by which we are fooled by the movies.  
(1974, 16mm, color, silent, 6 min.)
unc.
Directed by Bruce Lane
A haunting, affecting, three-minute epic constructed of memorable images and densely imagined narrative fragments distilled to an essence that registers dread, dissolution, fear and despair, but also a bittersweet melancholy, both for an idealized past and a diseased present. 
(1966, 16mm, color, sound, 3 min.)
Murray and Max Talk About Money
Directed by Roberta Friedman and Grahame Weinbren
"We are always interested in constructing ways of evoking the pleasures of cinema without implicitly accepting an ideology—of passivity, manipulation, and repressed violence—that we would explicitly reject. Can there be films that remain cinematic without indulging in one form of pornography or another? Murray and Max... is, in part, a proposal, a blueprint, for such a form of cinema." —Roberta Friedman and Grahame Weinbren  
(1979, 16mm, color, sound, 15 min.)
Venusville
Directed by Fred Worden and Chris Langdon
No montage, no human subjects, minimal visual content, and the artists basically pissing on the fourth wall by calling attention in every way possible to the artifice of what they're doing. An anti-film school film made at film school. 
(1973, 16mm, color, sound, 10 min.)
Rose for Red
Directed by Diana Wilson
An unusual, jewel-like homage to unity and discordance in filmic composition. 
(1980, 16mm, color, sound, 3 min.)
Stasis
Directed by David Wilson
The intentional misnomer of the title plays upon the misapprehension that the negation of one dynamic process with its inverse complement would result in something static. A landscape film wherein the invisible landscape between the capturer and the captured is brought mysteriously into view. 
(1976, 16mm, color, sound, 7 min.)
Venice Pier
Directed by Gary Beydler
Shot spatially out of order on the Venice pier over the course of an entire year, Gary Beydler recomposed the footage in editing to make it proceed consistently forward in space, resulting in an intricate mixing up of chronology. Some cuts could represent a jump of months either forward or backward in time. The result is one of gauzy impressionism brought into vivid and breathtaking clarity.  
(1976, 16mm, color, sound, 16 min.)
Picasso
Directed by Chris Langdon
"When Picasso died I wanted to make the first post-mortem documentary, as I knew would happen anyway, and cheaply. The film took four hours to finish from camera to print and cost a little under $5." —Chris Langdon  
(1973, 16mm, B/W, sound, 3 min.)
Sears Sox
Directed by Pat O'Neill, Neon Park, and Chick Strand
A bonus presentation of a short piece of commercial work done by three legendary L.A. artists. 
(1968, 16mm, color, sound, 5 min.)
IN PERSON: filmmakers Pat O'Neill, David Wilson, Grahame Weinbren, Fred Worden, Roberta Friedman and Academy Film Archive preservationist Mark Toscano.
Total running time: approx. 85 min
All Films shown in restored prints from the Academy Film Archive, and courtesy of the filmmakers.  Funded by the UCLA Arts Initiative. Co-presented with the UCLA Film and Television Archive and Los Angeles Filmforum.
Public programs are made possible, in part, by a major gift from Ann and Jerry Moss.
Additional support is provided by Bronya and Andrew Galef, Good Works Foundation and Laura Donnelley, an anonymous donor, and the Hammer Programs Committee.