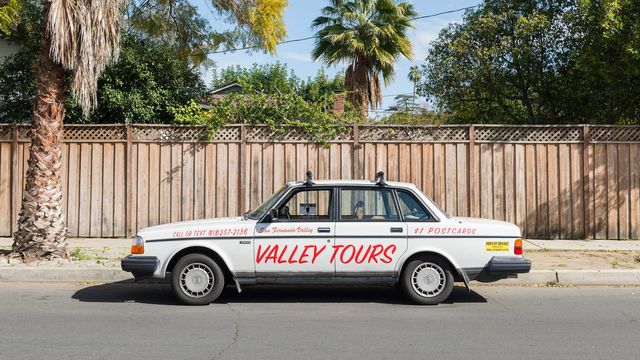 Vincent Enrique Hernandez
For the past several years, Vincent Enrique Hernandez has been working on an ongoing project, called Valley Tours, an expansive multimedia artwork that, as the title suggests, centers on tours of the San Fernando Valley, commonly referred to as "the Valley." This 250-square-mile region sits in Los Angeles County and contains more than thirty neighborhoods that make up half of the city of Los Angeles. The Valley is typically considered a lesser-known part of the city, a suburb that is not frequented by tourists and that is often maligned through cultural clichés. Hernandez is interested in these potential lapses of knowledge and inexact preconceptions, and Valley Tours is a means to address them. At the center of the project is the tour itself—a multihour experience spent with the artist driving around in his Valley-themed Volvo—and the project extends to other manifestations, including photographic documentation, sculptures, and postcards. Hernandez's tours include a history of the land the Valley is built on and the people who have inhabited it, origin stories of special note, such as that of local legend Ritchie Valens, and idiosyncratic stories about everyday life and personal experiences there. This project not only offers a corrective to cultural oversights, educating people about the region, but it also suggests that value can be established through care, interest, investment, and curiosity. It is an invitation to pay attention to the places and people around us, to rethink what is worthy of historical memory, and to dig deeply where we are, as well as, of course, to appreciate the Valley.
Bio
Vincent Enrique Hernandez (b. 1998, Los Angeles) received a BFA from the California Institute of the Arts in 2021. He was an artist-in-residence at the Tides Institute & Museum of Art (2022).