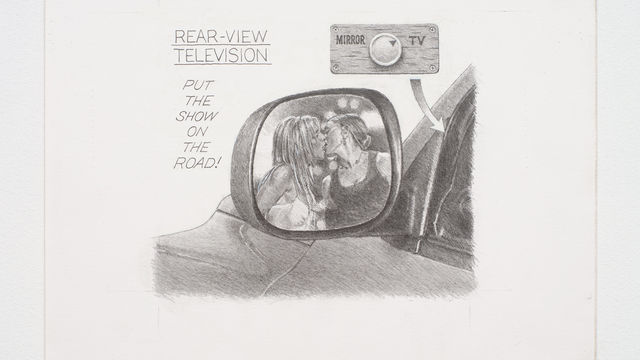 Pippa Garner grew up amid the postwar explosion of commercial culture in the United States. Her drawings and sculptures frequently take the form of bizarro parodies of cultural obsessions with products that promise to improve your life, health, and happiness. Since Garner moved to California in 1961 to study transportation design at the Art Center School (now ArtCenter College of Design), automobiles have been a defining interest of her life and career. For fifteen years she contributed monthly illustrations to Car and Driver and L.A. Magazine. Garner's drawing practice is a vast archive of thousands of wacky consumer inventions. 
For much of her career, Garner has worked outside art institutions, often using her own body as a medium for challenging gender expression. Recently she has both created and modeled a series of cheeky T-shirts with slogans like "I'd rather butter myself than better myself" and "Just to play it safe, I have an autopsy every five years." Reveling in misbehavior, Garner prods the boundaries of traditionally acceptable language and conduct.
Bio
Pippa Garner (b. 1942, Evanston, Illinois) received a BFA from ArtCenter College of Design in 1970. Recent solo exhibitions include those at Kunsthalle Zürich (2023); Kunstverein München, Munich (2022); JOAN, Los Angeles (2021); Jeffrey Stark, New York (2021); Stars, Los Angeles (2021); O-Town House, Los Angeles (2019); and Redling Fine Art, Los Angeles (2019, 2017). Garner has performed widely, including at Other Places Art Fair, San Pedro, California (2018); Dinner Theater at Leroy's, Los Angeles (2018); Gallery at Michael's, Santa Monica (2017); New Langton Arts, San Francisco (1985); Lhasa Club, Los Angeles (1983); Institute of Contemporary Art, Los Angeles (1980); Whitney Museum of American Art, New York (1980); 80 Langton Street, San Francisco (1979); La Mamelle, Inc., San Francisco, broadcast on KTSF-TV (1979); and Vanguard Gallery, Los Angeles (1979).