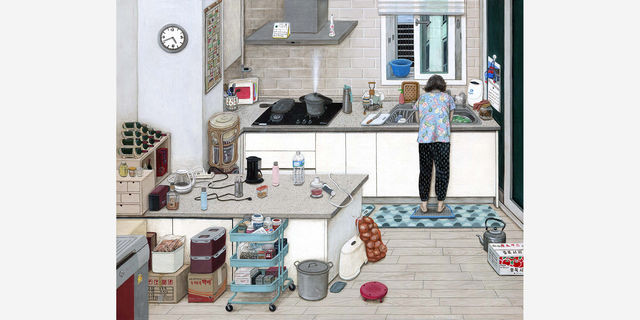 Paige Jiyoung Moon's small-scale acrylic paintings present a variety of images of everyday life. They are intimate and quiet, inspired by photographs of the artist's living spaces, Southern California cityscapes, and public gathering places. Moon's paintings are intricately rendered with fine brushes. They depict an individualized and detailed domesticity that offers specificity and also makes us wonder what might exist beyond the edges of the painting. The artist works with the material of daily life and mundane scenes: washing dishes, napping with her baby, a day at art school, a local commute. She pays full attention to the moment while also rendering what appear to be stills in a larger cinematic story. Moon is committed to "minor" stories, bringing these scenes to the foreground as a way to highlight the importance of deceleration, family bonds, and community.
The artist's outdoor scenes are finely textured, attempting the same level of detail as her interior paintings even as the scale of the scene has become monumental. Moon shows people candidly, not aware that they are being observed. Her subjects are family, friends, or strangers on their phones, lying in bed, out for a jog, or enjoying nature. While they include figures, these paintings are largely populated by an abundance of objects that, through her careful rendering, Moon arranges as if undertaking a taxonomic endeavor, creating neatness and order out of a chaotic world.
Bio
Paige Jiyoung Moon (b. 1984, Seoul) received a BFA from ArtCenter College of Design in 2012. Her work has been exhibited in solo presentations at Steve Turner, Los Angeles (2020, 2019), and Steven Zevitas Gallery, Boston (2017).