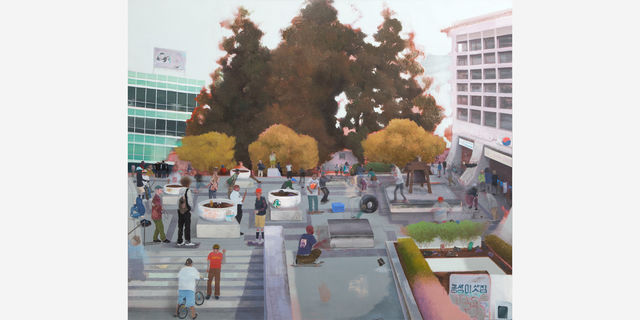 Michael Alvarez's painting practice can be considered a kind of portraiture, of both people and places. He works from photographs and memories to create imagery that does as much to depict the visual details of a person, location, or moment as it does to capture sensation and sentiment. The use of blurring, doubled images, visceral textures, and cloudy translucence conjures the space of memory, wherein feeling and atmosphere are as significant as the particulars. In this way, even as the artworks are precisely tied to Alvarez's own vision of the Los Angeles cityscape and personal history, his work can appear familiar, as if we had been there or we know the people who are pictured. They recall our own experiences of a hot day at a skate park, the haze of a brown L.A. sky, or the pleasurable chaos of a family birthday party.
Alvarez reflects the way people use communal and civic space to tell stories and record their existence through murals and graffiti, both of which appear throughout the artist's canvases. Across his work the artist valorizes everyday life. He marks the tragedies and celebrations that can punctuate our relationships with our families and communities while also capturing the commonplace, tender delights of time idly spent hanging out at parks, tagging train yards, walking through neighborhoods, and enjoying the company of loved ones.
Bio
Michael Alvarez (b. 1983, Los Angeles) received a BFA from ArtCenter College of Design in 2007. His work has been shown in exhibitions at Matthew Brown, Los Angeles (2022); Riverside Art Museum, California (2019); and Marlborough Contemporary, New York (2018). Recent group exhibitions include those at the Cheech Marin Center for Chicano Art & Culture, Riverside, California (2022); Sow & Tailor, Los Angeles (2021); Galería Javier López & Fer Francés, Madrid (2021); and Richard Heller Gallery, Santa Monica (2019).