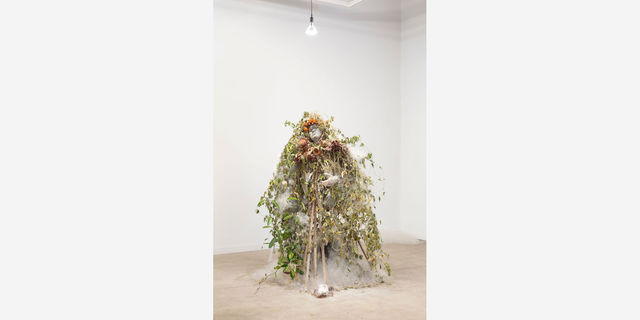 In Maria Maea's practice, the relationship between the artist and her materials is highly intimate. Her sculptures, often body size, are assemblages of organic and inorganic materials drawn from a variety of spaces—including her home garden, urban lots, and the Los Angeles River—each of which carries a history of its own. By working with palm fronds, flowers, seeds, and concrete, the artist arranges sites of invocation that are both highly personal and universal to those who see themselves and their stories in those common materials.
Maea creates sculptures, installations, and performances that investigate and celebrate her experience growing up in Southern California in her family's Samoan Mexican American community. Both a traditional medium in Samoan craft culture and an invasive species growing throughout Los Angeles, the palm features prominently in Maea's work, speaking to the resilience of those forced to uproot their lives in the wake of colonization and their ability to thrive in new, often hostile environments. She engages with these plants through craft by creating vessels, shoes, and abstracted bodies, at times woven together with different organic elements and cast on her own body and on those of family members. By using materials that will deteriorate and decay and by focusing on collaborative making with her family and friends, the artist proposes a practice that challenges the fetishization of objects frozen in time, presenting us with a practice that understands deterioration, mutation, and change as part of the work, just as they are part of life.
Maria Maea (b. 1988, Long Beach, California) has exhibited or performed at Murmurs, Los Angeles (2023, 2022); Palm Springs Art Museum, California (2022); Orange County Museum of Art, Costa Mesa, California (2022); Charlie James Gallery, Los Angeles (2022); Eduardo Secci Gallery, Florence (2022); Museum of Contemporary Art Tucson (2021); LaPau Gallery, Los Angeles (2021); and Oxy Arts, Los Angeles (2020). She was an artist-in-residence at the Palm Springs Art Museum (2022).