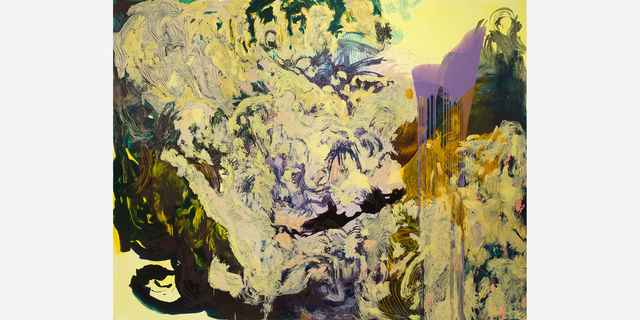 Erica Mahinay works between painting and sculpture, creating gestural works that relate to the body even as they rely on a vocabulary of abstraction. The artist paints on traditional support materials like canvas and linen but also on other fabrics, such as silk parachute fabric. Mahinay applies paint with both a paintbrush and her hands, creating opaque and see-through areas, and she also uses dyeing techniques that saturate fabric with color. She draws our attention to the way a painting is made, emphasizing the substrate and infrastructure of the object and giving materiality to color and gesture.
Mahinay's sculptures have a relationship to domestic objects and the body, and she uses unexpected materials and organic shapes to destabilize our recognition of familiar forms. These works often reference the mirror as a form and also as a larger metaphor for how artworks can provide a space of self-reflection. The mirror-like objects in these works are made from semitranslucent swirling colored glass, offering not reflections of ourselves but instead images that are chaotic and creative, suggesting portals to the larger world.
Bio
Erica Mahinay (b. 1986, Santa Fe) received a BA from Kansas City Art Institute in 2008 and an MFA from Cranbrook Academy of Art in 2013. Mahinay has had solo exhibitions at Lyles & King, New York (2019, 2017); T293, Rome (2019, 2014); Ibid Gallery, Los Angeles (2016); Jessica Silverman, San Francisco (2015); and Loudhailer, Los Angeles (2014). Recent group exhibitions include those at Lyles & King, New York (2019, 2018); Jir Sandel, Los Angeles (2017); Rainbow in Spanish, Los Angeles (2016); Anat Ebgi, Los Angeles (2016); Artist Curated Projects, Los Angeles (2016); and Embassy, Los Angeles (2016). She was an artist-in-residence at the Vermont Studio Center (2009–10).