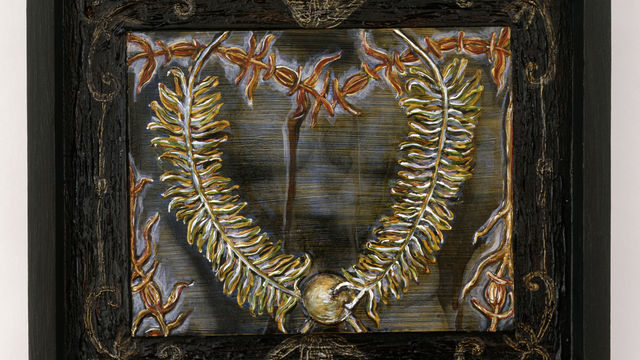 Tony Greene: Amid Voluptuous Calm
About the Exhibition
Organized by David Frantz, curator at ONE National Gay & Lesbian Archives, Los Angeles
Tony Greene, born 1955 in San Francisco, died 1990 in Los Angeles
Between roughly 1987 and his death in 1990, Tony Greene produced a body of lavishly intricate paintings using oil and glaze applied in thick layers that both protect and conceal a photographic image, often of a vintage male pinup. Shamelessly decadent visual objects, Greene's paintings were a conscientious departure from the position of many peers, who responded to the ravages of the AIDS epidemic with better- known activist and conceptual strategies.
Since his death from complications of AIDS in 1990, Greene's work has gone largely unrecognized. This year marks the first time his work has been exhibited since 1995.
Amid Voluptuous Calm seeks to excavate Greene's oeuvre, placing it in dialogue with other queer artists in Los Angeles whose work similarly tackled issues of desire, mortality, and trauma. This concise "show-within-a-show" only hints at the numerous ways visual art, poetry, activism, performance, and S&M converged, and how notions of queerness—a term just making its way into the lexicon—informed artistic production for a community of artists.
Featuring projects by Greene, Ron Athey, Judie Bamber, Bob Flanagan and Sheree Rose, Doug Hammett, Doug Ischar, Monica Majoli, Millie Wilson, and the zine Infected Faggot Perspectives (produced by W. Wayne Karr and Cory Roberts-Auli), alongside documents and ephemera, the conceptual and aesthetic approaches presented are diverse. Sensual, devotional, honorific, and darkly humorous, the works featured in Amid Voluptuous Calm insist on unabashed queerness in the face of mortality.