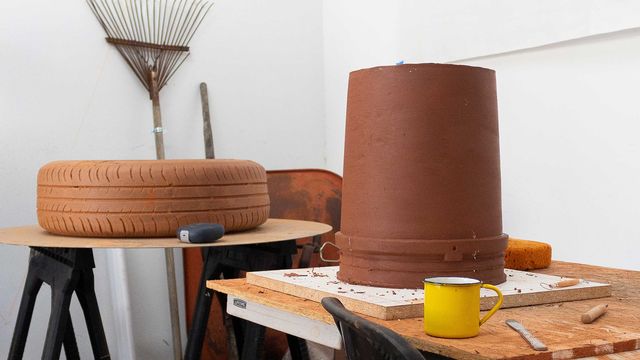 Hammer Projects: noé olivas
–

This is a past exhibition
Site-specific installation featuring a new body of works in ceramic, print, neon, and sound
Using materials that reference Southern California's rich cultural landscape and visual vernacular—from car parts and motor oil to broken concrete and soil—Los Angeles–based noé olivas (b. 1987, San Diego, occupied Kumeyaay land) creates sculptures, prints, and performances that investigate the poetics of labor, specifically its relationship to leisure and liberation. Many of olivas's sculptures are comprised of his own customized forms—hybrid assemblages in the Chicanx spirit of rasquachismo that question traditional divisions between the aesthetic and the utilitarian. Playing with and reshaping objects that speak to the circuit of labor between Southern California and the US-Mexico border, olivas explores his experience growing up in an immigrant working-class family, often incorporating elements from his personal archives into the found and utilitarian materials of his sculptures.
Let's Pray is a site-specific installation inspired by the forms and conceptual gestures of the toolshed, which olivas sees as a spiritual space of creation and community-building. The installation features a new body of works in ceramic, print, neon, and sound. Crafting its framework within the abolitionist philosophy and practices of Crenshaw Dairy Mart, a South Central and Inglewood art hub co-founded by olivas, the artist enacts a meditation on the power of collective care, craft, and healing through collaboration.
Learn more about noé olivas by downloading the free Bloomberg Connects museum guide. Watch an artist profile, read an essay about the work, and enjoy guides to other Hammer exhibitions—plus content from more than 50 other museums worldwide.
Hammer Projects: noé olivas is organized by Vanessa Arizmendi, curatorial assistant.
Hammer Projects are single-gallery exhibitions highlighting the work of contemporary artists from around the globe, often presenting new work at a pivotal moment of an artist's development. Ongoing since 1999, Hammer Projects is a signature series within the Hammer's exhibition program.
Hammer Projects is presented in memory of Tom Slaughter and with support from the Horace W. Goldsmith Foundation. Lead funding is provided by the Hammer Collective. Generous support is also provided by Susan Bay Nimoy and Leonard Nimoy, with additional support from the Los Angeles Board of Supervisors through the Los Angeles County Arts Commission.