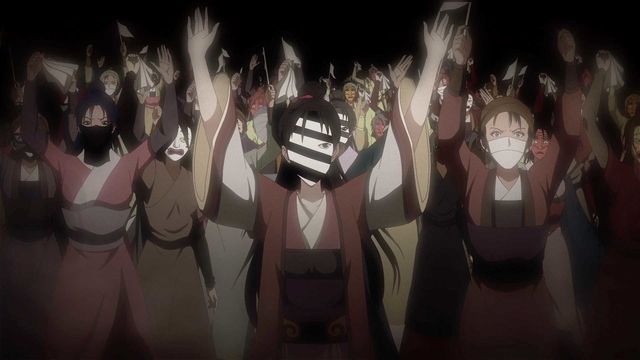 Hammer Projects: Ho Tzu Nyen
–

This is a past exhibition
The 49th Hexagram (2020) is a two-channel video and sound installation that explores the construction of cultural memory and political narrative surrounding the history of the Korean peninsula. Employing the services of an animation studio in Pyongyang, North Korea, Ho Tzu Nyen's (b. 1976, Singapore) recent work reinterprets scenes of political uprising and mass demonstration as depicted in South Korean narrative film and television. The project aims to form a direct relationship between South Korea's political history and the tensions that still define the country's relationship with its northern counterpart. The result is, in the artist's words, a "game of exquisite corpse across geopolitical barriers." The video installation is complemented by an experimental soundtrack developed in collaboration with Korean artists and musicians Bek Hyunjin, Park Minhee, and Ryu Hankil. Offering two vocal renditions of texts from the forty-ninth hexagram of the I-Ching, an ancient Chinese divination manual, the installation's soundtrack composites historical interpretation with translation to speak of revolution and renewal.
Learn more about Ho Tzy Nyen by downloading the free Bloomberg Connects museum guide. Watch an artist profile, read an essay about the work, and enjoy guides to other Hammer exhibitions—plus content from more than 50 other museums worldwide.
Hammer Projects: Ho Tzu Nyen is organized by Aram Moshayedi, Robert Soros Senior Curator, with Nicholas Barlow, curatorial assistant.
Hammer Projects are single-gallery exhibitions highlighting the work of contemporary artists from around the globe, often presenting new work at a pivotal moment of an artist's development. Ongoing since 1999, Hammer Projects is a signature series within the Hammer's exhibition program.
Biography
Ho Tzu Nyen (Singapore, b. 1976) earned a BA in creative arts from Victorian College of the Arts, University of Melbourne (2001), and an MA in Southeast Asian studies from the National University of Singapore (2007). He has had solo exhibitions at such venues as Toyota Municipal Museum of Art (2021); Yamaguchi Center for Arts and Media (2021); Edith-Russ-Haus for Media Art in Oldenburg (2019); Kunstverein, Hamburg (2018); Ming Contemporary Art Museum (McaM), Shanghai (2018); TPAM, Yokohama (2018); Asia Art Archive, Hong Kong (2017); Guggenheim Museum Bilbao, Spain (2015); Mori Art Museum, Tokyo (2012); and Artspace, Sydney (2011). He has also participated in group exhibitions at National Gallery, Singapore (2018); Haus der Kulturen der Welt, Berlin (2017); Solomon R. Guggenheim Museum, New York (2016); Queensland Art Gallery / Gallery of Modern Art (QAGOMA), Brisbane, Australia (2016); Times Museum, Guangzhou, China (2013); and Witte de With, Rotterdam (2012). He participated in the Gwangju Biennale, South Korea (2020, 2018); Sharjah Biennial 14, United Arab Emirates (2019); and the 54th Venice Biennale (2011), where he represented Singapore. His films have premiered at the Cannes Film Festival, Sundance Film Festival, and the 66th Venice International Film Festival.
Hammer Projects is presented in memory of Tom Slaughter and with support from the Horace W. Goldsmith Foundation. Lead funding is provided by the Hammer Collective. Generous support is also provided by Susan Bay Nimoy and Leonard Nimoy, with additional support from the Los Angeles Board of Supervisors through the Los Angeles County Arts Commission.
Hammer Projects: Ho Tzu Nyen is made possible, in part, by Alwyn Chong.
The 49th Hexagram was commissioned by the Gwangju Biennale Foundation with support from the National Arts Council, Singapore; Edouard Malingue Gallery; and the Hammer Museum.