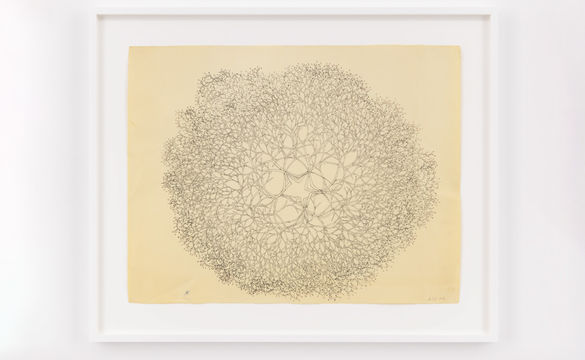 A Decade of Acquisitions of Works on Paper
–

This is a past exhibition
Contemporary prints and drawings from the Hammer's collection, acquired from 2012 to the present.
The inaugural presentation in the Hammer Museum's new works on paper gallery highlights acquisitions of prints and drawings from 2012 to the present. Over the last decade, through purchases and many generous gifts, the museum has built a robust collection in this medium. This exhibition shows, for the first time, many contemporary prints and drawings in the collection, ranging from the conceptual to the political, the abstract, the gestural, and the poetic.
Artists of the 1960s generation such as Richard Artschwager, Vija Celmins, Sonia Gutiérrez, Betye Saar, and Sue Williamson are included, with beautiful examples made using diverse printmaking techniques. Also featured is a selection of drawings by Ruth Asawa, Lee Bontecou, Miguel-Ángel Cárdenas, Judy Chicago, Mary Corse, Sam Gilliam, Lynn Hershman Leeson, and David Smith. The exhibition also includes artists such as Huma Bhabha, Trisha Donnelly, Sharon Hayes, Rashid Johnson, Glenn Ligon, and Rachel Whiteread whose contemporary practices are represented with innovative and experimental works on paper.
This exhibition is the first of two showcasing recent acquisitions and promised gifts.
A Decade of Acquisitions of Works on Paper is organized by Cynthia Burlingham, deputy director for curatorial affairs and director of the Grunwald Center for Graphic Arts, and Connie Butler, chief curator.