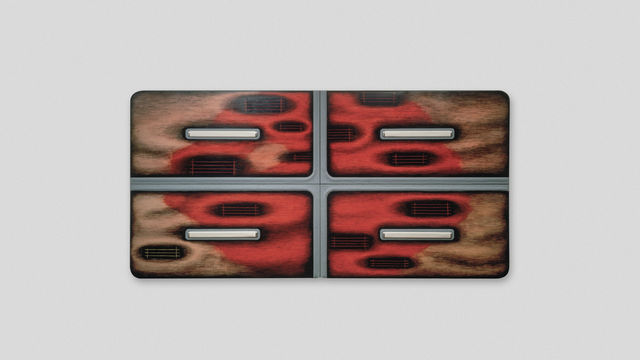 Tishan Hsu: Liquid Circuit
–

This is a past exhibition
Liquid Circuit is New York-based artist Tishan Hsu's first museum survey exhibition in the United States. In the mid-1980s, Hsu began a series of works that consider the impact of the accelerated use of technology and artificial intelligence on the body and the human condition. His early work is distinct from the era's well-documented approaches to art making that engaged strategies of appropriation and references to popular culture. It also differs from the period's return to abstraction, for example the works of American Neo-geo artists, who were aligned with so-called neo-geometric conceptualism and a critique of consumer culture. Hsu's work takes on the legacy of Minimalism's reduced forms and processes the textures and colors of screens and other aesthetic emblems of the emergent information age. 
Hsu trained as an architect at Massachusetts Institute of Technology. His use of materials is informed by his education and the budding East Village art scene of which he was a part, and his practice emerged against the backdrop of the AIDS crisis and a contentious cultural climate that was largely defined by a social and political critique of media. Liquid Circuit brings together a selection of key drawings, sculptures, and digital media works made between 1980 and 2005. The exhibition includes early architectonic paintings and sculptures that consider the materiality of the image in the ever-expanding digital landscape; Hsu's first experiments in digital photo manipulation, which mark some of the earliest instances of an artist using newly available image editing software, such as Photoshop; and a selection of the artist's drawings, exhibited here for the first time. Spanning the early years of his artistic career and a cultural moment that witnessed a full-fledged absorption of the body into new technological forms, the exhibition demonstrates the prophetic insights of Hsu's practice and exemplifies how artists process the pressing issues of their time.
Tishan Hsu: Liquid Circuit is organized by SculptureCenter, New York, and is curated by Sohrab Mohebbi, curator. The Hammer's presentation is organized by Aram Moshayedi, Robert Soros Curator, with Nicholas Barlow, curatorial assistant.
Biography
Born in Boston, Massachusetts, Tishan Hsu spent his first years in Zurich, Switzerland. He grew up in Ohio, Wisconsin, Virginia, and New York. Hsu had his first one-person exhibition as a teenager in Virginia, where his paintings were shown throughout the region. He studied architecture at the Massachusetts Institute of Technology where he received his BSAD in 1973 and MArch in 1975. While at MIT, he studied film at Harvard University's Carpenter Center. He moved to New York in 1979, where he currently resides. Hsu first exhibited in New York at the Pat Hearn Gallery. Since 1985, Hsu has shown in the United States, Europe, and Mexico, with works in many public and private collections. From 1988-90, Hsu lived and worked in Cologne, and from 2013-16, he maintained a studio in Shanghai.
Hsu's work is included in the collections of the Metropolitan Museum of Art, New York; Centre Pompidou, Paris; Museum für Moderne Kunst, Frankfurt am Main; High Museum, Atlanta; Museum of Contemporary Art, Los Angeles; Museum of Contemporary Art North Miami; and the Weisman Art Museum, Minneapolis. Hsu has served as a member of the board of White Columns and the Skowhegan School of Painting and Sculpture. He has been a professor of visual arts at Sarah Lawrence College, and a visiting professor at Pratt Institute and Harvard University.
Exhibition Tour Schedule
Hammer Museum, Los Angeles: January 26–April 19, 2020
SculptureCenter, New York: May 9–August 17, 2020
Rose Art Museum, Brandeis University, Waltham, Massachusetts: October 23, 2020–January 10, 2021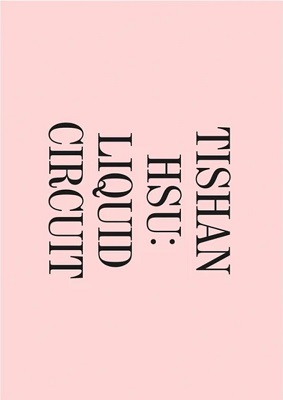 Learn more about Tishan Hsu and the exhibition with the Tishan Hsu: Liquid Circuit publication, available in the Hammer Store.
Lead Underwriting support of SculptureCenter's presentation of Tishan Hsu: Liquid Circuit is provided by Richard Chang / Domus Collection, and Joyce Liu.
Support for Tishan Hsu: Liquid Circuit is generously provided by Stephen Cheng and Empty Gallery. SculptureCenter's Exhibition Fund is supported by the Kraus Family Foundation and Toby Devan Lewis.
The Hammer's presentation of the exhibition is supported by Karyn Kohl and Silas Dilworth.
Media sponsorship is provided by KCRW 89.9.