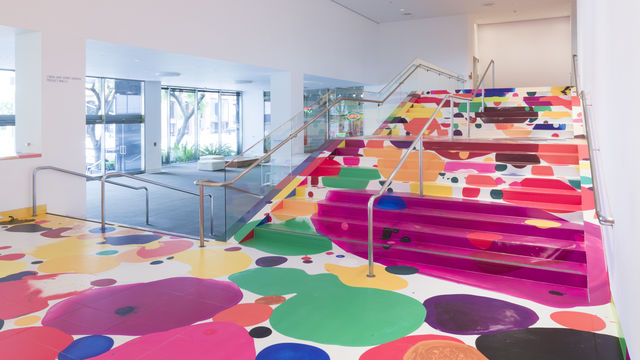 Hammer Projects: Yunhee Min
–

This is a past exhibition
Min adapts the vibrant abstract imagery of her paintings on canvas to the steps of the Hammer's lobby staircase, in the first Hammer Project to be oriented on the floor rather than the walls.
Born in Seoul, Korea, Yunhee Min has been a longtime resident of California and an active participant in the Los Angeles contemporary art community. While the core of Min's practice is painting, she also studied design and architecture, which has led to a number of large-scale sculptures and installations. Over the past two decades, her work has contributed to discourses surrounding the ever-expanding definition and possibilities for painting as a medium and the relationship between painting, surface, and space, especially architectural space and the body's relationship to it. Min's painting practice comes out of the history of conceptual art more than specific movements or genres within painting itself, and she has often deployed predetermined systems and logic in order to dictate aspects of her works—such as its color palette—and limit the number of choices she could make as an artist, thereby removing the tendency to "read" her paintings as primarily personal expression.
Min's examination of the impact of the Light and Space movement on generations of artists in Los Angeles is evident in her newest washy, layered, and brightly colored paintings. In these works, the artist distills her attentiveness to the outside world—Southern California's distinct environment saturated with bright sunlight and captivating sunsets yet continuously punctuated by the manufactured and industrial aspects of the city—into single gorgeously optical and moody canvases. Embracing intuition more than ever before, Min's inventiveness as a colorist is evident. Working horizontally, she uses a variety of actions such as pouring, rolling, overlapping, and swirling to move the paint around on the surfaces of both canvas and glass. For the Hammer, she adapts the vibrant abstract imagery of her recent approach to painting to the steps of the lobby staircase, in the first Hammer Project to be oriented to the floor rather than the walls. Min completely alters the surface of the stairs themselves, while also making subtle modifications to the walls and lighting in the lobby to underscore how context impacts experience and enhance the visitors' awareness of the architecture.
Hammer Projects: Yunhee Min is organized by Anne Ellegood, senior curator.
 
Hammer Projects are single-gallery exhibitions highlighting the work of contemporary artists from around the globe, often presenting new work at a pivotal moment of an artist's development. Ongoing since 1999, Hammer Projects is a signature series within the Hammer's exhibition program.
Biography
Yunhee Min (b. 1962, Seoul, South Korea) is a Los Angeles–based painter and installation artist. Min received her bachelor of fine arts degree from Art Center College of Design in Pasadena, CA, in 1991 and her master's in design studies from Harvard University in 2008, with additional studies in 1994 at Kunstakademie Düsseldorf in Germany. She recently opened a large-scale sculptural installation, in collaboration with the architect Peter Tolkin, at Culver Center of the Arts at the University of California, Riverside. She has had solo exhibitions at Susanne Vielmetter Los Angeles Projects (2018, 2015, 2013, 2010, 2005, 2003); Ameringer McEnery Yohe, New York (2016); Equitable Vitrines, Los Angeles (2015); Exercise, Vancouver, BC (2012); LAXART, Los Angeles (2009); Amie and Tony James Gallery, Graduate Center, City University of New York (2008); and Pasadena Museum of California Art (2006), among many others. Min has participated in numerous group exhibitions, including most recently at LA Louver Gallery, Los Angeles (2018); Los Angeles County Museum of Art (2016); Artist Curated Projects, Los Angeles (2015); and Museum of Contemporary Art Santa Barbara, CA (2015). Her work For Instance (2008), composed of several colorful curtain-like panels, is in the Hammer Contemporary Collection and has been installed for extended periods on the museum's Annenberg Terrace.
Essay
In Leo Steinberg's seminal articulation of painting's radical shift from a vertical field (read: optical, illusionistic) to a horizontal working surface, or what he called the "flatbed picture plane" (read: tactile, real), he acknowledged that even Jackson Pollock's canvases, which the artist had famously lowered to the studio floor in order to drip and pour his paint, would ultimately be returned to the conventional site of the wall. Throughout much of its history and still predominantly today, painting has been vertically oriented and intended to be viewed from an upright position, or an "erect posture," as Steinberg so evocatively put it, conjuring a sense of rigidity that points to painting's presumed constraints while also hinting at its masculinist bias and the era of macho painting that would later be challenged by artists who do not fit this archetype. For Steinberg, painting didn't shed its fundamental alliance with nature—its inherent pictorial ties to landscape and atmosphere (even when greatly abstracted)—until Robert Rauschenberg and others came along in the 1950s and replaced nature with culture as its primary point of reference. As Steinberg surmised, "the painted surface is no longer the analogue of a visual experience of nature but of operational processes."1 References to the horizontal plane abound in Rauschenberg's work—from the printing press, alluded to by his frequent use of newspapers, to his use of furniture and other found objects, as in one of his first combines, Bed (1955), replete with pillow, sheet, and quilt. But as with the work of Pollock and color field painters such as Helen Frankenthaler and Jules Olitski, who also worked flat, the ultimate site for viewing remains the wall. Paintings designed to be installed and viewed at least partially on the floor are typically room-size environmental installations, such as Yayoi Kusama's dotted rooms or Katharina Grosse's exuberant installations, site-responsive paintings that reject all boundaries demarcating ceiling, wall, and floor.
The Los Angeles artist Yunhee Min's installation for the Hammer Museum's lobby, titled Up Close in Distance (bars, flags, pools), shares Kusama's and Grosse's desire to imagine painting's potential far beyond the picture plane. But whereas these artists share an intention to blur the distinctions between architecture's various sites to create experiences that are immersive and unified in their visual language so as to encourage a gestalt understanding of the work as a whole, Min limits the painted surface to the floor—the stairs and landings and their concomitant architectural details, such as the baseboards. In doing so, she orients the viewer to the ground, requiring a downward gaze in order to see the work, a gesture not often embraced by contemporary artists. Lynda Benglis's radically robust poured floor paintings are an important precedent for Min, not only for their expansive sense of what a painting can be and their orientation to the floor but also for the way the works distill an action, capturing fluidity as a moment frozen in time. Rather than surrounding the viewer, Min's work unfolds horizontally as one walks along the pathway of the stairwell and is impossible to understand as a single cohesive image or unified experience. Indeed, Up Close in Distance (bars, flags, pools) is deliberately fragmented and disorienting, intended to heighten our awareness of both our bodies within the space and the very act of viewing.
As Min studied architecture and design in addition to painting, it is perhaps not surprising that she seeks to call attention to, rather than obfuscate, the specificities of the architecture. To that end she has chosen to highlight elements that challenge the continuity of the space—including the triangular wedge shapes alongside each step, formed by the horizontal and vertical planes (referred to by Min as the "flags"), and the marble baseboards joining the wall and floor (dubbed "bars")—by covering each geometric shape in a single color drawn from two categories of water-based enamel paints produced by Ronan Paints. Min's painting practice comes out of conceptual art practices as much as specific movements or genres within painting itself, and she has often deployed predetermined systems and logic in order to dictate aspects of her work, including the palette. For a period in the 1990s, for example, she used only so-called mistints, custom-mixed house paints requested by customers and then rejected as flawed or undesirable. As with previous works, for her lobby installation at the Hammer, she used off-the-shelf commercial paints within a spectrum offered by the paint manufacturer to create the original paintings, which were then blown up and printed on vinyl in order to be installed in the space. By limiting the number of choices she can make about color, she deflects the tendency to interpret her paintings as primarily personal expression, despite their undeniable dynamism. In this case she is using the twenty-two colors from the Aquacote Water-based Bulletin Colors category and the five colors from the Ron-Glo Fluorescent Paints group, giving her twenty-seven colors in total to work with. All twenty-seven have been applied to the "flags" and "bars," thereby creating a visible index of her chosen color palette for the installation.
In order to make her individual paintings, Min has for many years been working horizontally, deploying a variety of actions—including pouring, rolling, overlapping, swiping, and swirling—to move the paint around on the surface. In addition to canvas, she uses glass in the form of panels, windows, and fluorescent light tubes, laying the support flat on a table and applying paint with an array of tools, such as squeegees, rollers, and sprayers, as well as paintbrushes. The transposition of her imagery from the wall to the ground is inspired by the specifics of the Hammer lobby as a site for exhibitions and a desire to take up the floor as a dynamic space with the potential for direct physical contact between viewer and artwork. In fact the floor was a feature of one previous installation. In 2005 at the Museum of Contemporary Art San Diego's downtown space, she built a false floor at an upward pitch and painted wide bands in five different colors across its surface as part of an exhibition titled Distance is like the future. For her multisite project at the Yerba Buena Center for the Arts in San Francisco in 2003, Out of bounds (from near and afar), she applied colored vinyl to the front faces of ten steps on the museum's outdoor terrace. But Up Close in Distance (bars, flags, pools) marks a fundamental shift from these and other earlier site-responsive installations: Min did not paint directly on the surfaces in the Hammer lobby; rather, she has incorporated high-resolution photography, digitization, and the translation of her painting into another material, vinyl laminate, which was then adhered to the staircase. The flatbed Steinberg mentions in his discussion of Rauschenberg—a moment understood as emblematic of the shift from modernism to postmodernism—correlates with the reliance on and reference to technology and the organization of large amounts of information undertaken for the first time here by Min in the process of photographing her paintings.
To create Up Close in Distance (bars, flags, pools), Min made five small paintings on Dura-Lar, a transparent polyester film. For her installation Luminaire Delirium (Equitable Life or soft machine), installed in existing vitrines in the lobby of the Equitable Life Building in Koreatown in Los Angeles in 2015-16, she painted washes of viscous colors that seemed to melt together on glass panels. The paintings were turned around for display so that viewers were seeing the glass sides of the panels, or essentially the back of the painting, where the pigment lay flat, creating an almost surreally smooth surface. When the work is lit, its optical vibrancy gives the illusion that the abstract imagery is moving across the horizontal orientation of the sculpture, like some kind of psychedelic stained-glass windows. Working on Dura-Lar, a thin material with more grip, allows Min to create distinct areas of color that don't bleed and run together as much as when working on glass. Exposed areas of the background material appear as white margins surrounding predominantly circular areas of color, which serve to enhance a sense of fracturing, the imagery refusing to cohere. This approach to the painting, coupled with the hard-edged areas of "flags" and "bars," creates a pronounced sense of disruption to one's visual field. Viewers are compelled to stand on the work and move across it but may experience it as one interruption after another, potentially causing profound disorientation, a sensation Min welcomes.
The original paintings for Up Close in Distance (bars, flags, pools) are made on a horizontal surface and then digitally photographed at a very high resolution in order to translate them to printed vinyl. Using a macro lens, the modest-size paintings are photographed in sections at close range, creating tiles that can later be stitched back together. This process is like a mechanical and more methodical version of Min's approach to the paintings themselves, in which the abstract imagery is made in sections that are both separate and held together like a patchwork quilt. The imagery brings to mind what Steinberg, describing Rauschenberg's use of image transfers, called "optical noise" and went on to compare to "radio transmission with interference."2 The dramatic shift in scale from painting to installation requires the sophisticated mechanical eye of the camera. With the painted imagery blown up to one hundred times its original size, visitors will literally be standing on very small details of Min's paintings. Titling the installation Up Close in Distance speaks to this push-and-pull of scale, what the artist has described as a viewing distance that is at first too close, akin to "looking through a microscope," followed by a sensation of pulling out, as if to view a landscape with a wide-angle lens.3 Finding oneself amid the sheer abundance and saturation of color may encourage a feeling of delirium not unlike being intoxicated, yet these pools of activity are outlined by Min with the colored bars on the sides, providing focal points that might serve as an antidote, helping to steady the mind and body. Soft and hard edges, disorientation and grounding, painting and photography, near and far—Min brings together these binaries to create an experience that is at once carefully designed and logical and completely unpredictable, a wild experiment she shares with her audience.
—Anne Ellegood
Notes
1. Leo Steinberg, "Other Criteria," in Other Criteria: Confrontations with Twentieth-Century Art (New York: Oxford University Press, 1972), 84. First published as "Reflections on the State of Criticism," Artforum 10 (March 1972).
2. Ibid., 88.
3. Yunhee Min, email correspondence with the author, March 3, 2019. 
Hammer Projects is presented in memory of Tom Slaughter and with support from the Horace W. Goldsmith Foundation.
Lead funding is provided by Hope Warschaw and John Law and by the Hammer Collective. Generous support is also provided by Susan Bay Nimoy and Leonard Nimoy, with additional support from Good Works Foundation and Laura Donnelley, and the Los Angeles Board of Supervisors through the Los Angeles County Arts Commission.