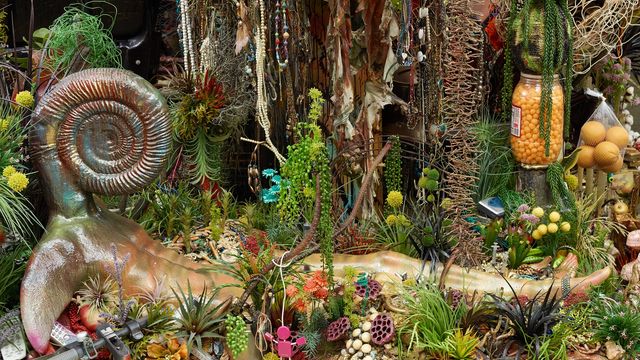 Hammer Projects: Max Hooper Schneider
–

This is a past exhibition
This immersive installation is Schneider's first solo museum show.
Artists are often likened to inventors or scientists, and in the case of Max Hooper Schneider the comparison is more than metaphoric. Schneider's background in landscape architecture and marine biology strongly informs his artwork. Research and scientific investigation are key to his process. He explores the relationships between philosophy and nature, the personal and the political, destruction and construction, and what he calls nonhuman and human agents. Blending his diverse areas of expertise, his idiosyncratic sculptures, installations, and drawings challenge conventional systems of classification, suggesting a worldview that strives to dislocate humans from their assumed position of centrality and superiority as knowers and actors in the world. Schneider will create a new immersive installation for his Hammer Projects exhibition, his first solo museum show.
Hammer Projects: Max Hooper Schneider is organized by Ali Subotnick, adjunct curator, with Vanessa Arizmendi, curatorial assistant.
Hammer Projects are single-gallery exhibitions highlighting the work of contemporary artists from around the globe, often presenting new work at a pivotal moment of an artist's development. Ongoing since 1999, Hammer Projects is a signature series within the Hammer's exhibition program.
Biography
Max Hooper Schneider (b. 1982, Los Angeles) has had solo exhibitions at Jenny's, Los Angeles (2018 and 2014); High Art, Paris (2015); and Kayne Griffin Corcoran, Los Angeles (2015). His work has been featured in international group exhibitions such as the 16th Istanbul Biennial (2019); Creatures, Contemporary Arts Center, Cincinnati (2019); Give Up the Ghost, Baltic Triennial 13, Contemporary Art Centre, Vilnius (2018); Mutations, High Line, New York (2017–18); The Garden, ARoS Triennial, Aarhus, Denmark (2017); The New Normal, Ullens Center for Contemporary Art, Beijing (2017); Preservation, Marjorie Barrick Museum of Art, Las Vegas (2017); High Anxiety, Rubell Family Collection, Miami (2016); Retour sur Mulholland Drive, La Panacée, Montpellier, France (2016); Streams of Warm Impermanence, David Roberts Art Foundation, London (2016); Theories of Forgetting, Gagosian Gallery, Beverly Hills, CA (2015); and the Mongolia Land Art Biennial (2014 and 2012). Hooper Schneider received his master's degree in landscape architecture from Harvard's Graduate School of Design (2011) and his BA in design and architecture studies and biology from New York University (2005). In addition, he studied social science at the University of Chicago, entomology at the University of Hawaii, and marine biology at Santa Monica College. Hooper Schneider was selected for the fourth BMW Art Journey (2016) and will board the R/V Falkor, the Schmidt Ocean Institute's oceanographic research vessel, in 2020. He lives and works in Los Angeles.
Hammer Projects: Max Hooper Schneider is made possible in part by Standard Vision and Tortoise Industries.
Hammer Projects is presented in memory of Tom Slaughter and with support from the Horace W. Goldsmith Foundation.
Lead funding is provided by Hope Warschaw and John Law and by the Hammer Collective. Generous support is also provided by Susan Bay Nimoy and Leonard Nimoy, with additional support from Good Works Foundation and Laura Donnelley, and the Los Angeles Board of Supervisors through the Los Angeles County Arts Commission.