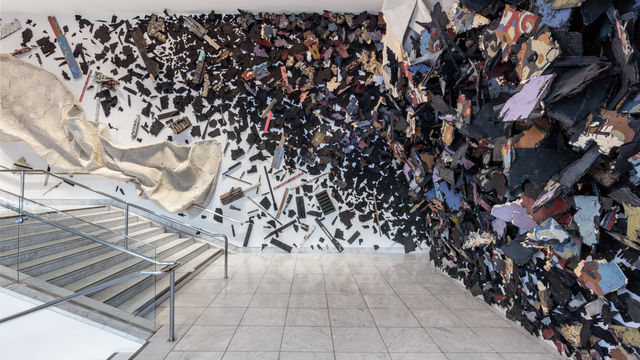 Hammer Projects: Leonardo Drew
–

This is a past exhibition
For the Hammer's lobby wall, Drew creates a monumental explosion of material and color that evokes the energy and entropy of an uncertain planet.
Leonardo Drew (b. 1961, Tallahassee, Florida) creates complex sculptural works that hover between order and chaos. Assembling and reworking large accumulations of raw material, Drew transforms his heavily referential materials—wood, scrap metal, cotton—into choreographed arrays of color and form. For the Hammer's lobby wall, Drew reworks a recent piece made from roofing material, wood, and sandpaper. Evocative of the cycle of decay and erosion characteristic of any densely urban environment, the monumental arrangement of material draws a physical connection with the viewer as it invades and recedes in and out of our field of vision.
Hammer Projects: Leonardo Drew is organized by Connie Butler, chief curator.
Hammer Projects are single-gallery exhibitions highlighting the work of contemporary artists from around the globe, often presenting new work at a pivotal moment of an artist's development. Ongoing since 1999, Hammer Projects is a signature series within the Hammer's exhibition program.
The Hammer Projects series is presented in memory of Tom Slaughter and with support from the Horace W. Goldsmith Foundation.
The Hammer Projects series is made possible by a gift from Hope Warschaw and John Law. Generous support is also provided by Susan Bay Nimoy and Leonard Nimoy, with additional support from Good Works Foundation and Laura Donnelley and the Los Angeles Board of Supervisors through the Los Angeles County Arts Commission.
Hammer Projects: Leonardo Drew is made possible, in part, by The Joyner/Giuffrida Collection.