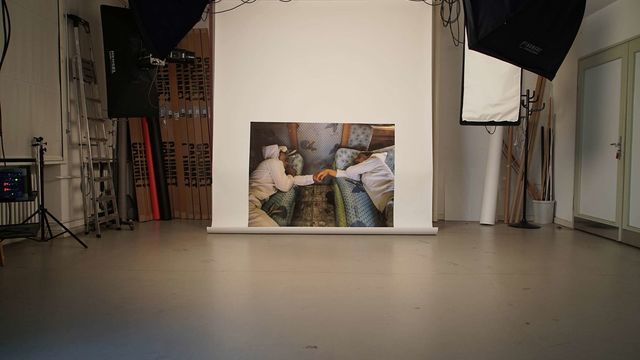 Hammer Projects: Jasmina Metwaly
–

This is a past exhibition
The artist and filmmaker Jasmina Metwaly's most recent project centers on the cultural signification of military uniforms in the aftermath of the 2011 Egyptian revolution. Commissioned as part of the Consortium Commissions, an initiative of Mophradat, in collaboration with the Hammer Museum, Anbar (2019) is a three-channel video installation with accompanying textile components. Here Metwaly considers the uniform as an emblem of the paranoia and anxiety that descended on Egypt in the years following the overthrow of President Hosni Mubarak. The work is organized around three characters—a former conscripted soldier, a tailor, and an activist filmmaker—who each demonstrate particular ties to the Egyptian military. The tailor, for instance, dressed Mubarak and his successor Abdel Fattah el-Sisi, as well as the late military leaders Gamal Abdel Nasser and Anwar Sadat. Metwaly suspends her three characters in distinct yet porous narratives that reveal specific moments of revolutionary history not typically represented by mainstream news outlets. The videos employ various formal devices that intimate different approaches to filmmaking while showing the ways in which ideology and power are embedded into the folds of everyday life.
Anbar is accompanied by a suite of three uniforms that Metwaly produced in collaboration with the Polish costume designer Marta Szypulska. The designs of the uniforms are loose interpretations of traditional military fatigues, made from fabric with a unique pattern fashioned after a butterfly motif that appears in the related videos. The motif offers an alternative to standard military-issue camouflage, the use of which is restricted for security purposes in Egypt. By pairing government regulation with the vagaries of fashion, Metwaly embraces the legitimacy of the uniform while undermining its logic. The garments play up the decorative use of military insignia and camouflage in contemporary fashion in order to further underscore how laws regulating uniforms are a proxy for safety and fear, standardization and national identity. Taken together, the works in the exhibition speculate on how uniforms confer power and serve as disguises for the ordinary civilians who enter the ranks of the military.
Hammer Projects: Jasmina Metwaly is organized by Aram Moshayedi, curator, with Ikechukwu Onyewuenyi, curatorial assistant
Biography
Jasmina Metwaly (b. 1982, Warsaw, Poland) currently lives and works in Berlin and Cairo. Solo and group exhibitions of her works have been presented at venues such as SAVVY Contemporary, Berlin (2018); Jeu de Paume, Paris (2016); Townhouse, Cairo (2015, 2011, 2010); Museum of Modern Art, New York (2015); and National Gallery of Arts, Tirana, Albania (2013). She also participated in the German Pavilion exhibition at the 56th Venice Biennale (2015) and in the 7th Berlin Biennale (2012). Her films have also been shown widely at international film festivals, including the Cannes Film Festival (2013); International Film Festival Rotterdam (2012); Dubai International Film Festival, UAE (2012); and Berlinale Internationale Filmfestspiele (2011). Since 2010 Metwaly has often collaborated on projects with the filmmaker Philip Rizk. She is a co-founder of the media collective Mosireen and of 858 Media Archive (858.ma), an online repository of video footage documenting the Egyptian revolution since 2011.
Essay
Jasmina Metwaly Interviewed by Ikechukwu Onyewuenyi
Ikechukwu Onyewuenyi: Your project Anbar (2019) has felt nomadic and somewhat opaque—from early conversations about an empty, ghostlike bazaar that you happened upon in Poznań, Poland, to the gradual disappearance of protesters and activists from Tahrir Square during the 2011 Egyptian revolution. How did a tailor for the Egyptian military bring your project together?
Jasmina Metwaly: I first came across Mohamed el-Badrawi in a 2014 article in Daily News Egypt titled "Tailoring the Fabric of a Nation."1 At that time I was collaborating with Philip Rizk on another project. When Philip and I first went to visit Badrawi, we were thinking about doing something else with this material. We were asking questions about connections between the legal realm and attire, about textiles and uniforms. I didn't realize until later, after that first meeting, that Badrawi's father built his entire career making clothes for 90 percent of the army under the governments of Gamal Abdel Nasser and Anwar Sadat. Badrawi's passion for uniforms and attire is closely linked to his admiration for the army. For him, making clothes for the military comes from a space of deep nationalism, a mix of Arabism and Islam. A bit like Sadat, who would wear only clothes made in Egypt yet would wear them while signing deals with Israel and catering to the West after the 1973 Arab–Israeli War. In Badrawi's studio you find photos of Sadat and of Badrawi with Ahmed Zaki, the actor who played Sadat in The Days of Sadat (2001). This film opens with a dedication to Hosni Mubarak, who was then president of Egypt, a tactic that allows filmmakers to make films addressing sensitive and censored topics.
Badrawi is as much involved in as he is disengaged from politics. In the video installation within Anbar, we see him standing in front of a mannequin dressed in a suit, similar to the one that he fitted for Sadat during the military parade in which he was assassinated. Badrawi's calm and quiet demeanor, with a note of romanticized nationalism, is not surprising. He speaks openly, but by default some of his answers are reserved or intuitively off-topic. He represents a generation of fathers and uncles who lived through several dictatorships, dictatorships that the military needed to maintain Egypt's position of power in the Middle East and Africa. At the same time Badrawi is very approachable. He does not really act in front of the camera, but the way he speaks appears to be quite predetermined. His body language is gentle and slow. He often speaks using a more classical vocabulary. He says certain things at a lower intonation.
IO: Badrawi's romantic nationalism might appear inconsistent with his disengaged demeanor toward politics. But romanticism also breeds a type of perfunctory attitude—a blind acceptance with no questions. What do you make of Badrawi's reticence? Is it fear?
JM: I don't think he's afraid. I think he's just very much part of the system and doesn't think it is necessary to share too many details. That it is often the case in Egypt, that it's OK to reminisce about the past as long as we don't speak about the current leadership. For instance, he didn't allow me to photograph the uniform that he was in the process of making for Abdel Fattah el-Sisi. Clearly Badrawi knows a lot, and he probably hears a lot as well, because people come and go from the atelier. I spent only two or three days there, but I saw people in suits coming in, official-looking, and giving us the side-eye. It's a look that asked questions: "Who are you? What are you doing here?" And when I left, I got a phone call a few days later from an unknown number, and the man was asking, "What were you doing there? What is this film about? Why were you filming?" And I'm thinking, "Who gave you my number?" It could have been Badrawi. Why wouldn't he? For him relaying my information establishes a power dynamic that ensures I don't step out of line. And it's not that they're afraid of someone like me, not at all, but they need to make sure that they're in charge.
IO: It's telling how regimes of violence shape how epistemes of power circulate in a common society. How power operates in this instance suggests that the military is not simply a specific governmental institution but also one that inscribes power into how our bodies, actions, and occupations move in relation to the law. How has this choreographic policing influenced your work?
JM: As an Egyptian who grew up between Poland and Egypt surrounded by various nationalist and patriotic desires that were force-fed in secondary school and all the way into my adult life, I learned the skills of camouflage and adaptation. Like all children in Egypt, I was obliged to wear a uniform in school: a masculine white shirt, too big to fit my body; a striped tie; gray skirt; and white socks with black shoes. Other colors were not allowed, not in clothing and not on fingernails. My Arabic teacher would reprimand me for growing my fingernails long and reminded me that underneath them lives a devil. I felt for many years that throughout a large portion of the day my body was not mine and that I was exercising behaviors that never felt natural or familiar to me but that I somehow managed to reenact for years. Today these traditions remain intact.
To some degree there's a kind of top-down "randomness" when it comes to the actions of the police or the military. You could be walking down the street and pointing the camera on your phone at a tree and get arrested because the tree is close to the Mogamma [a government building in Cairo]. But this feeling of "randomness" comes from a specific performance of state power over a subject's body. This has been produced through a long-lasting military regime, yet the way in which Egypt is policed today is actually not random at all. Historically the performance of statehood, with Nasserist nationalist goals at its core, created and mediated by Nasser's nationalist propaganda, paved the way for a new Egypt, one that is defined not just as Muslim but as Arab, cementing its geopolitical status in the region and creating unity.2 As such the choreography of statehood is a bureaucratic one, spanning different social groups—the military, the police, the judiciary, banks—that through their intense proximity to power collectively define what is and isn't allowed to be seen in the public sphere.
IO: If we think of the idea of choreographic policing or power dictating how we move, it's uncanny to think that the military trials during the 2011 revolution were held in the Museum of Egyptian Antiquities. In Egypt the museum seemed to have become an actual theater of the oppressed.
JM: During the eighteen-day uprising a lot of people went missing, not only in Tahrir Square but also on the way home or to work. Families would lose track of their loved ones with almost no chance of finding out what happened and when. This is a common tactic in military dictatorships. In some cases people would reappear after weeks or months. Some would never return.
In 2013 a government-issued report was made public that revealed how high-ranking officers were involved in these disappearances and in torture. It cataloged military crimes and military trials against civilians. Some of these happened right in the heart of the city, on Tahrir Square, in the Egyptian Museum of Antiquities, during the eighteen days—the most televised revolution of the Arab Spring. The world was watching, but nobody saw what was happening because there were so many of us in the streets.
IO: Your work with the media archive 858.ma draws on the need for multiple eyes to document the oppressive power of the government during the revolution. People were producing and submitting footage in a fashion that mirrored an open-source type of media platform. Can you discuss your work with 858.ma as it relates to the current project?
JM: The name 858.ma refers to the number of hours of raw footage that we collected during the revolution and cataloged years later. It is an online media archive that allows for a deeper understanding of how to speak about history, how to retell it in a collective manner. We did it together as the filmmaking collective Mosireen, but the material was not shot entirely by its members. It was collected throughout the years after the ousting of Mubarak, up until the massacre at Rabaa el Adaweya in August 2013. Afterward it didn't feel safe to continue with this practice. But what remains is the material that needs to have a life of its own.
IO: Of the three videos that make up Anbar, one deals with Assem Hendawi, an artist who has a photography practice and is also a conscripted soldier. You interviewed Hendawi and used that interview as source material in Aida el-Kashef's restaging of the interview for the video. What was the impetus behind this restaging?
JM: Aida—who is also a filmmaker, an activist, and an actress and who knows Assem but never meets him in the project—becomes the storyteller in this instance, retelling Assem's story. The ambiguity around whose story is being told is important. We never really know whose story we are hearing. We never see Assem. We hear him and watch him become camouflaged through multiple on-screen layers. Stories are passed from mouth to mouth, allowing, through their performance, for fluid interpretations. The identity of the storyteller is never 100 percent clear. Is the story real? Does it matter?
IO: You've talked before about an aspect of assemblage that emerges in Aida's performance of Assem's text. There's an element of parafiction in that Aida draws on parts of Assem's narrative through the act of storytelling. Where does this gesture of abstracting truth come from?
JM: I tried to tie this project together through similar gestures that recur in very different settings. I filmed Marta Szypulska, who is a tailor and costume designer for theater in Poland. She has never met Assem or Aida but listens to their stories on her laptop, far away from Egypt. Similar to Badrawi in his atelier, I film Marta in her studio sizing and cutting up fabric for the costumes on view in Anbar. These protective, camouflage garments are actually gifts for Aida. As you say, "this gesture of abstracting truth" is in fact abstracted further, because the truth is always ambiguous or remains "true" to its teller. I find this logic very useful when it comes to thinking about censorship in cinema and generally in the arts in Egypt. Since 2014 having or wearing military uniforms or garments that look like military uniforms or that simply incorporate camouflage patterns is forbidden and highly penalized. I could not walk in the streets of Cairo wearing such an outfit. Saying that it is an art project when stopped by the police would possibly create more suspicion. In the video with Badrawi I am further reminded that this is the case and that it needs to be respected.
Aida, being a filmmaker and a producer herself, is familiar with these dynamics. She is finishing a film that was shot almost entirely in an Egyptian prison with women who killed their husbands. In her film a narrator asks, "Crime, what is it? Who decides it? Who decides who's 'the criminal' and who's not?"
IO: Is Aida's feminist prison narrative interwoven with Assem's military narrative? Does it become a question of whose truth is on display?
JM: On some level, yes. But Anbar does not speak about Aida's project directly. It does not exist from a filmic/epistemological point of view, but it constitutes her presence in the project. Assem, however, is present in the video as himself. To an extent the footage with Assem is entirely about him and his practice, but it also speaks about experiences in general. He speaks of a certain dissociation that he and other conscripts experienced while in the military. The truth is difficult to conceive, as it is almost as if he left it at the door when entering the belly of the monster, the military service.
IO: It seems that Anbar attempts to get at the woven, spinning texture that is integral to storytelling.
JM: I hope so. Anbar is one space of many that store and pile up stories, losing track of absolute notions such as "Truth" or truth conceived as a disguise for lies pressed on people by the ruling elite. I often question how I make things and why. What resources are used? Who is the protagonist, who is the spectator? There was a time during the revolution when Philip and I worked on videos depicting workers' struggles in Egypt. We spent so much time filming with workers, and at one point we looked at the material and asked ourselves, "What is it that we're doing here? And what is it that we're trying to prove? Why are we going there?" And this is also a question around video activism or another overused term: citizen journalism. What's the purpose? Indeed some of these videos actually created enough noise to get people released from prison or even to ignite protests. So of course this collective way of working did have an impact on us and on other people around us, close to us. But there was also a moment when that needed to stop.
IO: Why is that the case?
JM: Because even though Mosireen was a filmmaking collective, it was also a physical space, and it was no longer possible to maintain that kind of space, a space where some would come to edit, to use the computers and the facilities, and some would use the space to organize a secret meeting or just to feel safe somewhere. But after Sisi, the massacre, the removal of the Muslim Brotherhood, and the changing of various laws, or basically the change in the penalty for protesting, people would no longer protest, and under the military regime spaces were shut down. So that's one of the reasons, but also toward the end we felt that there were certain videos that people would stop watching. The people who were interested a few years earlier got bored of certain content. People got bored of the revolution.
Notes
1. Sharif Paget, "Tailoring the Fabric of a Nation," Daily News Egypt, December 25, 2014, https://eklutdvotyzsri.dailynewssegypt.com/2014/12/25/tailoring-fabric-nation.
2. Marcus, "Comparing Nasser and Sadat," Arabic 311: Revolution in Egypt: From 2014 to 1798, College of William & Mary in Virginia, October 24, 2014, http://revolutionegypt.blogs.wm.edu/2014/10/24/comparing-nasser-and-sadat.
Hammer Projects: Jasmina Metwaly is part of The Consortium Commissions—a project initiated by Mophradat. It is presented in association with KW Institute for Contemporary Art, Berlin.
Hammer Projects are single-gallery exhibitions highlighting the work of contemporary artists from around the globe, often presenting new work at a pivotal moment of an artist's development. Ongoing since 1999, Hammer Projects is a signature series within the Hammer's exhibition program.
The Hammer Projects series is presented in memory of Tom Slaughter and with support from the Horace W. Goldsmith Foundation.
The Hammer Projects series is made possible by a gift from Hope Warschaw and John Law. Generous support is also provided by Susan Bay Nimoy and Leonard Nimoy, with additional support from the Los Angeles Board of Supervisors through the Los Angeles County Arts Commission.