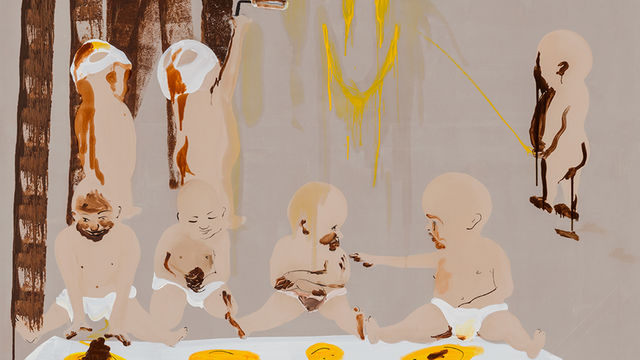 Dirty Protest: Selections from the Hammer Contemporary Collection
–

This is a past exhibition
Drawn from the Hammer Museum's collection, this exhibition highlights a lively mix of painting, sculpture, and media installations by more than 30 international artists.
The Hammer Contemporary Collection continues to grow through purchases and generous gifts from patrons and artists. This core collection comprises works in drawing, film, painting, photography, sculpture, and video made by artists from around the world, with an emphasis on Southern California and the networks of artists who are based here as well as those for whom Los Angeles is a nexus of activity. The highlighted acquisitions in this presentation underlie the Hammer's commitment to the breadth of mediums engaged by contemporary artists, including video installation, new media, and works on paper.
Taken from the title of a 2015 painting by Tala Madani, this group show highlights recent acquisitions and works from the Hammer Contemporary Collection that have never before been on view. This lively mix of painting, sculpture, drawings, and multimedia installations features the work of more than 30 international established and emerging artists.
Dirty Protest: Selections from the Hammer Contemporary Collection is organized by Connie Butler, chief curator, with Vanessa Arizmendi, curatorial assistant.
Artists
| | |
| --- | --- |
| Tomma Abts (b. 1967) | Tala Madani (b. 1981) |
| Kelly Akashi (b. 1983) | Ibrahim Mahama (b. 1987) |
| Njideka Akunyili Crosby (b. 1983) | Mark Manders (b. 1968) |
| Eleanor Antin (b. 1935) | Rodney McMillian (b. 1969) |
| Edgar Arceneaux (b. 1972) | Pentti Monkkonen (b. 1975) |
| Mark Bradford (b. 1961) | Nathaniel Mary Quinn (b. 1977) |
| Chris Burden (1946-2015) | Andy Robert (b. 1984) |
| Chim↑Pom (founded 2005) | Analia Saban (b. 1980) |
| Petra Cortright (b. 1986) | Tschabalala Self (b. 1990) |
| Noah Davis (1983-2015) | Dana Schutz (b. 1976) |
| Trisha Donnelly (b. 1974) | Alake Shilling (b. 1993) |
| Christina Forrer (b. 1978) | Avery K Singer (b. 1987) |
| Hu Xiaoyuan (b. 1977) | Mika Tajima (b. 1975) |
| Alex Hubbard (b. 1975) | Mateo Tannatt (b. 1979) |
| Mike Kelley (1954-2012) | Torey Thornton (b. 1990) |
| Edward Kienholz (1927-1994) | Jeffrey Vallance (b. 1955) |
| and Nancy Reddin Kienholz (b. 1943) | Eric Wesley (b. 1973) |