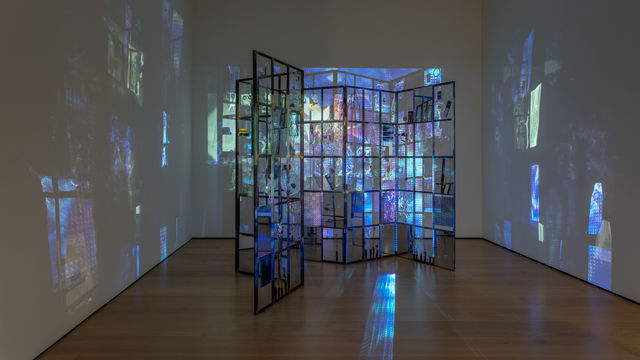 Rosha Yaghmai's melding of industrial and hand-made processes situates her work within a long history of sculptural practice in Southern California. She often combines natural elements mined from the earth—iron, aluminum, copper, nickel, clay—with industrially manufactured products, such as silicone, fiberglass, and eyeglass lenses. By using materials that are familiar yet are deployed in ways that call attention to their uncanny qualities, her installations evoke feelings of estrangement or foreignness. The artist's previous sculptures have portrayed Los Angeles as weathered by the ravages of time yet open to the psychedelic imagination and the possibility of transcendence.
Yaghmai's father immigrated to California from Tehran to study architecture and met her mother, who is American, while she was a student. Going through a box of family slides, the artist found a number of abstract images that her father made when he first arrived in Northern California and used photography as a way to explore his new culture. These photographs contain colorful reflections made using chunks of glass taken from a nearby Coca-Cola factory and available sources of light, such as the reflection from a television set. For Made in L.A. 2018, Yaghmai created a new sculpture, Slide Samples (Lures, Myths), in which she projects her father's imagery through a paneled screen made of window-like sections, many of them cast in resin and embellished with her personal artifacts. Locating the work in her family's past, Yaghmai conceives of the sculpture as a forensic exploration of American ideology and mythologies rooted in self-reliance, innocence, and destiny.
The gallery also includes a hanging work that takes as its starting place a page from The Book of Kings, an illustrated poem that depicts the creation of Persia. Yaghmai removed all of the humans, animals, and plants from the image, resulting in a strange and dreamy landscape reminiscent of fantasy illustration or a psychedelic environment. The resulting ghostly image was printed on silk and embedded in a poured and painted silicone skin. The silicone skin is then layered with various fabrics and suspended from the ceiling like a projection screen or a window into another dimension.
Rosha Yaghmai (b. 1979, Santa Monica, California) works in the West Adams neighborhood of Los Angeles. Yaghmai received her BFA in visual arts from School of Visual Arts, New York, in 2001, and MFA from California Institute of the Arts, in 2007. Her work has been exhibited at TATE St. Ives, England (2018); Marlborough Contemporary, New York (2017); Kayne Griffin Corcoran, Los Angeles (2017); Cleopatra's, New York (2016); Central Park, Los Angeles (2016); Weiss Berlin, Germany (2016); Human Resources, Los Angeles (2016); Commonwealth & Council, Los Angeles (2013); Public Fiction, Los Angeles (2013); Tiff's Desk, Los Angeles (2012); Thomas Solomon Gallery, Los Angeles (2011); Terra Foundation for American Art, Giverny, France (2009); GBK, Sydney, Australia (2008); Estacion Tijuana, Mexico (2008); Riverside Art Museum, California (2007); and Transmission Gallery, Glasgow (2007), among others. Yaghmai is a recipient of the Villa Aurora Berlin Fellowship (2016) and a Terra Foundation Fellowship (2009).