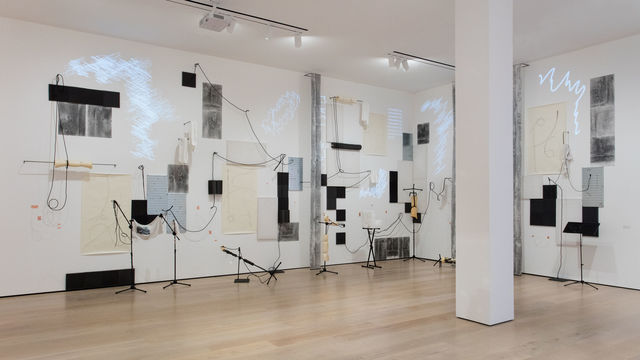 Nikita Gale's practice explores the idea of interpersonal relationships and how consumer products and technology-driven objects contribute to the evolution of these exchanges. She employs these objects in installations and sculptures in order to heighten their presence, relieve them of their societal functionality, and reveal their inner workings. Through this explicit handling, Gale also considers the term reproduction as a bridge to understanding how both biological and mechanical repetition work together as agents of transformation.
For Made in L.A. 2018, Gale constructed a sprawling installation that considers protest and the history of rock and roll as a sonic foundation. She considers how these two generative constructs build upon each other and how a musical score can assist in galvanizing a collective body of action. Utilizing material such as XLR cables, conductive copper tape, guitar strings, and towels that have been stretched like canvas and double as sound panels, Gale combines components and materials that, when commonly configured, are used to amplify and muffle sound.
Gale is also influenced by the history of barricades, particularly as tools for protest dating back to working-class uprisings in mid-nineteenth century France, and she explores the legacies of protest and the mechanisms that warrant its continued necessity. During the 1848 Revolution in France, citizens took to the street and surrounded themselves with barricades of their own making. This action successfully led to the resignation of the chief minister for foreign and domestic policy, and was a major event within the revolution. Graphite rubbings of street curbs are prominent in Gale's installation, under-scoring her interest in the street as a site for protest.
Nikita Gale (b. 1983, Anchorage, Alaska) works in Inglewood, California. Gale received her BA in anthropology at Yale University, in 2006, and MFA in new genres at University of California, Los Angeles, in 2016. Her work has been exhibited at Artist Curated Projects, Los Angeles (2017); Studio Museum in Harlem, New York (2017); LAXART, Los Angeles (2016); Zuckerman Museum of Art, Kennesaw, Georgia (2015, 2014); Samuel Dorsky Museum of Art, New Paltz, New York (2014); Center for Photography at Woodstock, New York (2012); School of Visual Arts, New York (2012); and Atlanta Contemporary Art Center (2012), among others. She is a recipient of the Rema Hort Mann Emerging Artist Grant (2017) and National Endowment for the Arts Southern Constellations Fellowship (2013). She has been an artist in residence at Vermont Studio Center (2013) and Center for Photography at Woodstock (2011).