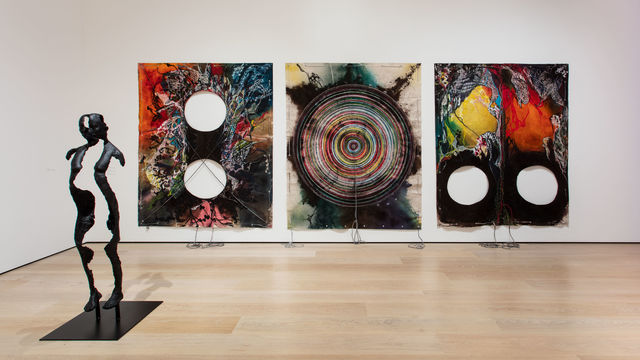 Over the past two decades, Naotaka Hiro has grappled with the question of whether we can ever know the parts of our bodies that we are unable to see without the aid of a mirror or camera. Much of his work—which encompasses a range of media, including drawing, painting, sculpture, and video—stretches his body's capabilities to their very limits in order to document and comprehend these unknowable spaces. Hiro's sculptures map particular segments of his anatomy, and his drawings, which he sees as the crux of his practice, also engage in a kind of mapping. To make them, he leans or lies directly onto the paper, thus a portion of his body becomes a remnant of the process.
In A Pair, a new sculpture made for Made in L.A. 2018, Hiro created two partial life-casts of himself in silicone that were subsequently cast in bronze. This time-intensive procedure required the artist to be still in an awkward position for the duration of the drying time, and, as a result, imperfections and subtle movements are evident in the final work. Together, the two casts of A Pair do not combine to make a whole; instead, the final work is partial and fragmented. Hiro's intention is not to accurately replicate his body but rather to "create a work of reinterpretation or reconstruction of my own image." For his paintings, Hiro sometimes positions himself within a hole in his canvases, then marks the raw material with colored oil sticks as far as his arm can extend for a set duration. Untitled (Crawl #5) is the fifth in a series of paintings for which he crawls in a circle for a predetermined period of time while tracing this action with oil sticks. The paintings are punctuated by large ropes Hiro used to pull the canvas around his body while creating the work that hang from the center and edges of the canvas down to the floor. With these works, he subjects himself to processes that test his endurance and the limits of his physical form in an effort to explore "the dilemma of the unknowability of my body."
Naotaka Hiro (b. 1972, Osaka, Japan) works in Pasadena, California. Hiro received his BA from University of California, Los Angeles, in 1997, and MFA from California Institute of the Arts, in 2000. His work has been exhibited at Brennan & Griffin, New York (2017, 2016, 2013); Armory Center for the Arts, Pasadena, California (2016, 2010); Los Angeles Contemporary Exhibitions (2016), LAXART, Los Angeles (2016); The Box, Los Angeles (2016, 2015, 2014, 2008); Centre d'Art Contemporain, La Ferme du Buisson, France (2015); and Misako & Rosen, Tokyo (2015, 2011, 2009, 2008, 2007), among others. He is the recipient of grants and awards from the Art Matters Foundation (2014) and the Asian and Pacific Islander Artist Presenting Initiative (2006).