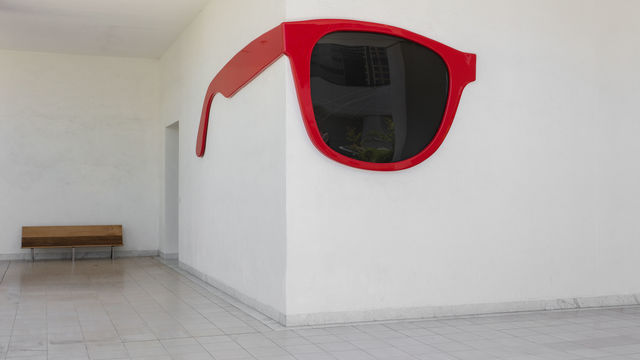 With performance at the root of her practice, MPA often explores the impact on the body of the social and political realities that govern our existence. Her works examine how power is articulated through particular behaviors while also being dedicated to the idea that the body, mind, and spirit can be empowered through action. In recent years, MPA has increasingly turned to sculpture and installation, and her project for Made in L.A. 2018 takes up the dynamics of scale and the possibility of creating an experience that fractures physical and psychic boundaries.
MPA's installation was inspired by an item that is emblematic with Southern California: sunglasses. An enormous pair is split in two, with one half positioned inside the galleries and the other half outside on one of the large stucco terrace walls. A bright red line connects the two halves and meanders elsewhere in the museum. As its title—Faultline—indicates, the piece responds to the proximity of Los Angeles to the San Andreas and other faults, which portend massive earthquakes in the future.
A metaphor for the current state of political affairs, Faultline points to the fractured positions and intractable boundaries so prevalent today, yet the work also creates a site for differences to coexist. Rather than fear the eruptions brought on by divisive partisanship, MPA argues for the need to honor a multiplicity of perspectives. Tableau consists of two chairs on either side of a perforated wall. Inviting people to sit across from each other, the environment welcomes distinct opinions while also offering a space to find common ground. By creating a variety of frames—both literal and metaphorical—and through the placement of her works in disparate sites within the museum, MPA hopes to provoke a fragmented reality. She is intent on taking the "neutral" white walls of the institution and "dragging them up" by adorning them with sunglasses, cutting through them, and embedding her work into them. MPA's installation is not about drag as impersonation or masquerade; rather, it seeks to humanize the inert materiality of the museum's architecture while tugging at the illusory and socially constructed aspects of all forms of perspective-making.
MPA (b. 1980, Redding, California) works in Twentynine Palms, California. MPA received her BA in liberal arts from Hampshire College, in 2004, and completed the La MaMa Performing Arts Program at Trinity College, in 2002. She has had solo exhibitions at the Whitney Museum of American Art, New York (2016) and the Contemporary Arts Museum, Houston (2016). She has exhibited and performed at Los Angeles Contemporary Exhibitions (2016); TBA Festival, Portland, Oregon (2015); Paco das Artes, São Paulo (2014); Museum of Art and Design, New York (2012); Stedelijk Museum, Amsterdam (2012); Swiss Institute, New York (2012); and Center for Performance Research, Brooklyn (2010), among others. MPA has had residencies in Woodridge, New York (2010); Stockholm, Sweden (2010); Nottingham, England (2007); and Oaxaca, Mexico (2006). She is a recipient of the Grants to Artists Award from the Foundation for Contemporary Arts (2012).