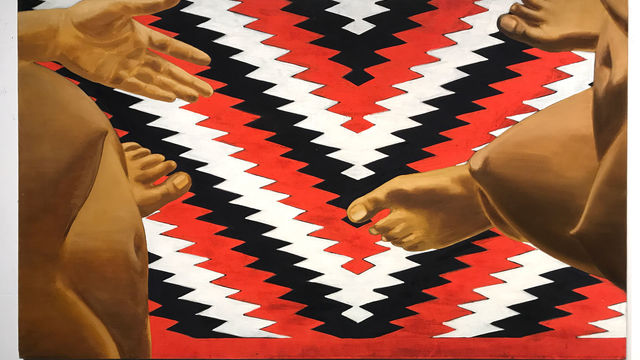 Over the course of her long career, Luchita Hurtado has maintained a rigorous commitment to experimentation—with styles, forms, and materials, and across a range of media. Hurtado's works from the 1940s and 1950s primarily consist of paintings and works on paper that contain abstract forms, biomorphic landscapes, totemic figures, and patterns. These early works also convey Hurtado's ideas about humanity, the universe and the cosmos, and nature and the environment, themes that continue to inform her oeuvre.
The works on view in Made in L.A. 2018 span the late 1960s to the 1970s, at a time when the artist primarily divided her time between Taos and Los Angeles. During this period, her work shifted from biomorphic abstraction to more figurative representations. This departure was inspired, in part, by the political and social changes occurring in the United States and throughout the world, including the women's liberation movement and the beginnings of the environmental movement. Hurtado was particularly attuned to the activities of the women's movement, and representations of her own body are, as she has put it, an "affirmation of self," an assertion of her own presence and power. Many of these paintings are rendered from above, with Hurtado's breasts, arms, legs, feet and hands partially visible against backdrops of patterned floors, planters, and woven baskets. In stark contrast to the traditional straightforward or three-quarter self-portrait, Hurtado chose to represent herself from a skewed angle in which her body is the only constant within a shifting array of backgrounds and scenarios. These psychologically complex portraits frequently contain symbolic imagery: pears and apples refer to sex and sexuality, yarn and baskets to domestic labor, and toys to children and family.
Hurtado also produced a number of landscape paintings wherein the human body merges with the desert or mountains—breasts become sand dunes and a navel doubles as a hole in the ground. These works challenge the binary notion that humans are disconnected from the natural world, proposing instead that the earth is a living and breathing thing. Another prominent element in some of her landscape paintings from this period—feathers—relates to a ritual that Hurtado witnessed, where feathers are placed over a bonfire and left to float in midair. Hung together in Made in L.A. 2018, Hurtado's self-portraits and landscapes shed light on a pivotal moment in her expansive practice.
Over the course of her long career, Luchita Hurtado has maintained a rigorous commitment to experimentation—with styles, forms, and materials, and across a range of media. Her work was displayed at the Hammer as part of Made in L.A. 2018.
Luchita Hurtado (b. 1920 Caracas, Venezuela) works in Santa Monica, California. In 1928 Hurtado immigrated to New York City, where she studied at Washington Irving High School and the Art Students League. She began her career in the early 1940s as a fashion illustrator for Condé Nast and as a muralist for Lord & Taylor. In the mid-1940s, Hurtado frequently traveled between New York and Mexico City, where she worked within an international group of artists and writers who were part of the World War II diaspora. In the late 1940s, Hurtado moved to Mill Valley, California, where she associated with the Dynaton Group. In 1951 she moved to Los Angeles, where she has resided ever since. Recent solo exhibitions include the Annenberg Community Beach House, Santa Monica (2017) and Park View Gallery, Los Angeles (2016). Prior to these, her last solo exhibition was held at the Women's Building, Los Angeles (1974). Hurtado has exhibited sporadically from the 1950s until the present, including at Night Club Gallery, Chicago (2016); Carnegie Art Museum, Oxnard, California (1994); Tally Richards Gallery, Taos, New Mexico (1970); and Paul Kantor Gallery, Los Angeles (1953).