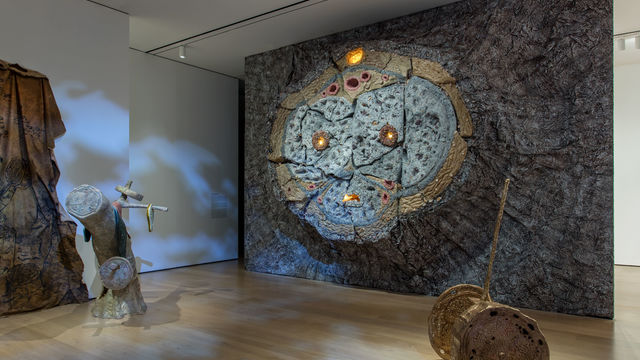 For more than twenty-five years, Charles Long has examined the legacies of modernist sculpture in an effort to absorb its lessons while also pushing the medium into unexplored territories. Inspired equally by his inner voice and by the glut of information and activities in the world around him, he believes in sculpture's enormous capacity to elucidate how human subjectivity is informed by evolving systems of knowledge as well as the simplicity of everyday life. Consistently compelled by a desire to dismantle his assumptions and nagged by the feeling that as sentient beings our experiences are almost indescribable, Long uses sculpture as a platform to work through these existential conundrums.
Long's frequent sightings of tree stumps on Mount Baldy, where he has lived for the past several years, are the catalyst for this immersive installation, paradigm lost. Recognizing the strange correlation in form between the surface of the severed tree stump and the cross-section of the human penis, Long began to explore the resonances between these forms and their symbolic weight in terms of both the environmental degradation brought on by climate change and the terrible consequences of patriarchy. What began as a single sculpture formed from clay multiplied into an elaborate environment composed of a range of objects. With references to monotheistic religion and its pronounced relationship to the violated body and interpretations of iconic works of art by canonized male artists, including Salvador Dali, Alberto Giacometti, Philip Guston, and Edvard Munch, the installation reflects upon and reckons with our inability to resolve and transcend the ills of our past. Long's alternative world could be a proposition for an afterlife, a mythological future, or the apocalypse. But despite the seeming violence of the severed penis, the installation seeks to locate a space for solitude—and a dose of humor—amidst our anger and pain, in order to break free of a cycle of pathos and start to find a way forward.
Charles Long (b. 1958, Long Branch, New Jersey) works in Mount Baldy, California. He received his BFA from Philadelphia College of Art, in 1981, and MFA from Yale University, in 1988. Recent solo exhibitions or projects include Tanya Bonakdar Gallery, New York (2017, 2014); The Contemporary Austin, Texas (2014); Madison Square Park Project, New York (2012); and Orange County Museum of Art, Newport Beach, California (2010, 2002). He has exhibited in numerous group exhibitions, including at the Philadelphia Museum of Art (2015); Carnegie Museum of Art, Pittsburgh (2013); Nasher Sculpture Center, Dallas (2013); Armory Center for the Arts, Pasadena, California (2012); SculptureCenter, Long Island City, New York (2012); Hammer Museum, Los Angeles (2011); Orange County Museum of Art, Newport Beach, California (2010); Santa Barbara Museum of Art, California (2009); Whitney Biennial, New York (2008); Museum of Contemporary Art, Miami (2007); and Hirshhorn Museum and Sculpture Garden, Washington, DC (2006).