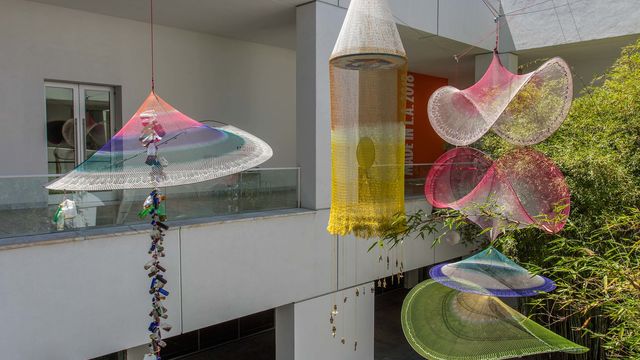 Since 2012, Carolina Caycedo's ongoing project Be Dammed has examined the ecological, economic, and psychological impacts of dams built along waterways, particularly in relationship to development in Latin American countries, such as Colombia, where she grew up; Brazil; Guatemala; and Mexico. Recognizing water as a living entity, a public resource, and a human right, the project has taken a number of different forms, including installations with sculpture, textiles, and video; group performances she has dubbed "geochoreographies," which straddle protest and art; and handmade books with drawings and texts relaying indigenous rituals and mythology.
Caycedo's Cosmotarrayas, on view here, is a series of hanging sculptures assembled with handmade fishing nets collected during the artist's field research in communities affected by the privatization of water. The nets are then adorned or filled with a variety of objects that she acquires during her travels or that come from her personal archive. Some of the nets were given to the artist by friends or acquaintances, while others were purchased in local markets or commissioned. The final works are embodiments of people the artist has met during her travels and their stories of dispossession and resistance.
The net, with its combination of porousness and strength that comes from its rhizomatic structure, reflects the inherent connectivity among beings. The word atarraya translates to "cast net" and comes from the Arab word atarrahar, which means "to throw." While a dam is a solid, often permanent structure that is built by corporations and governments to control the flow of water, the artisanal fishing net is permeable and flexible, allowing the river to flow through it, and is woven by hand. Caycedo's work argues that we must reimagine and reorient our relationship to water, to resist notions of the river as a resource to be exploited and instead understand it as an active agent that has an almost endless capacity for giving and sustaining when cared for. To throw a fishing net affirms the river as a common good.
Carolina Caycedo (b. 1978, London, England) works in the Chinatown neighborhood of Los Angeles. Caycedo received her BFA from Los Andes University, Bogotá, Colombia, in 1999, and MFA from University of Southern California, in 2014. She has exhibited at Commonwealth and Council, Los Angeles (2017); 32nd São Paulo Biennial (2016); Human Resources, Los Angeles (2016); LAXART, Los Angeles (2016); Museo de Arte Universidad Nacional, Medellín, Colombia (2016); Museum of Contemporary Art, Santa Barbara, California (2016); 9th Shanghai Biennale (2012); San Francisco Museum of Modern Art (2012); X Havana Biennial (2009); Wattis Institute for Contemporary Art, San Francisco (2009); New Museum, New York (2009); Queens Museum, New York (2007); Whitney Biennial, New York (2006); Los Angeles Contemporary Exhibitions (2005); Museo de Arte Contemporáneo, Santo Domingo, Dominican Republic (2003); and 50th Venice Biennale (2003). She has completed artist residencies at the Main Museum (2017), São Paulo Biennial (2016), and 18th Street Arts Center (2013). She is the recipient of numerous awards, including California Community Foundation Fellowship for Visual Artists (2017), Creative Capital Foundation Visual Artist Grant (2015), and Harpo Foundation Visual Artist Grant (2015).