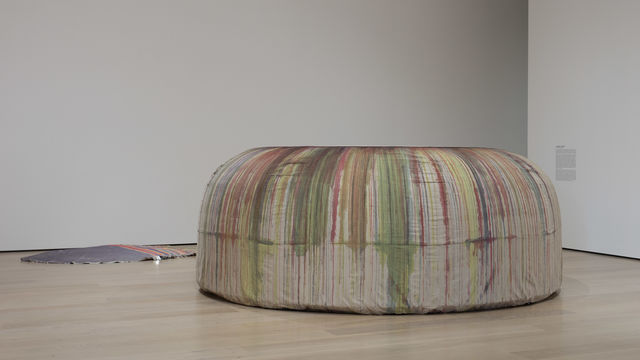 Working with materials as diverse as residential carpeting, muslin, coffeemakers, pine needles, and, recently, fiberglass, Carmen Argote contends with class and ideas of home, place, and the built environment. Her work is also informed by process, and she frequently leaves vestiges of her actions visible.
Filtration System for a process-based practice is a newly realized installation created for Made in L.A. 2018 that consists of a fiberglass sculpture covered in painted linen and a series of paintings. It is inspired by a concrete mound located in a man-made lake in Lincoln Park, in Los Angeles, which is an important source of inspiration for Argote, and informed the muted palette of pinks, yellows, blues, and earth tones in the paintings. The fiberglass sculpture assumed the function of a sort of makeshift workspace, "an island within her studio," as she has put it, used to produce a series of circular paintings on muslin. These paintings have been tagged with numbers to indicate their place within the sequence, folded into wedge shapes, and stacked alongside the sculpture. The paintings and the large linen cover placed atop the sculpture evince Argote's process, and the sculpture, too, bears evidence of its prior function as a workspace.
Documentation of Platform with Mobile Unit is comprised of six individual drawings that also draw attention to the unique process of their making. In its original incarnation, the piece was a component of a multi-part installation at Panel LA that consisted of fourteen coffeemakers arranged in a pyramid structure in the gallery's courtyard. There, large pieces of paper placed on a platform below the coffeemakers acquired rings and accretions from poured coffee, which pooled around the plastic cups and pieces of found cardboard positioned on top of the sheets. Installed together in Made in L.A. 2018, the two works illuminate Argote's process while reminding us of the unvarying, as well as the constantly shifting, elements within the urban landscape.
Carmen Argote (b. 1981, Guadalajara, Mexico) works in the Lincoln Heights neighborhood of Los Angeles. She received her BA, in 2004, and MFA, in 2007, from University of California, Los Angeles. Her work has been exhibited at various institutions, including Ballroom Marfa, Texas (2017); Los Angeles County Museum of Art (2017); Denver Art Museum (2017); Orange County Museum of Art, Newport Beach, California (2017); National Museum of Mexican Art, Chicago (2015); MAK Center, Los Angeles (2015); and Vincent Price Art Museum, Los Angeles (2013). She is a recipient of the Rema Hort Mann Foundation YoYoYo Grant (2015) and California Community Foundation Emerging Artist Grant (2013).