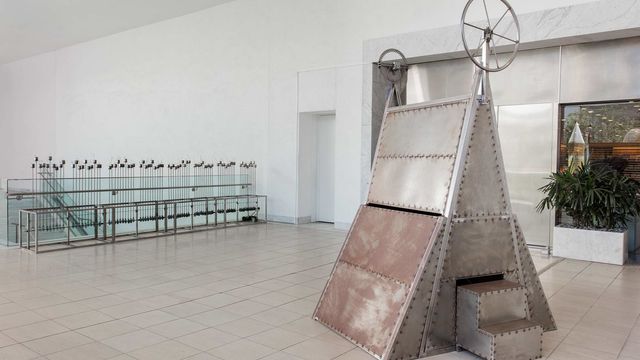 Beatriz Cortez's works dream of a different future but remain firmly rooted in the past. Simultaneously holding two different frames of reference comes easily to Cortez, who immigrated to the United States from El Salvador at the age of eighteen. She remains oriented to both countries, and her work examines the historical and contemporary routes of cultural, commercial, and human exchange that occur along the axis connecting sites within the Americas. For the past several years, Cortez worked primarily with sculpture, building machines that bring together different histories, acknowledge global and cosmic nomadism, and imagine the potential for divergent entities to coexist.
For Made in L.A. 2018, Cortez has built a kinetic machine, Tzolk'in, based on the Mayan 260-day agricultural calendar and using hypocycloid motion, which is found in planetary movements, the industrial design of steam engines, and microbes inside the human body. A second, larger-scale version of Tzolk'in is installed at the Bowtie, a parcel of post-industrial land along the Los Angeles River in Glassell Park, which is owned by California State Parks and curated by Clockshop. Using technology to connect the two sculptures, visitors to the Hammer can see images of the sculpture at Bowtie in real time. Enacting a simultaneity of temporality and of spatiality, the work argues that forces in opposition can in fact work together. The physical estrangement of the two sculptures acknowledges the disparate experiences of those living in distinct parts of the city, while also evoking the bonds that link different realities and contexts.
Cortez's second work, Piercing Garden, is a garden in motion. The sculpture includes indigenous plants from the Americas to acknowledge how the migration of plants mimics the movement of people across borders and boundaries and in recognition of the ways in which ancient civilizations used vegetation for nutrition and healing, spirituality and ceremony for trade and negotiation. Piercing Garden imagines a third type of space that is neither sedentary nor nomadic, but rather is pierced with holes that allow for one reality to pour into another.
Video produced by Clockshop
Beatriz Cortez (b. 1970, San Salvador, El Salvador) works in San Fernando, California. Cortez received her BA in Latin American history from Arizona State University, in 1994; MA in Spanish from Arizona State University, in 1996; PhD in Latin American literature from Arizona State University, in 1999; MA in visual arts from California State University, Northridge, in 2013; and MFA from California Institute of the Arts, in 2015. She has had solo exhibitions at the Vincent Price Art Museum, Los Angeles (2016); Monte Vista Projects, Los Angeles (2016); Cerritos College Art Gallery, Norwalk, California (2016); and Grand Central Arts Center, Santa Ana, California (2013), among others. Group exhibitions include UCR ARTSblock, Riverside, California (2017); Torrance Art Museum, California (2017); Orange County Museum of Art, Newport Beach, California (2017); Centro Cultural Metropolitano, Quito, Ecuador (2016); Sala Nacional de Exposiciones Salarrué, San Salvador (2016); Los Angeles Contemporary Exhibitions (2016); and Centro Cultural de España, Guatemala City (2015). She is a recipient of the Rema Hort Mann Emerging Artist Grant (2018) and California Community Foundation Fellowship for Visual Artists (2016).