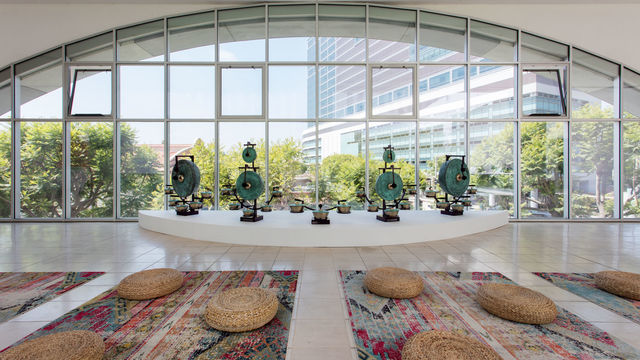 Aaron Taylor Kuffner: Gamelatron Sanctuary
–

This is a past exhibition
This immersive sonic experience comprises a five-part kinetic sculpture that combines traditional Indonesian instruments with modern robotics.
Throughout the summer visitors will experience an immersive sonic installation on Lindbrook Terrace created by artist and composer Aaron Taylor Kuffner. Inspired by traditional Indonesian Gamelan—percussion-based ensemble music—and created in partnership with Balinese master craftsmen, Kuffner's kinetic sculptures connect the rich cultural history of Indonesia with contemporary robotics and orchestration. The installation will include a five-part kinetic sculpture, the Gamelatron Bunganya Dewa ("Flowers of the Gods" in Indonesian), which will play site-responsive compositions throughout the day for the duration of the exhibition. Considered a sanctuary by the artist and replete with comfortable seating, the installation is intended to provide a respite for visitors.
Aaron Taylor Kuffner: Gamelatron Sanctuary is organized by January Parkos Arnall, former curatorial associate, Public Engagement, and MacKenzie Stevens, curatorial assistant.
Biography
Aaron Taylor Kuffner (b. 1975, New York City) is a conceptual artist using sculpture, electronic music, installation, and engineering in his work. He has performed and exhibited work more than 400 times in 22 countries in the last eighteen years. Recent exhibitions include the Drawing Center, New York (2016); the 56th Venice Biennale at the Palazzo Grimani Museum, Venice (2015); The Sackler Gallery at the Smithsonian Institute, Washington D.C. (2013); Sundaram Tagore Gallery, Hong Kong (2013); and The Clocktower Gallery, New York (2012). He has received grants, in-kind support and awards from the Andy Warhol Foundation for the Visual Arts in association with the Clocktower Gallery, New York; The Trust for Mutual Understanding; The Experimental Television Center; The New York Council for the Arts; Ableton Gmhb; The CEC Artslink; Scope Arts; Artist Wanted; Techshop; The New Orleans Airlift; The Indonesian Foreign Ministry; The Dharmasiswa Scholarship; The Berlin Arts Council; The European Commission; I-D Media Berlin; Schloss Brollin Art Labor; The Black Rocks Arts Foundation; The James F. Robison Foundation; The Soros Foundation; Swiss Air; The Mid Atlantic Arts Foundation; the US Artists International partnership with the National Endowment for the Arts; and the Andrew W. Mellon Foundation.
The Hammer Museum's Public Engagement program is supported, in part, by the Los Angeles County Board of Supervisors through the Los Angeles County Arts Commission.