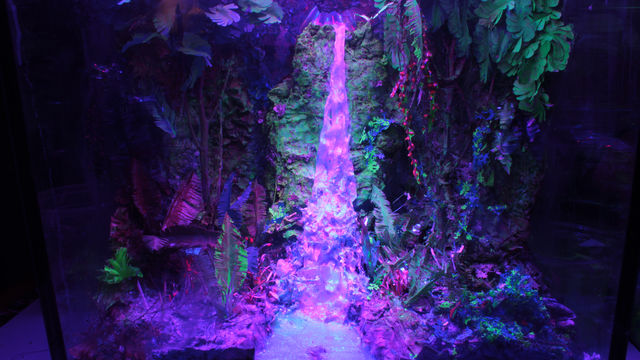 Hammer Projects: This Is the End
–

This is a past exhibition
Hammer Projects: This Is the End features three recent videos by three international artists working independently. Sharing similar sensibilities and employing an array of unconventional narrative strategies, the individual works by Ed Atkins, Loretta Fahrenholz, and Tommy Hartung address such themes as trauma, melancholy, surrealism, and the uncanny. Atkins's Even Pricks (2013) comprises a series of hyperpolished digitally rendered vignettes that relate the idea of depression—both physical and psychological—to the immaterial surfaces of images. Fahrenholz's Ditch Plains (2013) depicts New York City and its environs in the wake of an unspecified disaster that seems at once physical, virtual, and emotional. The video's protagonists move through a dilapidated landscape, acting out narratives both real and surreal. Hartung's epic video THE BIBLE (2014) incorporates found footage, fictitious news footage, and animation in a dramatic exploration of issues from the Old Testament, including morality, ethics, religion, and war.
Hammer Projects: This Is the End is co-organized by Hammer senior curator Anne Ellegood, curator Aram Moshayedi, and curator Ali Subotnick with Emily Gonzalez, curatorial associate. 
Schedule
January 8–February 22, 2015: Tommy Hartung
February 24–April 12, 2015: Loretta Fahrenholz
April 14–June 7, 2015: Ed Atkins
Biographies
Ed Atkins (b. 1982, Oxford, United Kingdom) lives and works in London. He received a BA from Central St. Martins, London, and an MA from the Slade School of Art, London. His work has been shown internationally, including in solo exhibitions at the Serpentine Sackler Gallery, London (2014); Palais de Tokyo, Paris (2014); Kunsthalle Zurich (2014); MoMA PS1, Long Island City, New York (2013); Bonner Kunstverein, Bonn, Germany (2012); and Tate Britain, London (2011). A solo exhibition will open at the Stedelijk Museum, Amsterdam, in February 2015.
Loretta Fahrenholz (b. 1981, Starnberg, Germany) lives and works in Berlin and New York. She has recently had solo exhibitions at Galerie Francesca Pia, Zurich (2014); Halle für Kunst, Lüneburg, Germany (2013); Galerie Buchholz, Berlin (2013); and Reena Spaulings Fine Arts, New York (2013). Her work has also been included in group shows and screenings at Modern Art Oxford, Oxford, United Kingdom (2014); 10th Shanghai Biennale (2014); Institute of Contemporary Arts, London (2014); Museum of Modern Art, Warsaw (2014); KW Institute for Contemporary Art, Berlin (2014); Kunsthalle Basel, Basel, Switzerland (2014); Artists Space, New York (2013); Arnolfini, Bristol, United Kingdom (2013); Museum of Modern Art, New York (2011); Sprengel Museum, Hannover, Germany (2012); and Museum Moderner Kunst Stiftung Ludwig Wien, Vienna (2012).
Tommy Hartung (b. 1979, Akron, Ohio) lives and works in Queens, New York. He received a BFA from Purchase College, State University of New York, Purchase, and an MFA from Columbia University, New York. He has had solo exhibitions at On Stellar Rays, New York, as well as numerous group exhibitions, including those at Xavier Hufkens, Brussels (2013); Team Gallery, New York (2013); White Flag Projects, St. Louis (2012); and MoMA PS1, Long Island City, New York (2010). His work has also been presented at Anthology Film Archives and the Rotterdam International Film Festival.
Essay
By Anne Ellegood, Aram Moshayedi, and Ali Subotnick
Tommy Hartung
January 10–February 22, 2015
In his videos and sculptures, Tommy Hartung concocts strange worlds populated by ethereal beings and bodiless voices. THE BIBLE, which the artist refers to as "a network of finely woven nets," is the culmination of three years of work, and he plans to continue adding to it over time. Taking on one of the most renowned books of all time, Hartung presents a hallucinogenic world rife with war, trauma, creation, destruction, and other catastrophes, not unlike that of the real Bible. Like the increasingly influential "citizen journalists" who inspired him, he mixes actual news footage, found eyewitness video clips, and reenacted found footage with his own fictional narratives. Using handmade sets, stop-motion animation, and video montage, he creates alternative universes, posing existential questions of ethics and morality while exposing the inequalities and contradictions inherent in society today.
The piece begins and ends with a monologue by the American theoretical physicist and Einstein protégé David Bohm, who speaks about truth (and later about thought and sensitivity). Also featured are an Osama bin Laden speech about 9/11, pictures of a bunch of happy white men featured in an advertisement for the best lawyers in New York, the story of two gay men in Soweto who were caught having sex and then stoned by onlookers (one of the men later died from his injuries), and a Hindu shaman possessed by a spirit. An extended segment about convicted US Army Pfc. Chelsea Manning (née Bradley) begins with a robotic voice-over reciting his court statement. The unsettling portrait quickly breaks down and transforms into footage reminiscent of a nature documentary, exploring the flora and fauna of a mysterious island as well as its inhabitants, which are hybrids between humans, animals, and ghosts. War scenes recall video games, and it feels at times as if we, the viewers, are playing the game (actual video game footage is featured briefly). Animations with dolls and toys and handmade miniature sets were shot mostly on web cameras, and the varied sound track includes an ancient Aramaic or Hebrew song, Hindu chanting, the Soviet national anthem, and an emotional song featured in the final episode of the television series Lost. The film concludes (after we hear Bohm discuss how conclusions are violence) with a melodramatic account of the Vietnam War veteran John Constantino, who self-immolated on the National Mall in 2013. The moods of the video frequently shift from melancholic to idyllic and back again, and throughout the piece evokes empathy and provokes questions about life, liberty, and humanity.
by Anne Ellegood
Loretta Fahrenholz
February 24–April 12, 2015
Embracing a working methodology that unsettles the presumed distinctions between documentary and fiction, Loretta Fahrenholz's Ditch Plains depicts a post–Hurricane Sandy New York as a site wracked by environmental devastation, economic inequality, and racial tension. The video was shot primarily in Manhattan, East New York, and Long Island, among the areas most devastated by the calamitous storm, but it was started before the hurricane hit, and some scenes show destruction or decay that is the result of hate crimes or economic disenfranchisement. Inserted into the modern ruins of damaged homes, collapsed infrastructure, and piles of detritus is a free-form narrative—part science fiction, part video game, part real-life experiences like stop-and-frisk interrogations—enacted by members of the self-taught Brooklynbased dance troupe Ringmaster Crew. 
As with most of her films, Fahrenholz did not impose a script on her actors, who worked closely with the artist in a collaborative method in which the concept and formal decisions for the work unfolded during the shooting. Dressed in street clothes, often adorned with neon glow sticks, the dancers (the main protagonists are played by Corey, Jay Donn, and Marty McFly) masterfully engage in movements of "flexing," "bone breaking," "pauzing," and "glytching" to portray what at times feels like a new species of human, impacted both by our ever-increasing reliance on technology and by the altered landscape of a changing climate. At times robotic and at others animistic, their bodily contortions—often coupled with zombie-like disaffected stares or, conversely, malicious unblinking glares—are those of a community still reeling from a traumatic event. 
Along with these survivors, however, there are many casualties. Groups of corpses lie openly in the street, awaiting burial, and are strewn throughout the rooms of a large home as if the victims of a mass murder or suicide. The absorbing score shifts from soulful jazz to the electronic sounds of collisions, weapons, and ominous weather lifted from the popular game Grand Theft Auto to the heightened tones that might accompany a horror movie. Periodically throughout the video, an eerie voice-over, digitally manipulated to render it mechanistic and lacking in affect, gives voice to the characters or expands our sense of the narrative. One speaker is the dancer Corey Batts, and another reads sections of a sci-fi-like narrative written by John Kelsey, which is at turns optimistic and defeated. This tension exists throughout the video. The bleak scenes that are the documented aftermath of a catastrophe furnish a vivid backdrop to the impression that the main character—drifting through a nocturnal urban topography and chancing on an array of strange encounters with adversaries, itinerants, or even ghosts—is nonetheless empowered and self-sufficient. Despite his circumstances of dispossession, he is resilient, adapting to this new frontier by searching out its limited resources and acquiring seemingly supernatural tools for survival.
by Aram Moshayedi
Ed Atkins
April 14–June 7, 2015
Running on a circuitous eight-minute loop, Ed Atkins's Even Pricks never seems to get going. There are starts and stops and interruptions, and a general feeling of insatiate desire prolongs the satisfaction and pleasures of viewing such sultry and refined images, which for the most part have been rendered in the sculptural vernacular of computer-generated imagery (CGI). Expressions of frustration interrupt the densely woven soundscape throughout the video. The slow and deliberate sound of hands clapping metronomically is punctuated by a male voice shouting, "Fu—!"—not even capable of completing the word fuck. A few moments later, Even Pricks approximates the look and sound of a trailer for an action movie: the words THIS SUMMER / DESTROY YOUR LIFE / EVEN PRICKS / DIGESTED / ASSHOLE dart onto the screen as a sequence of five loud gunshots and explosive graphics announce what seems to be a coming attraction. Though it is a completed artwork, Even Pricks is a preview of itself, made in anticipation of itself, which again seems to thwart the seductive promises of such image-making technologies.
A promiscuous thumb is one of the video's protagonists. The thumb is connected to a hairy hand and arm; it has dry cuticle beds; it penetrates the surface of the image; it grotesquely inflates, poking at an eyeball, a bellybutton, an ear, and some mercurial blue liquid. This all takes place as a host of images, forms, and other characters emerge and disappear and circulate in a series of references that at best might approximate the banality of daily life. Thumbs-up, thumbs-down—how truncated these gestures become in a consumer culture that relies so much on the agency and individuality of its participants, though in this case the thumb does not seem to pass any judgment or offer any expertise on the digital world it inhabits. Instead it is an indifferent provocateur that floats and meanders, impressing its lifelike, hyperrealistic self on the surface of Even Pricks in order to further impress itself on the gaze and seductions of its viewers.
by Ali Subotnick
Hammer Projects is made possible by a gift from Hope Warschaw and John Law. Generous support is also provided by the Horace W. Goldsmith Foundation and Susan Bay Nimoy and Leonard Nimoy.
Additional support is provided by Good Works Foundation and Laura Donnelley, the Decade Fund, and the David Teiger Curatorial Travel Fund.