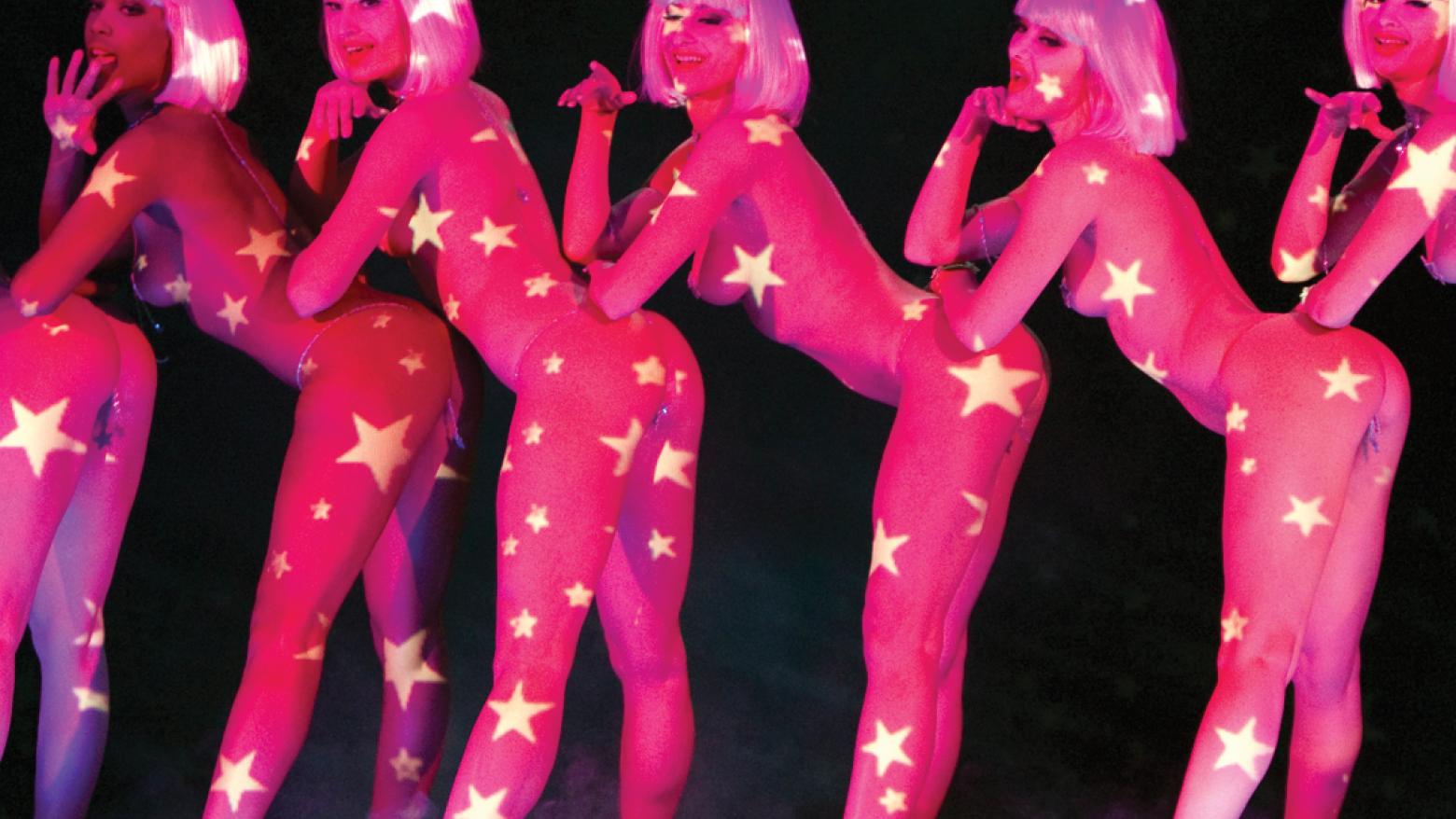 Mark Leckey: On Pleasure Bent
Aug 31–Dec 8, 2013
This is a past exhibition
Trailer for 'On Pleasure Bent'
Through a multi-disciplinary practice that encompasses sculpture, sound, film, and performance, British artist Mark Leckey explores the potential of the human imagination to appropriate and to animate a concept, an object, or an environment. Drawing on his personal experiences as a London-based artist, who spent his formative years in the north of England, Leckey returns frequently to ideas of personal history, desire and transformation in his work.
On Pleasure Bent is a new body of work in which Leckey attempts to form a kaleidoscopic memoir, assembling his past from the imagery that he believes conditioned him. The exhibition will include all new works, several being exhibited publicly for the first time. Objects will include LED screens featuring looped animations, animated screens made up of highly-magnified computer screens silk screened with images, as well as cinema lobby style 'standees' and a trailer for a new video.
Organized by Ali Subotnick, curator, with Emily Gonzalez, curatorial assistant.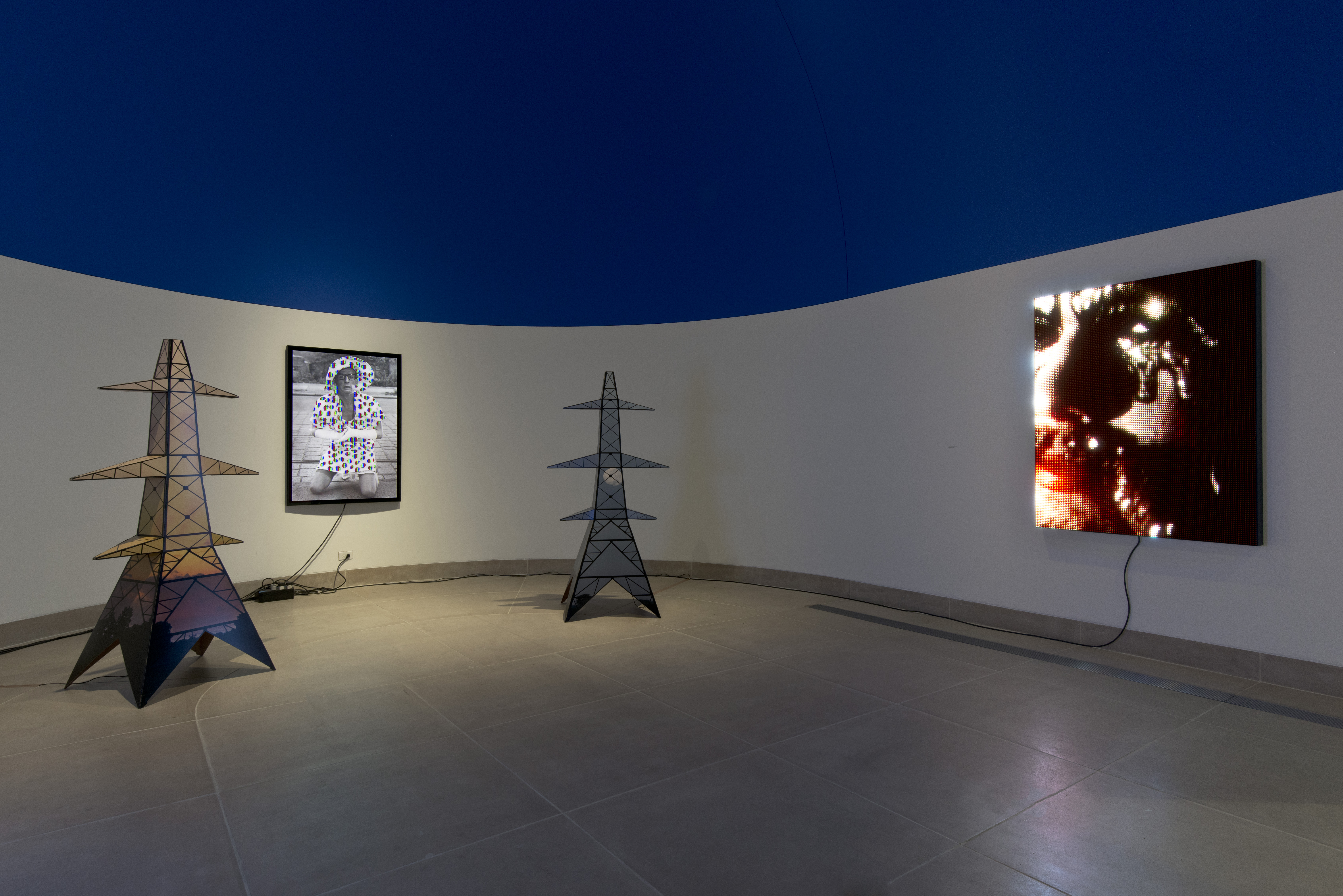 Biography
Mark Leckey was born in Birkenhead, England, in 1964 and lives and works in London. He received his BA from Newcastle Polytechnic. Leckey has exhibited his videos, multimedia installations, sculptures, and collages widely and has had solo shows at the Banff Centre, Alberta, Canada (2012); the Serpentine Gallery, London (2011); Milton Keynes Gallery, Milton Keynes, England (2010); Kölnischer Kunstverein, Cologne (2009); Le Consortium, Dijon, France (2007); Portikus, Frankfurt (2005); and Migros Museum, Zurich (2003). His work has been included in numerous important international exhibitions, including Il Palazzo Enciclopedico / The Encyclopedic Palace, Venice Biennale (2013); Ghosts in the Machine, New Museum, New York (2012); 10,000 Lives, Gwangju Biennale, Gwangju, South Korea (2010); Moving Images: Artists & Video/Film, Museum Ludwig, Cologne (2010); Playing Homage, Vancouver Contemporary Art Gallery; Sympathy for the Devil, Museum of Contemporary Art, Chicago (2007); Istanbul Biennial (2005); and Manifesta 5, European Biennial of Contemporary Art, San Sebastián, Spain (2004). Leckey has presented his lecture/performances at the Institute of Contemporary Arts, London; the Solomon R. Guggenheim Museum, New York; and the Museum of Modern Art, New York, and he participated in Performa 11 (2011) in New York. Leckey recently organized the traveling exhibition The Universal Addressability of Dumb Things for the Hayward Gallery in London, and he will participate in the 2013 Carnegie International at the Carnegie Museum of Art, Pittsburgh. In 2008 Leckey received the Turner Prize and the Central Art Award, Kölnischer Kunstverein. He is currently reader in fine art at Goldsmiths, London, and from 2005 to 2009 he was professor of film studies at the Städelschule in Frankfurt am Main, Germany. His work is in the collections of the Centre Georges Pompidou, Paris; the Hammer Museum, Los Angeles; the Museum of Contemporary Art, Los Angeles; the Museum of Modern Art, New York; Museum Het Domein Sittard, the Netherlands; Tate Gallery, London; Trussardi Foundation, Milan; and the Walker Art Center, Minneapolis.
Essay
By Alex Kitnick 
Mark Leckey speculates on objects and on the future. He is interested in all types of things—from prosthetic hands to Felix the Cat—and what these things do to us as people. He is intrigued by their physical characteristics—their veneer and heft, their weight and feel—and by their place in larger systems of circulation and distribution. He gravitates toward hard objects but only once they have been translated into something else, transformed into a JPEG and retrofitted with a new virtual life. Leckey has said, "sculpture is what I do," but sculpture in his hands is no longer a rigid, obdurate thing but rather something elusive and shape-shifting, malleable and mysterious. So too are the objects from which the artist takes inspiration. 
For his exhibition at the Hammer, On Pleasure Bent, Leckey has brought together these concerns in a rather personal form. Taking its title from an LP by the British comedian Kenneth Williams, the exhibition, along with the eponymous film that anchors it, has been described by Leckey as a memoir constructed from "found memories"; it is an attempt to make sense of his own desires and pleasures and the way they imbricate with technology. Beginning with his birth and concluding with his recent induction into fatherhood, Leckey's film is an attempt to figure himself out. The self, for Leckey, does not exist in solitude, however; like Marshall McLuhan, he understands media as "extensions of man"—and man as an extension of media (1). Each one of us is wired, networked, and connected to a multiplicity of people and things. Pleasure here is equally promiscuous, the result perhaps of a culture bent on enjoyment. Indeed, pleasure is closely tied to popular culture in Leckey's world. The references in his film rely heavily on old television shows and consumer advertising. 
It is not simply the iconography of these "found memories" that intrigues Leckey, however, but the technology—from satellites to televisions—by which they were conveyed to him. To analyze such things, On Pleasure Bent submits footage to a number of manipulations and techniques, alternately refilming projected imagery and breaking down digital code. In this regard, On Pleasure Bent functions something like a sequel to Leckey's breakthrough video Fiorucci Made Me Hardcore (1999), which transformed video footage of 1970s northern soul dance parties into an image of what can only be called the subcultural sublime. Where much of his recent work has focused on current technology and its attendant fetishes—Samsung refrigerators and non-Newtonian fluids have been particularly popular—On Pleasure Bent circles back to the interests that shaped the beginning of Leckey's career and thus synthesizes a number of concerns that have spanned the artist's practice. If one is looking for differences between the two projects, however, one will find those as well. On Pleasure Bent suggests that there are no longer distinct subcultures embedded beneath a dominant culture but rather that a swarm of assorted groups and interests now constitutes our cultural life. 
Instead of offering On Pleasure Bent in its entirety at the Hammer, Leckey is presenting Los Angeles audiences with a snippet of the forthcoming film—perhaps something like a trailer—to pique our interest. While this is partially a pragmatic decision, what seems more important is the structural tension that such withholding produces. Yes, Los Angeles is a city accustomed to media hype, but more and more our contemporary moment at large is characterized by precisely this condition of expectation. Today there is always something to come; pleasure is measured in content waiting to load. Rather than simply being mimetic of our current moment, however, Leckey's gesture may also contain something utopian. "Art," the artist Jack Goldstein once wrote, "should be a trailer for the future," which suggests that art might also prepare us for a different world to come (2).
In addition to the video, Leckey has populated the exhibition with other materials related to his Pleasure project. A cardboard standee, a notably lo-fi aspect of the film industry, is featured in the exhibition to promote On Pleasure Bent. Traditionally emblazoned with superheroes and appearing in close proximity to popcorn machines, these humble PR tools are now waning with the dwindling fortunes of cinemas in general. (Indeed, museums today do a better job than movie theaters of congregating people; at least they insist on physical presence, while movies demand privacy, beaming into our homes.) The 2-D standee is not simply an artifact from the recent past, however; it plays with the tensions between flatness and embodiment and between presence and absence, which characterize Leckey's work at large. In his 2008 performance-video Cinema-in-the-Round, for example, Leckey lectured about a variety of visual phenomena—from Philip Guston's paintings to The Simpsons, from James Cameron's Titanic to Hollis Frampton's Lemon, from Egyptian feline sculptures to Felix the Cat—that struck him as densely material and tangible despite being flat, immaterial images. One notices, too, the old union of high and low in this list. In Leckey's logic, however, the commingling of these two traditionally opposed terms does not flatten out into something bland and neutral but rather creates a hybrid form that pops out with new life.
Leckey is interested not only in objects' shadows and screen presences, however, but in their reflections too. In Pearl Vision (2012), a video shot during his recent residency at the Hammer, another interpenetration of object and subject takes place. The short three-minute video—Leckey calls it "a kind of self-portrait"—focuses on a faceless performer sitting with a snare drum fit snugly between his alternately red-panted and naked legs. The drummer is no master of the instrument—he lazily taps along to the song purring through his Sony headphones—and yet the drum produces a variety of effects in addition to sound. It gives off beautiful chrome reflections; its mechanical parts open and close; at one point it becomes its own animated avatar. Indeed the brand of the drum, Pearl Vision, points to a synesthetic confusion of the senses; it is a musical instrument, but it promotes vision and a pearlescent one at that. The warped crotch shots that form the video's leitmotif, however, suggest that this object and its attendant effects, as with so many of the objects that surround us today, ultimately speak to us libidinally, in a language of sensation that overwhelms any one particular sense. The drum's myriad effects are meant to turn us on. Such stimulation, however, often takes place in a solitary space—the drummer sits alone, slowly keeping the beat. 
For Leckey then, things are clearly much more than dense matter. Everywhere in his work surprisingly animate objects exert pressure on the senses. "Things do not exist without being full of people," the social theorist Bruno Latour has written, "and the more modern and complicated they are, the more people swarm through them."(3) Leckey too is interested in the most modern of things, which is to say that he is interested not only in objects but also in the systems through which they are put, with the Internet being only the most obvious one. If reification is the word that describes the process in which social relationships become thing-like, what, we might ask, is the word for when things become social? For this is the phenomenon that Leckey sets out to describe in his work. In the world that we inhabit, and that he charts, the division between subject and object, and person and thing, has become blurred beyond our wildest dreams. 
In its emphasis on the affective bodily charge that technology creates, Leckey's work marks a paradigm shift in the history of recent art. In contrast to much postmodern art of the 1980s—its appropriated "pictures" preoccupied with loss, absence, and silence—Leckey's work displays an engorging of images and an animation of objects. Things here have not been replenished with meaning, information, or symbolic value, however, as much as they have been pumped up with sensation. Leckey sees a new materialism ahead of us. Looming in the background is the question of what we want to do with these new technologies and materials, which appear more and more to be here to stay. If Leckey's art is a trailer for the future, we can only imagine—with a mixture of trepidation and wonder—about the film that is to come.
Alex Kitnick is an art historian and critic whose writing has appeared in publications including Artforum, October, and Texte zur Kunst. He currently teaches at Bard College. 
Notes
1. See Marshall McLuhan, Understanding Media: The Extensions of Man (New York: McGraw-Hill, 1964).
2. Jack Goldstein, in Documenta 7, vol. 2 (Kassel, Germany: Dierichs, 1982), 134.
3. Bruno Latour, "The Berlin Key or How to Do Words with Things," in Matter, Materiality, and Modern Culture, ed. P. M. Graves-Brown (London: Routledge, 1991), 10.