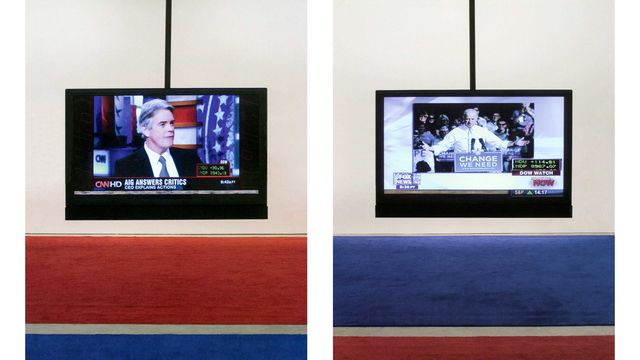 YOUR LAND / MY LAND
Sep 30–Nov 18, 2012
This is a past exhibition
Jonathan Horowitz's Your Land / My Land: Election '12 serves as a convening space where visitors can watch and discuss the unfolding presidential election and its aftermath. Presented simultaneously at several museums throughout the country, the installation uses red and blue carpeting to divide the gallery into two distinct spaces. Fox News is broadcast live on a monitor in the red zone, while the monitor on the blue side is tuned to MSNBC, directing our attention to the increasingly rigid two-party system that defines US politics today. As the artist notes, in spite of movements such as the Tea Party and Occupy, the country remains "swathed in red and blue with no purple in between."
The title of the piece is a reference to Woody Guthrie's song "This Land Is Your Land" and highlights particular concerns of the 2012 election, such as fiscal policies and economic disparities. The project revisits an installation that Horowitz staged during the last presidential election, November 4, 2008, which featured similar elements: red and blue carpets, but with televisions tuned to Fox News and MSNBC. In both iterations, the artist co-opts media to address the politics of politics and to acknowledge a polarized system that, closed as it may seem, does not necessarily generate predictable outcomes.
The gallery will be open during regular museum hours, during the presidential and vice presidential debates, and will remain open late on election night, November 6. 
Presidential debate
October 3
6:00 to 7:30pm
Vice Presidential debate*
October 11
6:00 to 7:30pm
Presidential debate*
October 16
6:00 to 7:30pm
Presidential debate**
October 22
6:00 to 7:30pm
*October 11 & 16 debates will also be screened in the Billy Wilder Theater in advance of  the evenings' public programs.
**The Lobby Gallery will be open on Monday October 22, from 6-7:30pm for this debate.
Participating Venues:
Contemporary Art Museum, St Louis, MO
September 7–November 11
 
Contemporary Art Museum Raleigh, NC 
September 22–November 12
 
Contemporary Arts Museum Houston, TX
September 29–November 11
  
Utah Museum of Contemporary Art, Salt Lake City, UT
October 5–November 24
 
New Museum, New York
October 10–November 18
 
Telfair Museums, Savannah, GA
October 12–November 11