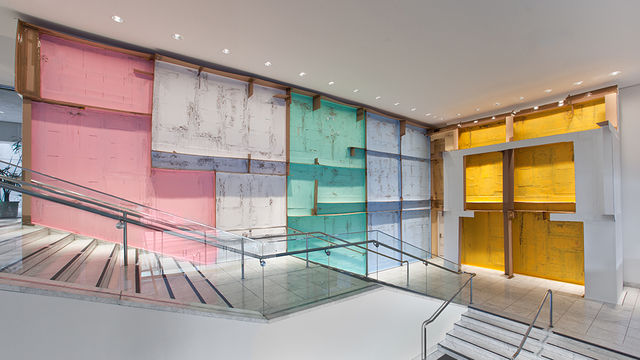 Hammer Projects: Carlos Bunga
Nov 25, 2011–Apr 22, 2012
This is a past exhibition
Trained as a painter, Barcelona-based Portuguese artist Carlos Bunga has expanded his practice to encompass multiple mediums including collage, drawing, performance, sculpture, and video. In his architecturally scaled installations, Bunga uses mass-produced materials like cardboard, packing tape, and house paint to build structures that recall temporary shelters or life-size maquettes. Built over a period of weeks, his site-specific sculptures are made in direct dialogue with the surrounding architecture. Largely improvised, Bunga likens the process to making an abstract painting in three dimensions. Hammer Projects: Carlos Bunga will include a new work made on site for the Lobby Wall as well as a selection of Bunga's drawings, paintings, sculptures, and videos dating from 2002 to 2008 on view in the Lobby Gallery.
Organized by Corrina Peipon, curatorial associate.
Biography
Carlos Bunga was born in Porto, Portugal, in 1976 and was educated at Escola Superior de Artes e Design in Caldas da Rainha, Portugal. He lives in Barcelona, Spain. Bunga's work has been the focus of one-person exhibitions at Culturgest, Porto (2005); Milton Keynes Gallery, Milton Keynes, England (2006); MARCO, Museum of Contemporary Art, Vigo, Spain (2009); Miami Art Museum (2009); and Pinacoteca, Museu de São Paulo de Arte Contemporânea (2012). Group exhibitions that have featured his work include Manifesta 5, Donostia-San Sebastián, Spain (2004); Things Fall Apart All Over Again, Artists Space, New York (2005); Farsites: Urban Crisis and Domestic Symptoms in Recent Contemporary Art, inSite_05, San Diego Museum of Art (2005); Unmonumental: The Object in the Twenty-First Century, New Museum, New York (2007); Construir, habitar, pensar, Instituto Valenciano de Arte Moderno, Valencia, Spain (2008); the twenty-ninth São Paulo Bienal, São Paulo, Brazil (2010); and Delimitation, Herzliya Museum of Contemporary Art, Herzliya, Israel (2012). Bunga was awarded a visual arts grant by the Fundación Marcelino Botín in 2006.
Essay
By Corrina Peipon 
Kursaal Project (2004), Carlos Bunga's architecturally scaled installation for Manifesta 5 (1)—made on-site out of cardboard, packing tape, and paint—was improvised without preliminary drawings over the course of a month. Then, in a matter of hours, Bunga intentionally compromised its surprisingly substantial structural integrity through a series of actions that included cutting, tearing, and pushing the cardboard walls and beams before an audience of museum visitors. Through this performative act of accelerated deterioration, he brought forth the finished form of the work. At the close of the exhibition, the sculpture was dismantled and hauled away as refuse.
Reflecting upon his installation and performance, Bunga made four small sketches. Including measurements, notes, and color swatches, the drawings are like plans produced after the fact. They are a visual diary of a pivotal moment in the artist's practice and are all that remain of Kursaal Project: now, and for posterity, the drawings are the work. Since then, Bunga has continued to record his completed installations in drawings and collages. "In the actual constructions, in the architecture of the space, I have limitations, physical limitations—the size of the rooms, etc. But with the drawings I am free. I can invent and radically rethink the space—grow and extend it." (2)  While Bunga's improvisational method requires the full engagement of his imagination, the installations are always grounded in reality; they are made to scale with real materials in real spaces with real physical parameters. It is in his drawings that he is able to note the moments when architectural obstacles may have stymied an idea. On the page he is able to knock down walls, blow through ceilings, extend floors. In this way, the drawings then beget subsequent works in a cycle of ideas that build upon one another. 
Like the diaristic drawings of his sculptures, Bunga's series of paintings More Space for Another Construction (2007–8) are simultaneously autonomous and suggestive of future works. The brightly hued geometric forms painted atop pages torn from The New American House: Innovation in Residential Design and Construction—a collection of books presenting case studies on contemporary homes—expand the pictured rooms and elaborate Bunga's interest in abstract forms in both two and three dimensions. As in his installations, he creates abstract space by adding colorful, anachronistic rooms within existing rooms. Symbolic of social status, economic security, and familial harmony, the images of the modern homes are obscured by Bunga's gestural brushstrokes. The works thus question collectively held ideas about the physical permanence and societal importance of architecture and illustrate the potential latent in architectural space.
As a student at Escola Superior de Artes e Design in Caldas da Rainha, Portugal, Bunga trained as a painter. Walking through the city, he was fascinated by decaying structures, empty lots, and the marks of demolished buildings remaining on formerly hidden exterior walls. To Bunga, the walls were pictorial spaces redolent of history and memory. Their crumbling facades gave the lie to the monumentality of architecture, instead revealing impermanence and vulnerability. He began to seek out dilapidated exterior walls that bore formal resemblances to his paintings. He then hung his paintings there, subjecting the works to the elements and integrating them into the urban landscape, satisfying his twin desires to embody the passage of time in his paintings and to integrate his practice into a space beyond the studio.
Curious to understand his profound attraction to these spaces outside the picture plane, Bunga began using cardboard, tape, and paint to make small maquettes of imagined buildings. These materials were readily available, easy to work with, and inexpensive, allowing him to make the works quickly, and their association with the temporary and the transient suited his interest in impermanence. Begun in 2002, the Untitled Model series, in tandem with his short videos using similar materials, gave rise to Bunga's large installations. At first, the small sculptures helped him explore his fascination with architecture by engaging the discipline's common method of making scale models to aid in envisioning and designing full-scale buildings. Rather than actual proposals, though, the sculptures appropriated the conventional architectural means as an end in itself. Bunga's pursuit was not pragmatic but philosophical. "Before I made any installations, I worked with maquettes. They were a way of playing . . . and a way of projecting yourself into the space. But soon I started asking what would happen if I took this same method for making the models but [made them] much bigger, much, much bigger. I was making an abstract space." (3)
Made from ephemeral materials but architectural in scale, Bunga's installations are akin to life-size maquettes. Built like paintings, the installations are three-dimensional visual ideas. While the forms may be familiar, the spaces that they delineate are uncanny and hard to pin down. The structures are sound, but they are undefinable, located somewhere between architecture and sculpture. When situated in large corridors or entry halls like the Hammer Museum lobby, Bunga's installations are made in public in transitional spaces where visitors witness their creation when passing from one exhibition space to another. While the simultaneous construction and installation of these works is therefore an informal performative act, a subsequent stage in his process is often an announced performance in which, as with Kursaal Project or Metamorphosis at the Miami Art Museum in 2010, Bunga radically alters the spaces that he has built.
It is not the building process but the alteration—the accelerated deterioration—of these newly built structures that gets to the heart of Bunga's concerns. His interventions are demonstrations of and meditations on impermanence, illustrating a philosophical exploration of an ethical position. Drawn to that which is ephemeral and bears physical evidence of the passage of time, Bunga enacts decay to posit ideas about the present as a liminal, transformational space between the past and the future. As time passes, the present is constantly becoming the past, and the built environment is a physical expression of this process. His work underscores this ephemerality, reminding us that nothing is impervious to entropic forces. As the natural state of the world, impermanence is synonymous with transformation. To Bunga, decay and removal create "more space for another construction," embodying the possibility of a better world. 
In Landscape (2011), his site-specific work at the Hammer Museum, he considers the relationship of the built environment to nature in the urban landscape. Like nature, the city is in a constant state of transformation. Thus, urban ruins perpetually offer new spaces for progressive thinking and the expression of human potential. 
Notes
1. Manifesta 5 took place in Donostia-San Sebastián, Spain, in 2004.
2. "Accelerated Architecture or Painting Process? A Conversation between Carlos Bunga and Michael Stanley," in Carlos Bunga, exh. cat. (Milton Keynes, UK: Milton Keynes Gallery, 2006), 13.
3. Ibid., 14.
Hammer Projects is made possible by a major gift from The Horace W. Goldsmith Foundation.
 
Generous support is provided by the Los Angeles County Board of Supervisors through the Los Angeles County Arts Commission and Susan Bay Nimoy and Leonard Nimoy. Additional support is provided by Good Works Foundation and Laura Donnelley; the City of Los Angeles Department of Cultural Affairs; the Decade Fund; and the David Teiger Curatorial Travel Fund.