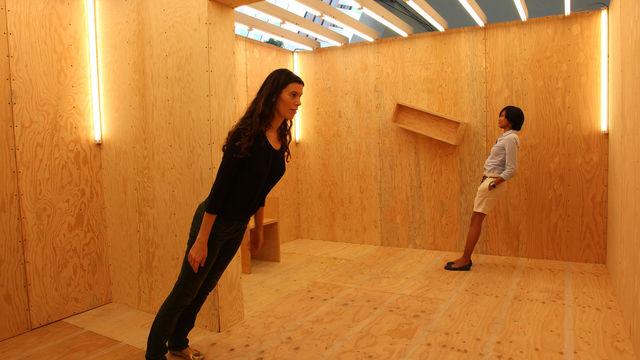 Hammer Projects: Julian Hoeber
Oct 30, 2010–Feb 27, 2011
This is a past exhibition
Los Angeles-based artist Julian Hoeber uses a wide range of media—including sculpture, drawing, filmmaking, installation, and photography—to explore psychology, emotion and narrative. For this exhibition, Hoeber presents Demon Hill, a freestanding structure based on the architecture of "gravitational mystery spots." The architecture of these shacks creates the illusion that gravity works at an angle, that water runs uphill, and that bodies stand at a sharp angle to the floor. "Mystery spots" claim to be an effect and marker of a geological anomaly or a supernatural phenomenon and the illusion is so convincing that it gives even rational people pause. The project will allow for a playful experience of space and narrative while opening questions of how psychology and ideology form meaning in art. Installed on the Museum's Lindbrook Terrace, Demon Hill is a combination art installation and roadside attraction, transplanted to the marble terrace of the Museum.
This exhibition is organized by Ali Subotnick, Hammer curator.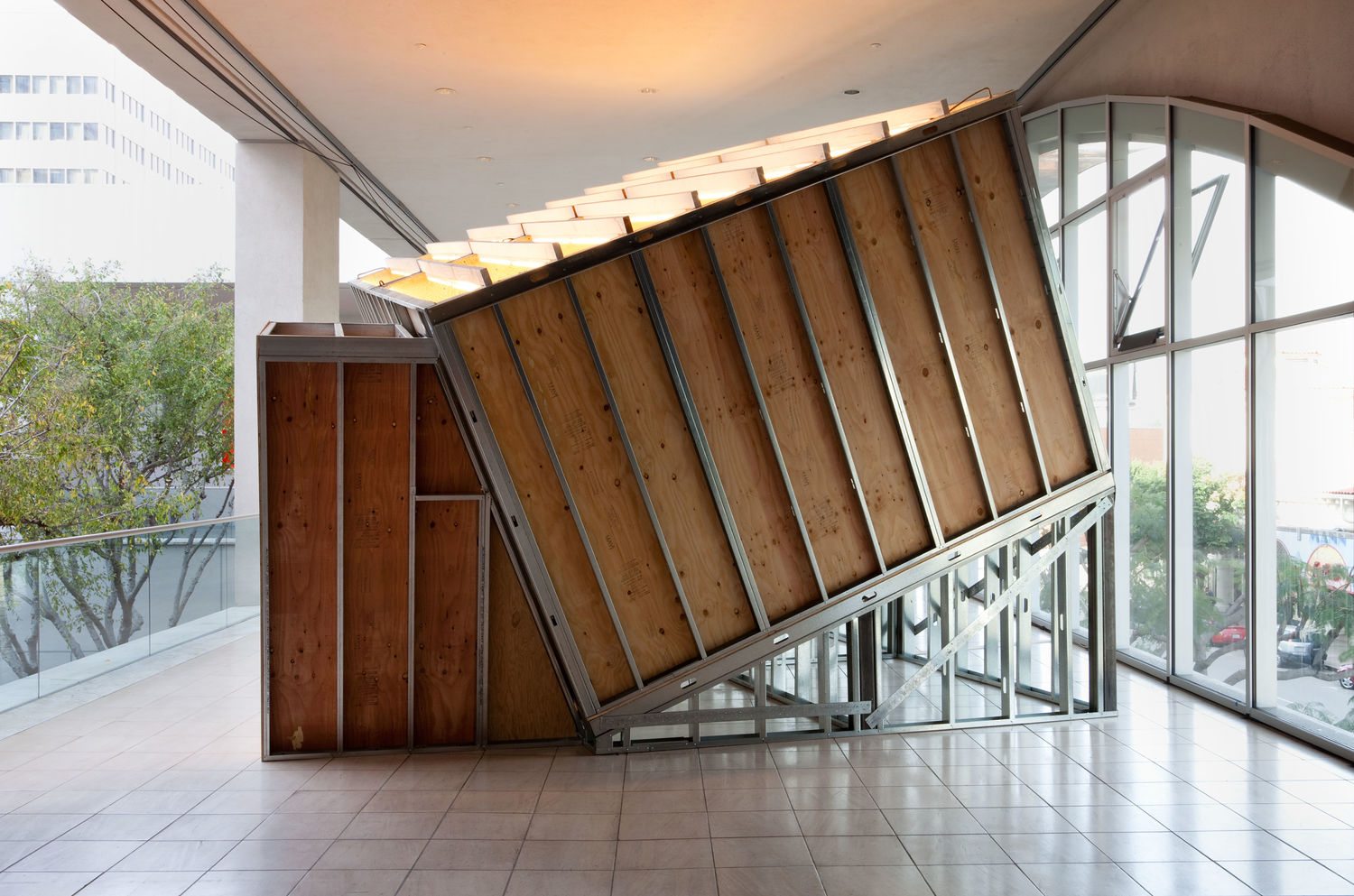 Biography
Julian Hoeber was born in Philadelphia, Pennsylvania in 1974 and currently lives in Los Angeles. He received a MFA from Art Center College of Design, Pasadena; a BFA from the School of the Museum of Fine Arts, Boston, MA; a BA in Art History from Tufts University, Medford, MA; and he also studied at Karel de Grote Hogeschool, Antwerp, Belgium. Hoeber has exhibited in the U.S. and Europe and his work was included in Compass in Hand: Selections from The Judith Rothschild Foundation Contemporary Drawings Collection, The Museum of Modern Art, New York, NY (2009); Panic Room - Works from The Dakis Joannou Collection, Deste Foundation Centre For Contemporary Art, Athens Greece (2007); Dark Places, Santa Monica Museum of Art, Santa Monica, CA (2006); and 2004: Planet B: The Aesthetics of the B-Movie, Palais Thurn & Taxis and Magazin4, Bregenz, Austria, among others. He has had solo exhibitions at Blum and Poe, Los Angeles, Galleria Francesca Kaufmann, Milan, Italy, and Praz-Delavallade, Paris, France. Hammer Projects: Julian Hoeber is his first one-person museum exhibition.
Essay
By Luc Sante
The "high" and "low" poles of culture, born of the same womb, were forcibly separated several centuries ago but have been yearning for reunion ever since. As in many other cases where twins were raised apart, their personalities display eerie congruencies, patterns that argue for an innate disposition rather than mere inclinations formed through experience. One of these is a taste for the sublime. The idea was perhaps best defined by Joseph Addison, crossing the Alps in 1699, who termed it "an agreeable kind of horror." The word was long understood as pertaining to the high, the majestic, the unattainable, but the isolation of that singular aspect—the point where awe and dread, repulsion and attraction, confusion and clarity all meet—was perhaps the starting gun of modernism, occurring sometime in the late seventeenth century.
In high culture, contemplation of the sublime initially gave us, for example, Moby-Dick, the paintings of Caspar David Friedrich, Henry David Thoreau's description of the summit of Ktaadn, the black suns of Odilon Redon, Victor Hugo's "mouth of shadow," Italian mannerist landscape architecture, and a hundred variations on the myth of Prometheus. In low culture it primarily gave us fairground attractions: the freak show, the Ferris wheel, the roller coaster (the "Russian mountains"), the fun house. As different as those two sets might appear at first glance, it soon becomes clear that they target the same ganglia, the place where apprehension and surrender whirl around each other so fast that it becomes impossible to say which precedes which.
In the late twentieth century the sublime was revived as a major high-culture theme on a grand scale by the land artists, and in a more intimate frame by an overlapping set, some of them associated with Light and Space: Robert Irwin, James Turrell, Dan Flavin, Donald Judd, Maria Nordman, Doug Wheeler, Larry Bell, and DeWain Valentine, among others. Those artists were all in one way or another altering the perceptual field, manipulating the phenomenological experience of space. What they produced was work that was meant not so much to be looked at as inhabited. They rescued the principle of illusion from the dustbin of history, to which it had been consigned by Maurice Denis in 1890, and placed it at the center of their aesthetic. Their work partook of the hallucinogenic—even if it did not have anything to do with drugs—employing disorientation as a pathway to a meditative experience of ego loss. It conveyed the sublime as a chamber experience, ideal for museums and other such showplaces. 
Meanwhile, the low-culture twin had gotten there first. As automobile traffic increased and roads improved in the period between the wars, the phenomenon of the roadside attraction arose, an income-producing sideline for operators of luncheonettes and motor courts. Among all the petting zoos, Indian legends, dinosaur models, alligator farms, and other such highway-age versions of the dime museum, one lure stood out as new: the mystery spot. Although records are scant, the first one built may have been the Oregon Vortex, in Gold Hill, Oregon, which possibly dates back to 1930. The Mystery Spot in Santa Cruz, California, arguably the most famous, was erected in 1939. Many more followed after World War II, including installations in Rapid City, South Dakota; St. Ignace, Michigan; Piercy, California; Ligonier, Pennsylvania; at Knotts Berry Farm; in the Wisconsin Dells. A mystery spot is an interior space in which gravity appears to have been altered or suspended, as a consequence of "vortex magnetism," according to the management of one of these, or bombardment by "high-velocity soft electrons," according to that of another.
Actually, a mystery spot is a tilt-induced visual illusion. Its cousin, the mystery hill (or gravity hill, or spook hill), is a naturally occurring phenomenon wherein, as a result of a variety of misleading visual cues, a road that appears to be going uphill is actually going downhill. The mystery spot is a construction of one or more rooms that is significantly tilted off the plumb, frequently at different degrees of tilt per axis, although misleading visual cues are deliberately deployed to conceal this fact. When encountering a rectilinear frame, the human mind naturally tends to want to make it correspond to habitual norms of vertical and horizontal, barring visual indications to the contrary. In a mystery spot the mind, unable to trust in visual anchors, is quite literally thrown off balance. As psychologists Arthur P. Shimamura and William Prinzmetal put it: "Misperceptions of the true gravitational axes distort many aspects of perceptual processing, including object orientation, object location, line length, and angles."1 A slope that would appear gentle in the open air instead becomes a flat surface turned treacherously unstable, which results in vertigo. 
With Demon Hill, Julian Hoeber has reunited the siblings. His work is at once a meditative, austerely sensual conceptual art object and a carny trap. Because the piece is located in a museum, it is perforce an art object. Because the museumgoer is led into the piece without explanation and then visually deceived and viscerally assaulted, it is perforce a fairground dodge. Because the piece stages the dérèglement de tous les sens within the confines of a temple of high art, it forcefully merges several distinct currents of modern and postmodern art. Because it employs the museum as an institutional shill in order to suborn blameless patrons, rendering them helpless before its manipulative designs, the piece is necessarily a promotion, a shakedown, a dry shave. Hoeber's work deliberately sets out to make you see both the rabbit and the duck simultaneously. It is to the classic mystery spot what Marcel Duchamp's Étant donnés (1946–66) is to the peep show, and it would be quite at home in Marfa, Texas, if Marfa, Texas, had a midway. It is a solidly constructed feat of engineering meant to convince the mark that up is down and day is night, and as such it retails transcendence out of the back of a truck—but that does not make it any the less transcendent.
Hoeber's previous work has included filmed meditations on the difference between violence and fake violence (Killing Friends, 2002) and between revolution and revolutionary pretensions (Talkers Are No Good Doers, 2005), drawings that among other things measure how far op art can be undermined without losing its illusional power, and sculptures that seek the point where a human head stops being a human head as a consequence of violence (both from All That Is Solid Melts into Air, 2008). As an expert walker of high wires, razor edges, and philosophical controversies, Hoeber is exceptionally well situated to bring about the reunion of the effete high and the brutish low, mutually engaged in an installation of meditative chicanery.
Notes
1. "The Mystery Spot Illusion and Its Relation to Other Visual Illusions," Psychological Science 10 (November 1999): 506.
Luc Sante's books include Low Life, Evidence, Kill All Your Darlings, and Folk Photography. He teaches writing and the history of photography at Bard College.
Copyright ©2010 by the Regents of the University of California. All rights reserved
Hammer Projects is made possible with major gifts from Susan Bay Nimoy and Leonard Nimoy and The Horace W. Goldsmith Foundation.
Additional generous support is provided by the Los Angeles County Arts Commission; Good Works Foundation and Laura Donnelley; L A Art House Foundation; Kayne Foundation—Ric & Suzanne Kayne and Jenni, Maggie & Saree; the Department of Cultural Affairs, City of Los Angeles; and the David Teiger Curatorial Travel Fund. 

Hammer Projects: Julian Hoeber has also received support from Karyn Kohl.