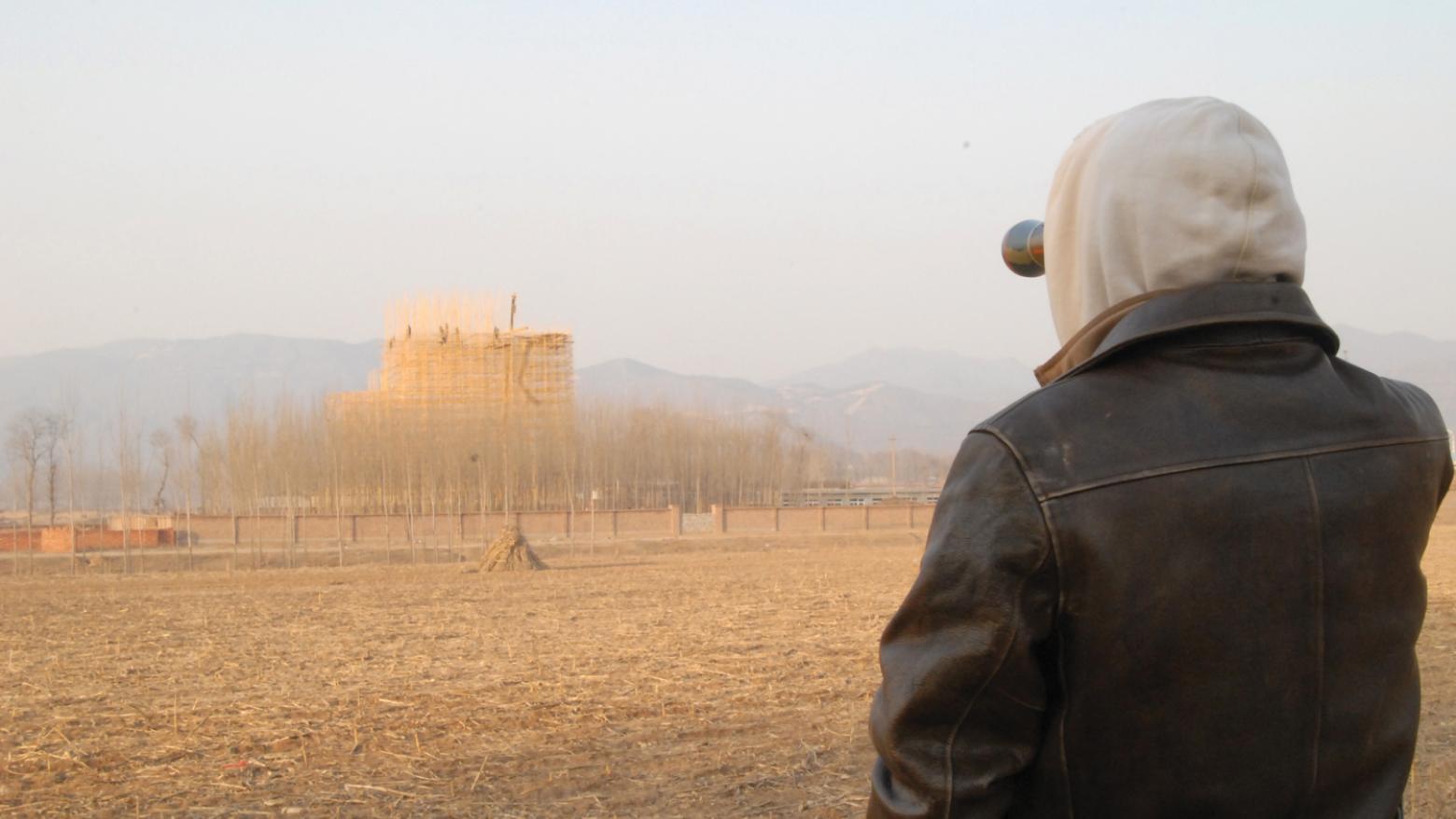 Hammer Projects: Wang Qingsong
Mar 24–Jun 14, 2009
This is a past exhibition
Wang Qingsong is an influential contemporary Chinese artist known for his large-scale photographs which explore the political, social, and cultural issues of a rapidly changing China. The Hammer is pleased to present his newest work, Skyscraper (2008).
In Skyscraper, Qingsong employed 30 scaffolding workers from the countryside near Beijing during a month long production, to build a 35meter high 'skyscraper' out of gold-painted iron scaffolding. Using stop-action 35mm film he captures the entire process, but without showing the workers. China has been growing at breakneck speed but what is not always noticed, like Wang's process behind his photos, is the immediate effect and sacrifices of millions of displaced and anonymous people. The end of the film shows fireworks exploding from the top of the skyscraper in a jubilant but dark celebration as we listen to three women sing a Chinese version of "Silent Night, Holy Night."
Curated by James Elaine.
Biography
Wang Qingsong was born in 1966 in Heilongjiang Province, China, and lives and works in Beijing. He graduated from the Sichuan Academy of Fine Arts in 1991. He has had solo exhibitions at Albion Gallery, London; PKM Gallery, Beijing; PKM Gallery, Seoul; MEWO Kunsthalle, Memmingen, Germany; and Marella Arte Contemporanea, Milan. His work has been exhibited internationally in numerous group shows, including Action–Camera: Beijing Performance Photography (Belkin Art Gallery, Vancouver, 2008); Fabricating Images from History (Chinablue Gallery, Beijing, 2008); 21:Contemporary Art (Brooklyn Museum, 2008); Beyond Icon: Chinese Contemporary Art in Miami (Art Basel, Miami, 2007); Mirror Image of Diversity (Beijing Tokyo Art Projects, Beijing, 2007); and Body Language (National Gallery of Victoria, Melbourne, Australia, 2008). Wang has also participated in the 2008 Shanghai Biennale; the Busan Biennale; and the 2006 Bucharest Biennale. This is his first solo museum exhibition.
Hammer Projects is made possible with major gifts from Susan Bay-Nimoy and Leonard Nimoy and The Horace W. Goldsmith Foundation.
 
Additional generous support is provided by the Los Angeles County Arts Commission, Good Works Foundation and Laura Donnelley, LA Art House Foundation, the City of Los Angeles, Department of Cultural Affairs, the David Teiger Curatorial Travel Fund, and Fox Entertainment Group's Arts Development Fee.