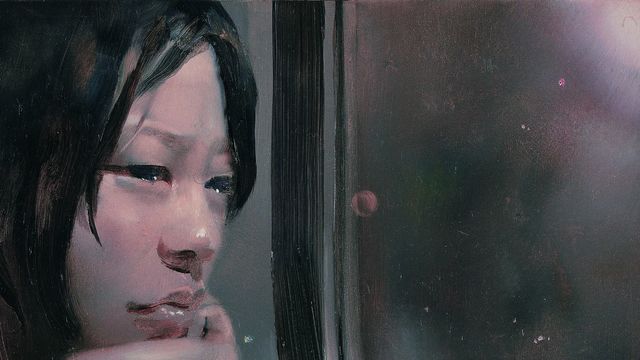 Hammer Projects: Song Kun
–

This is a past exhibition
Beijing-based artist Song Kun's painting series It's My Life (2005–06) examines the minutiae of daily existence. For an entire year she created one painting a day, rendering a collection on canvas of the concerns, fears, desires, and confusion experienced by her and the newly emerging generation in China. Influences from Chinese landscape painting, animé, and traditional still life by European masters are suggested in the work. Song Kun offers viewers a portal into her inner life through elliptical narratives and moody moments rendered with a lush, sometimes despondent beauty. For her first solo exhibition in the US, this Hammer Projects installation features a selection of paintings from the entire series of three hundred and sixty-five.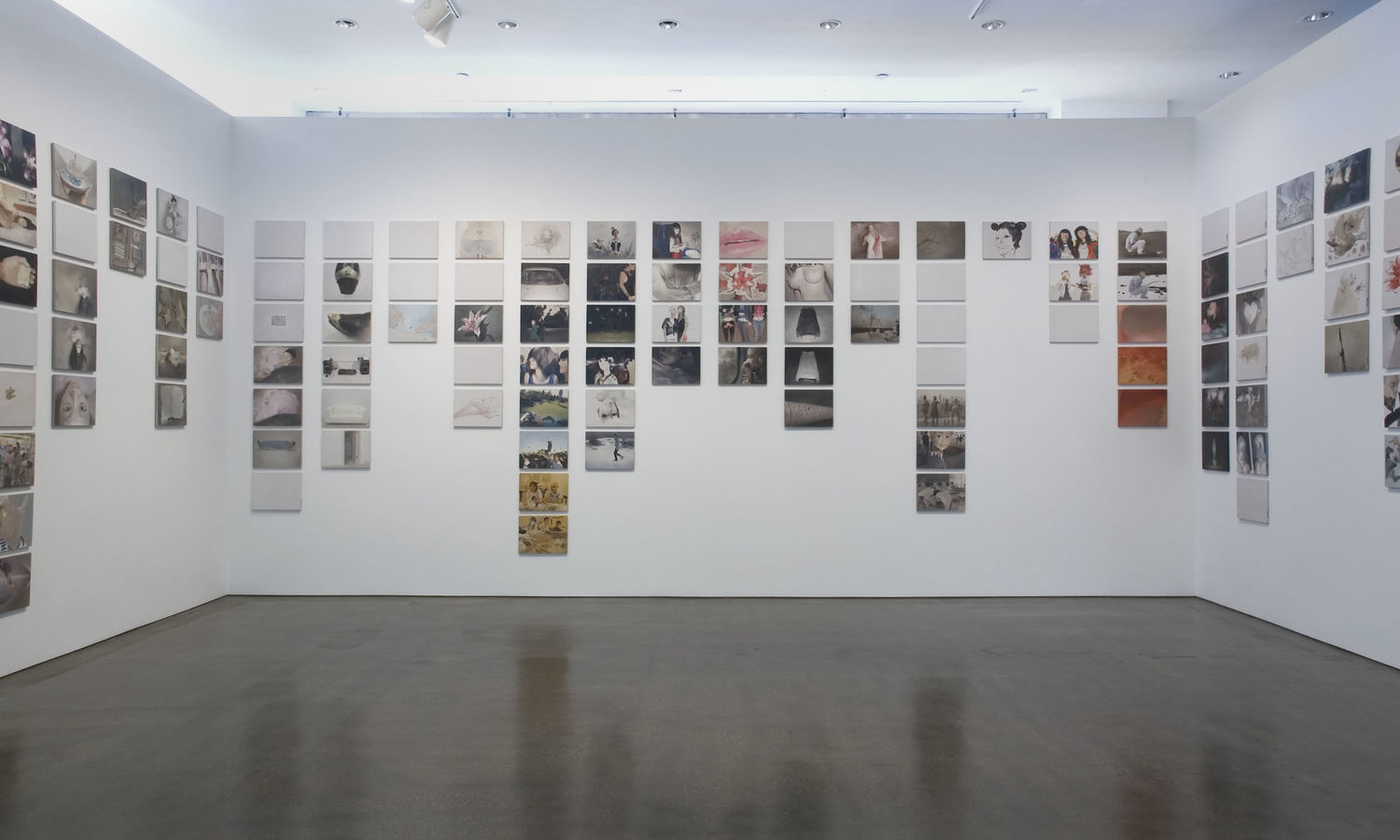 Biography
Song Kun was born in Inner Mongolia in 1977 and lives in Beijing. In 2002 she graduated with a degree in oil painting from the Central Academy of Fine Arts, Beijing. Her installation It's My Life was the subject of a solo exhibition in 2006 at Universlastudios-Beijing. Recent group exhibitions include those at Chambers Fine Art Gallery, New York; C5 Gallery, Beijing; Paul Ricard Gallery, Paris; and Art Seasons Gallery, Singapore. In 2005 she participated in the Chinese Art Triennial at the Nanjing Art Museum, where she was recognized as the "most promising young female artist." Song Kun's work was recently reviewed in Artforum. This is the artist's first exhibition at an American museum.
Essay
By David Spalding
A founding member of the N12 group—twelve ambitious young graduates of Beijing's Central Academy of Fine Arts who have been organizing their own annual exhibitions since 2003—artist Song Kun was educated after the Cultural Revolution and raised in an era of accelerated urban and economic development. As a result, she and her compatriots are articulating new visual languages to express concerns that are less overtly political than those of their predecessors. Song's It's My Life (2005–6) is an enormous installation originally composed of 365 small canvases, each representing a day in the artist's year. The paintings are grouped more or less in chronological order, in grids that stretch across the gallery's walls. Far more than an oil-on-canvas blog, It's My Life offers viewers a series of elliptical narratives and moody moments rendered with a lush, sometimes despondent beauty, becoming a case study in how painting can elevate the quotidian.
A melancholic fog clouds many of Song's works, making them feel like slightly out of focus snapshots in which the air hangs thick and heavy, weighed down by a sense of loss. Flashes of light reflect back at the viewer, cutting through the haze and sharply contouring surfaces such as skin, metal, and glass. It's a technical trick that turns emotionally charged details into symbols in a vivid, fleeting dream. One particularly poignant painting depicts a young couple riding their bicycles through the moonlit night, enveloped in a mist that renders the image part fading memory, part wistful fantasy. In a diptych a man and a woman face each other in profile, sitting beside the windows of a train or airplane, illuminated by a mottled gray light. They seem to be contemplating the distance as it unfolds between them. Such images capture the simultaneous desire and inability to say goodbye characterizing the artist's overall relationship to the past, a weary nostalgia that shadows the entire installation.
Song moves between realistic depictions of her experience that sometimes evoke snapshots taken with a mobile phone—dancing at an outdoor rock concert, sharing a meal with friends—and highly subjective, surreal images that create the emotional atmosphere of the installation and ultimately bind the works into a cohesive project. In one such painting, a woman's eyes and lips float in a field of reddish clouds and black, spiky brush strokes, suggesting the artist drifting into a deep reverie. Elsewhere a single event is explored over a series of days, revealing the artist's gift for storytelling through her selection of details: an evening wedding unfolds in images such as the embroidered hem of a wedding gown, a floral arrangement of stargazer lilies and pink roses, and the dim interior of a honeymoon hotel room.
Even in Song's simplest works, everyday objects are transformed into parts of a rebus that articulates her inner life. An oval wall clock with filigreed silver edges makes one acutely aware of time's passage, provoking anticipation; the heel and toe of a leather boot, emblazoned with a swooping hawk, suggest a rebellious sense of power. Sometimes the impact of a particular image is heightened by the unadorned candor of its presentation: an unbandaged wrist reveals the telltale mark of a botched or aborted suicide attempt; later we seem the same wrist playing piano, but no further explanation is offered. Instead viewers are invited to assemble our own stories from the given clues.
Throughout the year Song experiments with a variety of artistic approaches: we see nods to Japanese anime, Chinese landscape painting, and the still lifes of Chardin, among others. The edges of objects and figures are softened by a strange radiance, which sometimes drains all but the most essential of the picture's details. Several paintings reminiscent of Song's earlier work, rendered in a palette of silvers and grays that freeze and denature the subject, resemble black-and-white photographic negatives. Despite (or perhaps because of) the myriad styles she employs, Song's subjects almost always seem temporary, on the verge of vanishing, as if they are preserved only for the moment. While Liu Xiaodong, the well-known painter and Beijing Central Academy of Fine Arts professor, has certainly contributed to Song's development as an artist (his face appears on a canvas dated 2005.12.23), It's My Life is also indebted to the work of Yu Hong, Liu's wife and colleague at the Central Academy, whose autobiographical paintings have documented her daily existence—going to the market, caring for her daughter—with generosity and insight.
In an art scene that is increasingly market driven, formulaic, and still fiercely dominated by men, the work of Sun Kun marks a changing of the guard in China. Without lapsing into narcissism, It's My Life gives viewers a very contemporary glimpse into the days and dreams of Beijing's youth, but ultimately Song's finely crafted paintings invite us to meditate on the emotionally charged, fragmentary moments that constitute our own lives.
David Spalding is a curator at the Ullens Center for the Arts, Beijing, and the China correspondent for Artforum. His writing about contemporary art appears regularly in magazines, books, and exhibition catalogues.
Hammer Projects is made possible with support from The Horace W. Goldsmith Foundation, the Annenberg Foundation, Fox Entertainment Group's Arts Development Fee, the Los Angeles County Arts Commission, members of the Hammer Circle, and the David Teiger Curatorial Travel Fund.