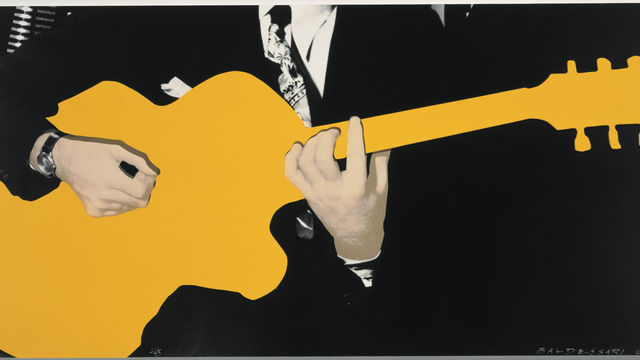 Hammer Contemporary Collection: Part I
Jan 16–Apr 8, 2007
This is a past exhibition
This exhibition in two parts premieres the Hammer Contemporary Collection. Part I highlights photography and abstract drawings, including works by such artists as John Baldessari, Louise Bourgeois, Mark Grotjahn, Sharon Lockhart, Brice Marden, Agnes Martin, Catherine Opie, and Ed Ruscha, among many others. Part II, which will be on view from mid-April to August 2007, will present works in a range of media, focusing on the figurative and the imagistic.
This exhibition is organized by Gary Garrels, chief curator and deputy director of exhibitions and public programs at the Hammer Museum.
Essay
By Gary Garrels
Collections often are regarded as the heart and soul of museums. They provide a means to embody a museum's history and to reflect on our culture and our times. They allow us to continually reengage our memories and identities as individuals. Works of art remain the same, but our perceptions of them always change over time. A range of collections are now under the aegis of the Hammer Museum: The Armand Hammer Collection; The Armand Hammer Daumier and Contemporaries Collection; the Grunwald Center for the Graphic Arts; and the Franklin D. Murphy Sculpture Garden.
Two years ago the Hammer staff and the Board of Overseers decided to launch a contemporary art collection for the Hammer Museum. While an occasional gift or purchase of contemporary art had been made over the past decade, there was no formal or systematic plan to build a collection. Since this decision was made, more than three hundred works of art have entered this new collection by purchase and by gift. This exhibition in two parts is the first public presentation of a selection of works from the Hammer Contemporary Collection. 
Some broad, general guidelines have been put in place to set priorities for building the collection. The collection is being led by works on paper—drawings and photographs—which complement the collection of the Grunwald Center for the Graphic Arts. Prints are generally but not exclusively acquired through the Grunwald Center. Media arts—video and film—also play a central role in the collection. (This part of the collection forms a complement to the UCLA Film and Television Archive.) Painting, sculpture, and installation works will also be acquired as feasible, however, and as particular works fit within the overall strategy for building the collection. 
The focus of the collection is art of the last ten years, but as opportunities present themselves, earlier works may also be acquired. Because of the extraordinary vitality and quality of art being made by artists working in the region of Los Angeles, particular attention will be paid to works by artists from Southern  California. But the collection will also represent artists working throughout the United States and internationally. Whenever possible, artists in the collection will be represented in depth and with a range of works from throughout their careers. Again as  possible, works will be acquired in tandem with exhibitions at the Hammer, particularly from the Hammer Projects series. Every collection grows in an organic way, and as new gifts are received and purchases made, constant reassessment will take place to determine priorities and the direction of the collection. 
Already many donors have stepped forward and made important gifts to this new collection. Notable among them are Werner and Sarah Ann Kramarsky, who have given sixty drawings. Last year Patrick Painter and Soo Jin Jeong-Painter made a gift of seventy-four works—including photographs, prints, paintings, and sculptures—giving major momentum to the collection. Members of the Board of Overseers contribute dues each year that go into an acquisition fund. The primary funding for this collection, however, comes from income, only recently made available, generated annually from a reserve fund made possible by the sale in 1994 of a Leonardo codex that had been in the Armand Hammer Collection. The codex was sold to stabilize the Hammer Museum's operations prior to its merger with UCLA. 
The Hammer Contemporary Collection thus becomes an important addition to the exhibitions and public programs that are already a vital part of the museum's mission. It should be an important resource and reference for the students, faculty, and staff at UCLA; for the community of artists in Southern California; and for the public in the region and nationally and internationally. Exhibitions may be organized from the Hammer Contemporary Collection exclusively but also integrated with works from other collections under the aegis of the Hammer  Museum as well as loans from other collections, providing a fresh context in which to reflect on and understand contemporary art. 
This first exhibition of the Hammer Contemporary Collection is presented in two parts. Part I focuses on drawings, primarily abstract compositions, and on photographic works. The drawings can be divided into two general groups: a selection of largely historical works by artists who were or are working in New York and a group of more contemporary works by artists generally working in Los Angeles. A number of these drawings come from the Kramarsky gift. The large drawing by Mark Grotjahn was first shown in a Hammer Projects exhibition featuring the artist's recent drawings. The photographic works reflect a variety of approaches by contemporary artists that extend or break with traditional understandings of the photographic medium. Two of the artists most fundamental to the development of art in Los Angeles over the past fifty years—John Baldessari and Ed Ruscha—are represented. Successive generations are represented by Walead Beshty, Sharon Lockhart, Rodney McMillian, Catherine Opie, and Christopher Williams. The works by Beshty were first shown in a Hammer Projects exhibition and are two of a group of twenty-nine works by the artist that were acquired. The works by Lockhart are from a series of nineteen photographs, thirteen of which were purchased by the Hammer and six of which are promised gifts from David Teiger. 
Part II focuses on works in a wide variety of mediums, including painting and sculpture, with an emphasis on figurative and imagistic works. The six monumental drawings by Margaret Kilgallen, an artist from the Bay Area, were first shown as part of the Hammer Projects series in 2000 and were acquired with support from the Judith Rothschild Foundation. Arturo Herrera, an artist from Venezuela who now lives and works in Berlin, is represented by a group of collages recently given to the museum by Susan and Lewis Manilow of Chicago. Herrera's work was featured in a Hammer Projects exhibition in 2001. Jockum Nordstrum, an artist living and working in Stockholm, was represented in the large exhibition International Paper: Drawings by Emerging Artists in 2003. Work by Mamma Anderson, who also lives and works in Stockholm, was included in the exhibition The Undiscovered Country, an insightful survey of contemporary painting at the Hammer in 2004–5. Kristen Morgin, an artist living and working in Southern California, was represented in the recent exhibition Thing: New Sculpture from Los Angeles. A group of ten drawings by Los Angeles artist Raymond Pettibon was acquired through gift and purchase from his most recent exhibition. Seven dream drawings by Jim Shaw were acquired through gift and purchase, in addition to a monumental dream drawing that will be included in the exhibition Eden's Edge: Fifteen LA Artists, on view at the Hammer from May 13 to September 2, 2007. 
The premiere of the Hammer Contemporary Collection marks the beginning of what should become a major new addition to the Hammer Museum and to the cultural life of Los Angeles. Through the generosity of artists, friends, and supporters of the museum and the initiative of the Hammer curatorial staff, this collection aspires to become one of the central gauges of the art of our time. 
Gary Garrels is chief curator and deputy director of exhibitions and public programs at the Hammer  Museum.