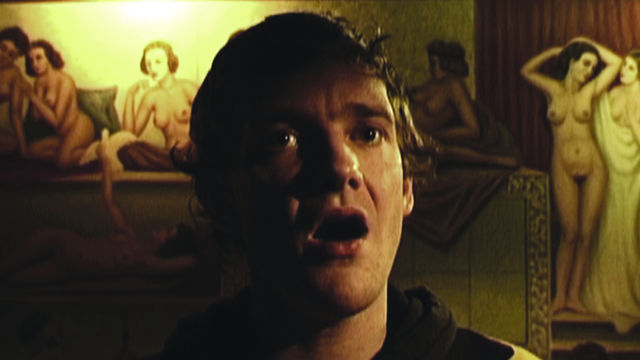 Hammer Projects: Jesper Just
Apr 20–Jul 2, 2006
This is a past exhibition
Danish artist Jesper Just makes videos that explore gender roles and the way in which cultures generate and understand them. Using lush scenery, glossy production, and social codes from Hollywood movies, Just subverts traditional male roles by presenting men who overtly express their emotions. With little, if any dialogue, the actors unpredictably sing in chorus, embrace, and weep, creating suggestive, yet enigmatic situations.
Biography
Jesper Just was born in 1974 and lives in Copenhagen. He received his degree in 2003 from the Royal Danish Academy of Fine Arts, Copenhagen. Solo exhibitions of his work have been presented at the Herning Kunstmuseum, Herning, Denmark; Perry Rubenstein Gallery, New York; and Galleri Christina Wilson, Copenhagen. His videos were also featured in the Performa 05 Biennial, New York, and group exhibitions at the Royal College of Art in London, the Indianapolis Museum of Contemporary Art, and the Malmö Konsthall in Sweden. His work has been reviewed in various publications, including Artforum, Frieze, and Tema Celeste.
Essay
By Hannah Barry
The dozen or so short films that Jesper Just has made to date are outstanding for their refusal to adhere to the documentary tendencies and low-fi aesthetic character favored in recent video art. Positing himself as both director and editor, Just composes narrative films with obscure denouements. Stripped of prolonged spoken dialogue or ambient sound, his films are composed for a repertory cast: a single (usually male) lead character with a small supporting (also male) chorus.
For each film Just assembles a grand production, engaging trained actors and singers, sound and lighting engineers, and camera operators. His dexterous choreography of these elements results in a sumptuous filmic object. He employs mechanisms more commonly associated with lavish "motion picture" productions for cinema: notably his trompe l'oeil cinematographic vision, manifested in elaborate chiaroscuro combinations of light and half-light; tight control of changes in perspective and arrangement of the cast in majestic tableaux vivants; and a miniaturist's hypersensitivity in committing human emotions to film, his precise handling of the camera capturing the subtleties of sadness, melancholy, and grief as well as of prolonged expressionlessness and impassivity.
Just's assured combination of visual poise and intelligible yet ambiguous plot lines has led him to be associated stylistically with such giants of modern film as Luchino Visconti and Rainer Werner Fassbinder, and with celebrated younger film directors who have developed a unique visual style, namely, Gus Van Sant, David Lynch, and Pedro Almodóvar. In addition to finding parallels within cinema, Just's work is also comparable to that of other contemporary artists working in film. In their extraordinary formal qualities, his productions are aligned with those of seminal American filmmaker Matthew Barney, London-based director Chris Cunningham, and young Italian artist Francesco Vezzoli.
What sets Just apart from these artists is not the mobilization of high-end cinematic production at the service of the work of art. Rather, his formal mastery and easy narrative coherence are used to lull the viewer into a false sense of cinematic security. Subsequently he works against any such assumptions, manipulating accepted cinematic tendencies and demonstrating that slick styling and all-too-legible characters are a thin veneer for works of art whose heartland is a troubling and intensely human appraisal of masculinity.
Just's focus is notably limited to the formally narrow framing of man-to-man, or man-to-men, exchanges. In his films from 2004, the absence of a female presence on screen calls into question the status of his male characters, obscuring their relationships to, or with, their accompanying actors. Conceptually this insistence on male-exclusive interrelations catalyzes Just's reappraisal of common notions of masculinity as a stereotypical gender role characterized by physical virility, (usually hetero-) sexual aggressiveness, emotional stoicism, intellectual pragmatism, and dominant egocentricity. Under his careful direction this gender definition is problematized, and as the narrative of each film progresses, he orchestrates its destabilizing and eventual collapse.
In pursuit of this point of collapse, Just courts male stereotypes—frequently those cultivated by mainstream cinema—as a deceptive form of dramatic shorthand. Dressing his protagonists in stereotypical fashion and setting them in specific social spaces establishes a series of highly finished male "templates." The costumes create a visually coherent stereotype with which the audience is naturally inclined to align a set of associative behaviors.
This device is exemplified by two recent works: Something To Love (2005)—in which actor Johannes Lilleore appears as the sly passenger of a smart city car, sporting a cream raincoat, slacks, and slickly styled hair—and Bliss & Heaven (2004), in which he appears as a strapping youth amid sunlit cornfields, wearing dirty jeans and a loose white vest, his hair unkempt. Any expectations of stereotypical conduct are by no means fulfilled. For example, the inexpressive rear passenger in Something To Love exits his car and locks into a peculiarly chaste kiss with a beautiful girl in a nearby elevator before abandoning her in favor of his older male driver (a silent, teary witness to the kiss), with whom he drives away. In Bliss & Heaven, a run through idyllic countryside brings the handsome youth to a car park, where he enters the back of a vast stationary truck. The truck houses a rococo theater where the male driver of the truck—in a grimy T-shirt, long blond wig, and chiffon scarf—performs cabaret-style on stage, in basso profundo and with full strobe lighting, eliciting a rapturous response from the solitary youth in the audience. In both instances the protagonist's conduct works in opposition to the type proposed by his costume. This promotes a less congruent vision of masculinity characterized by behavioral improbability.
Lending support to this alternative vision, Just also problematizes the sets where his films are staged. The familiar associations aligned with the strip joint or gentleman's club are broken down by the incongruous performances of his actors within these spaces. Song is often the main form of dialogue between the young lead and his older supporting cast. Just's chorus is a composite of the doo-wop style of the Hollywood revue and the grander harmonic gestures of classic oratorio: in The Lonely Villa (2004), a semi-somnambulant male entourage is roused to sing the Ink Spots' smash hit "I Don't Want to Set the World on Fire" into telephone receivers placed on side tables around a plush reception room. Similarly, in No Man is an Island II (2004), a roomful of old men in a dim drinking hole execute en masse a rendition of Roy Orbison's falsetto ballad of lost love, "Crying." Just's use of the chorus in a discreet gentleman's club or wine bar is a surprising intervention. In such explicitly traditional, male-dominated spaces, it serves as an additional device operating in a way that is antithetical to the standard male modus operandi.
Although Just's rooms full of seated old men seldom intervene in the scene's central action, their singing demonstrates that they still engage deeply in the emotions of the scene. Loosely associated with the chorus of classical Greek theater, they reinforce the tragic vox humana of the lead actor, reflecting his difficult male struggles—whether with desire, rejection, grief, or ultimately loss and isolation—in song.
Johannes Lilleore is regularly cast in the lead male role in Just's productions. If one examines the actor's function in the works as a group, he can be seen as operating as an elaborately conceived cipher for Just's vision of masculinity: in each film he begins as everything a man should be, traveling through a sequence to collapse this preconception and welcome in its place the character's specter, who represents the more unlikely aspects of masculinity, refuting traditional sociological definitions.
It has been said that art history and art production cannot be separated from social history and social production. Since the 1970s, video and film art has benefited from its inherently radical and essentially psychological character, informed to a not insignificant extent by the hegemony of commercial television. More recently it has been widely recognized that the medium can operate as a focus of significant cultural and social discussion. Today, gender, its definition and meanings, is fiercely debated. Armed with formidable cinematographic skill, a battery of clever formal devices, and a flair for storytelling, Jesper Just has used his art to address these issues, assembling and constructing, dismembering and dismantling the many and perplexing preconceptions of masculinity and intermale relations in the contemporary world.
Hannah Barry studied art history at the University of Cambridge, England. She currently lives and works in London.
Hammer Projects are made possible with support from The Horace W. Goldsmith Foundation, the Annenberg Foundation, Fox Entertainment Group's Arts Development Fee, the Los Angeles County Arts Commission, and members of the Hammer Circle.