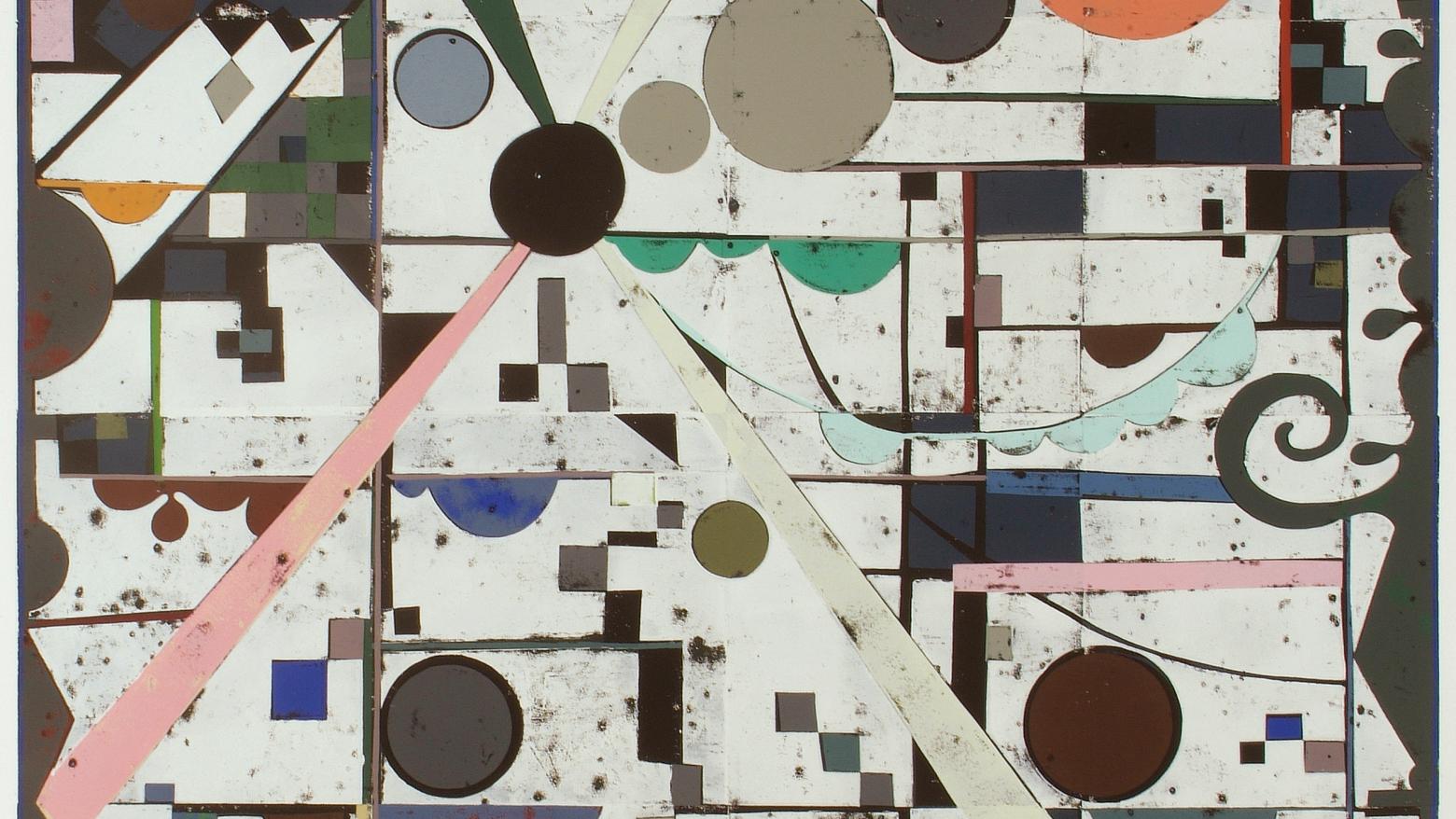 Hammer Projects: Gert and Uwe Tobias
Sep 12, 2006–Jan 14, 2007
This is a past exhibition
Romanian twin brothers Gert and Uwe Tobias create large-scale woodcuts and sculptural constructions. They use the dark mythologies and history of their native Transylvania as their subject, bringing age-old folktales and imagery into the realm of the present. The prints and sculptures make reference not only to skulls and monsters, but also to modern graphic design, ancient ceramic forms, camp Hollywood horror films, and abstract imagery. The artists' multi-media installations explore the way in which legends are formed and how objects stimulate cultural memory.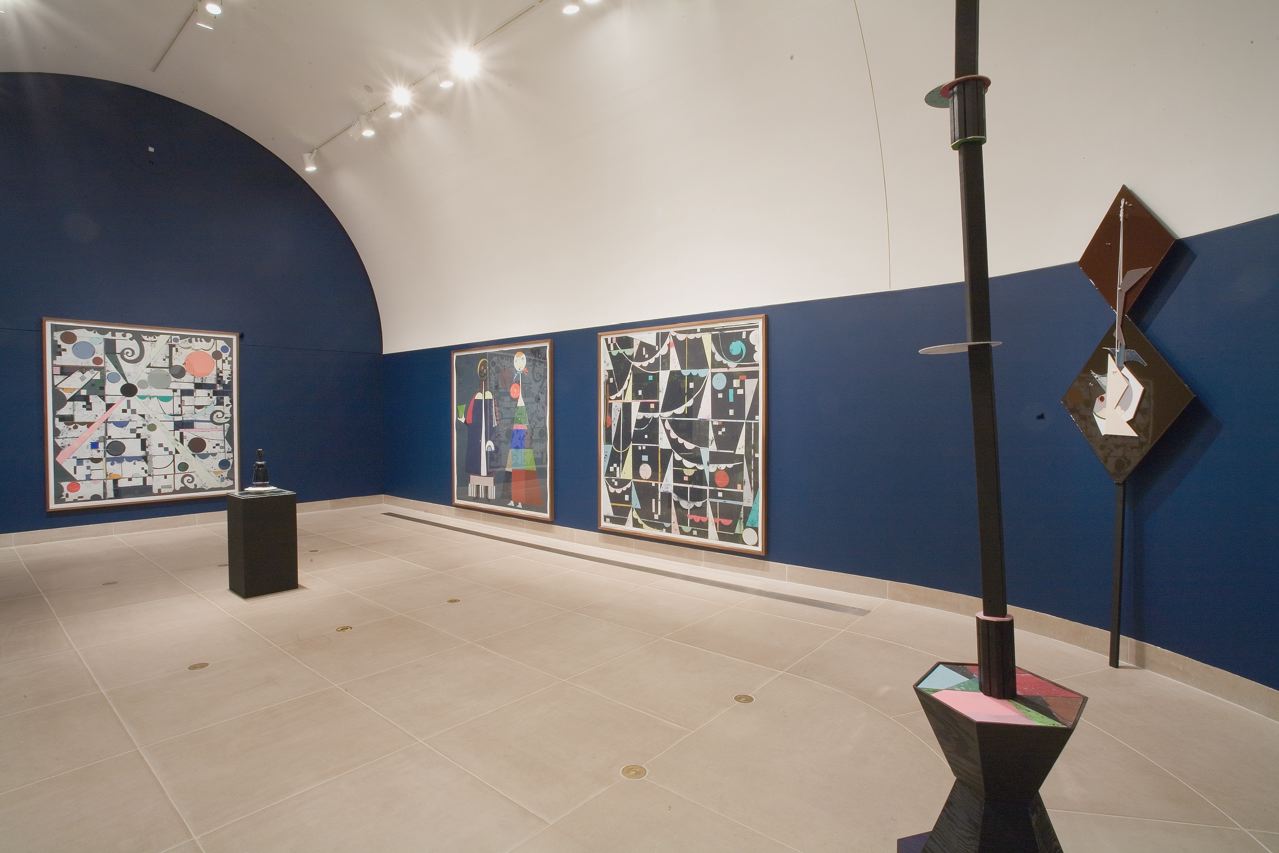 Biography
Gert and Uwe Tobias were born in Brasov, Romania, in 1973 and live in Cologne, Germany. They graduated from the Hochschule für bildende Künste, Braunschweig, Germany, in 2002 and in 2004 were awarded the Peter Mertes Scholarship from the Bonner Kunstverein, Bonn. Their works in a variety of media have been exhibited in solo shows at Galerie Michael Janssen, Cologne; Galerie Rodolphe Janssen, Brussels; and The Breeder, Athens. Recent group exhibitions include Künstlerbrüder at Haus der Kunst, Munich, which traveled to the Palais des Beaux Arts, Brussels; as well as those at Team Gallery, New York, and Sprüth Magers Lee, London. This is their first solo exhibition in a museum.
Essay
By Bob Nickas
Come and See before the Tourists Will Do—the Mystery of Transylvania. This is the title Gert and Uwe Tobias gave to their exhibition in Cologne in 2004, as well as to the publication that accompanied it. It is in many ways a primer on the Tobias brothers themselves, and from the cover it might pass for a children's book. On the very first page we are greeted by two owls, posed symmetrically, facing each other. Turning the pages, there are mostly images: colorful woodcuts; whimsical typewriter drawings; photographs of moody mountains and forests, an ominous lake, the tower of a dark castle; lists of vampire movies; decorative patterns from textiles and architecture; skulls and carnival masks; children and animals—a white horse, a goat, birds, sheep being herded through deep snow. The book has no text except for the briefest of captions; it is as if for the Tobias brothers the world they are coming from must retain all its strangeness as a purely visual realm. The title suggests as much. A mystery is no longer a mystery once it's been solved.
Gert and Uwe Tobias are brothers, twins born in a part of Romania that most people have heard about but have never seen, a place associated, thanks to Bram Stoker and countless vampire movies, with the legend of Dracula. In school they had learned about the great fifteenth-century figure Vlad Tepes, brutal defender of Romania, better known as Vlad III the Impaler. But it wasn't until the family relocated to Germany in 1985, when the Tobias brothers were twelve, that they first heard of Dracula. Growing up in Romania at the time of Nicolae Ceausescu's rule, in a closed communist society, they had encountered only the historical figure. His literary and Hollywood counterpart would come later, and their return to Romania when they were in their twenties would have a decisive effect on the direction of their work. To see where their family was from, to be in that landscape, to discover a whole folkloric tradition that encompassed celebrations and bizarre costumes, handcrafts and vernacular motifs, all this engaged their imaginations and was brought to bear on their work. Together, they developed a shared visual language and what can now be seen as an almost recurring cast of characters ranging from spectral to comic figures. Their world is dark, but not without a wry sense of humor. 
A strong sense of biography—who they are, where they are from—is at the heart of the Tobiases' work, all of which is made collaboratively. As twins they relate to each other in a much closer way than most brothers; as artists they think of themselves almost as one person, cosigning all of their work no matter who did what. They maintain three studios, only one of which is completely shared, a room in the apartment where they live. This is where the original woodcuts are made, as well as works on paper. The large woodcuts are printed and assembled in their separate studios, but they visit and critique each other, discuss what they will work on, share ideas. It may at first seem an unusual collaboration, and yet it is collaborative in every sense of the word. It is impossible to look at anything they produce and assign it definitively to one or the other. In fact, there are times when one will see something the other is working on and ask to finish it—although the response isn't always positive—or one will tell the other to finish something he started. They also admit to "copying" each other. Gert might redraw something he'd seen by Uwe (or the other way around), then change it, adapt it in some way. This has been going on for years and is by now a fully reciprocal exchange. Think of it as the surrealist parlor game of exquisite corpse played as part of a continuous working process. Having time and space to themselves guarantees that within the shared identity of the Tobias brothers there is still Gert and there is still Uwe. It's important that each sees himself in the work, and even if we don't, they do.
The woodcuts begin with drawings, and although they use a machine to cut the wood, there is very much the feel of the hand, because, as they say, "We draw with the machine."1 Even then, they don't always cut out the forms exactly, and decisions made at the time of printing also introduce a human element. The amount of pressure applied when a block is printed affects the texture of the surface, which may appear slightly worn or rubbed, bearing traces not only of its making but also of the history behind their subjects. The woodcuts—characterized by a sober, earthy palette, and with lettering that appears incised—have a crude sophistication. Their works feel as if they have been passed down over time. The watercolors and drawings are incredibly evocative, ethereal, otherworldly. The figures in them can be hauntingly beautiful, poignant, poetic. There is a depth of feeling in their work that resonates with this sense of time, of myths, legends, and death. It comes as no surprise that they have expressed an affinity for the great symbolist James Ensor, an artist for whom mortality and the idea of masking identity are central. The outsider artist Henry Darger also comes readily to mind, with his scenes of battle, torture, and the taking of life. The graphic quality of their abstract works evidences the influence of constructivism, particularly the printed agitprop that we immediately associate with the Russian avant-garde.
For the Tobias brothers, the ability to make figurative and abstract works, for their work to take different forms—woodcuts, typewriter drawings, sculpture, ceramics, watercolors—is paramount. There are two of them: two minds, four hands, a completely shared sense of purpose. This is their world, and they are in it together.
Notes
1. Gert and Uwe Tobias, conversation with the author, Cologne, July 9, 2006.
Bob Nickas is curatorial adviser at PS1 Contemporary Art Center in New York.
Hammer Projects are made possible with support from The Horace W. Goldsmith Foundation, the Annenberg Foundation, Fox Entertainment Group's Arts Development Fee, the Los Angeles County Arts Commission, members of the Hammer Circle, and the David Teiger Curatorial Travel Fund.