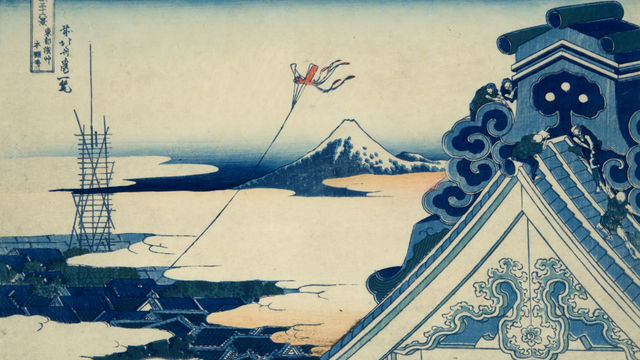 Wright and the Architecture of Japanese Prints
–

This is a past exhibition
This exhibition explores architect Frank Lloyd Wright's great passion for Japanese woodblock prints, which he collected and sold throughout his career. While highlighting works by some of the most celebrated Japanese print artists from the 18th and 19th centuries, this exhibition also offers insight into this source of inspiration for Wright's architecture. Drawn primarily from the Grunwald Center for the Graphic Art's Frank Lloyd Wright Japanese Print Collection, the exhibition will also include rare loans from the Norton Simon Museum, the Art Institute of Chicago, the Getty Research Institute, and the Beverly Hills Public Library.
This exhibition was organized by Carolyn Peter, associate curator for the Grunwald Center. Part of the Los Angeles Architecture Festival, the exhibition is presented on the occasion of the Frank Lloyd Wright Building Conservancy's conference "Wright in Hollywood: Frank Lloyd Wright and His Los Angeles Progeny, 1917-1941."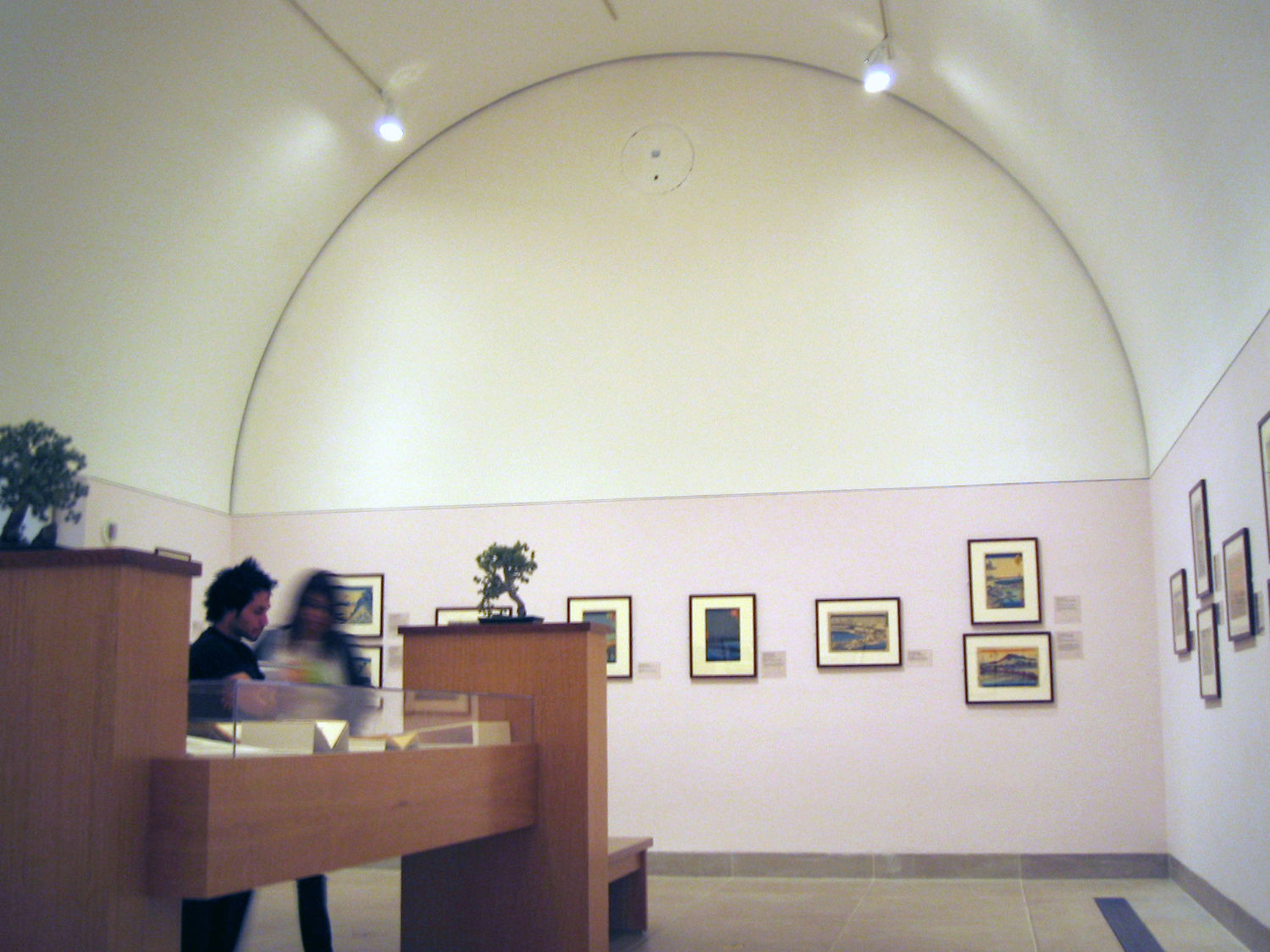 Essay
By Carolyn Peter
Late in life, the legendary American architect Frank Lloyd Wright (1867-1959) reminisced with a group of apprentices at Taliesin: "I remember when I first met the Japanese prints. The art had a great influence on my feeling and thinking.... When I saw the print and I saw the elimination of the insignificant and simplicity of vision, together with the sense of rhythm and the importance of design, I began to see nature in a totally different way."1 His fascination with Japanese art and, in particular, with ukiyo-e woodblock prints (known as "pictures of the Floating World") was sparked when he was a young man. Wright's infatuation with these prints from the Edo period (1615-1868)—which depict contemporary scenes from the lives of courtesans, kabuki actors, and common people as well as views of landscape and nature—lasted his entire life. Through his collecting, dealing, writing, and lecturing, he widely imparted his deep appreciation for Japanese prints.
Wright made his first journey to Japan in February 1905, at the ages of thirty-seven. Having already formed impressions of the country based n his close scrutiny of the idealized scenes of Japanese prints, he arrived with a romanticized view of all things Japanese. Regarding Tokyo, he excitedly reported, "Yes, it all looks, it does—just like the prints!"2 While in Japan, he purchased a number of ukiyo-e prints to bring back to the United States. The following spring he presented an exhibition, drawn from his own collection, of prints by his favorite Japanese print artist, Utagawa Hiroshige (1797–1858), at the Art Institute of Chicago, with an accompanying catalogue. Wright's reputation as an expert and, eventually, as a dealer of Japanese prints blossomed from there. Three years later he participated in a second At Institute Japanese print exhibition as the designer and as a lender, and in 1912 he published a book entitled The Japanese Print: An Interpretation. Lured by the prints and a commission to design Tokyo's Imperial Hotel, Wright made a second trip to Japan in 1913 and traveled extensively between 1916 and 1922 while working on the Imperial Hotel. Each time he sought out and purchased hundreds of prints for himself and the collectors who had engaged him. He nurtured a number of important private collections—such as those of Clarence Buckingham, Frederick W. Gookin, and John and William Spaulding—which eventually made their way into the collections of museum throughout the United States. Similarly, he sold Japanese prints directly to museums, and in other instances, works that he owned went to museums after his death. UCLA's Grunwald Center for the Graphic Arts is one institution that benefited greatly from Wright's love of ukiyo-e prints.
Wright's affinity for Japanese prints carried over into his architectural practice. While he insisted that the Japanese aesthetic only validated concepts he had generated himself, he did single out qualities found in ukiyo-e prints that he sought to replicated in his architecture. First and foremost, he was drawn to the prints' simplified compositions. He was impressed by the artists' ability to eliminate all that was extraneous to the point of approaching abstraction. According to historian Kevin Nute, Wright described the prints as being "organic" in that they could be appreciated on a purely aesthetic level. He also used the term to define their honest integration of form, purpose, and materials. Likewise, Wright found that they had a sense of spirituality because they were the art of "the common people"—in subject matter, many of the prints, such as Katsushika Hokusai's (1760–1849) Fuji fro Honganji Temple, celebrate the everyday life of the working man connected to the land and unaffected by materialism. Wright also believed that the prints were democratic in that they were an affordable and popular art form. Usually printed in an initial run of approximately two hundred, they could be purchased at low prices in bookshops and enjoyed by a much greater range of people than the more expensive classical paintings, screens, and scrolls traditionally collected by the noble class of Samurai.3 The Japanese print artists' reverential presentation of nature also attracted Wright; in his architecture he too sought to integrate buildings with their natural settings.
Like many of his other relationships, Wright's involvement with Japanese prints was not without controversy. While he found much purity and spirituality in Japanese prints, he also saw them as a financial panacea during his many monetary crises. If his architecture business was slow or if he had overextended himself, he usually turned to the prints. He would often crank up his sales pitches to his most loyal collectors or offer prints to his many creditors as barter in exchange for the foregiveness of debts. On numerous occasions, Japanese prints sales saved Wright from complete financial ruin.
Wright's reputation as an expert on and a dealer of ukiyo-e prints was tainted when it was discovered in 1920 that some of the prints he had sold showed signs of having been "revamped." Several methods had been used to "improve" the faded prints. In some images, certain colors were printed over the existing colors, using newly cut woodblocks and new pigments to enliven the work. Pinholes found in the sheet corners betrayed the fact that pins had been used to register accurately the different color blocks. In other instances, completely new impressions were made using the original blocks. These two questionable techniques were employed by Japanese dealers working in collaboration with printmakers. Some of these dealers probably targeted Wright and sold him "doctored" prints in retribution for deals that he sometimes carried out behind their backs. The scandal certainly embarrassed Wright, and he sought to clear his name by accusing Tokyo print dealer Kyūgo Hayashi of duping him. A Japanese court sentenced Hayashi to a year in prison and ordered him to stop selling prints for an extended period. Although he protested his own innocence, Wright himself was known to have touched up prints in his collection using colored pencils and crayons.4
Frank Lloyd Wright's financial troubles did not end with his death in 1959. After he passed away, the Internal Revenue Service determined that the Frank Lloyd Wright Foundation, founded in 1940, had been incorrectly designated as a tax-exempt educational institution. Subsequently, his widow, Olgivanna, was forced to sell much of his art collection. Orrel P. Reed, a Los Angeles print dealer, was brought in to handle the sale of Wright's Japanese prints. A representative selection was exhibited at the Municipal Art Gallery in Barnsdall Park from January to February 1962. The Grunwald Center bought 115 prints from this show, including one of Wright's favorites, Ichikawa Danjūrō by Katushawa Shunshō (1726–92). All told, the Grunwald acquired more than 560 ukiyo-e prints once part of Wright's personal collection. These prints, by some of the best-known Edo period artists, form the core of the Grunwald Center's Japanese print collection, which boasts a large group of works by Hiroshige, as well as prints by Okumura Masanobu, Torii Kiyomasu I, Katsukawa Shunshō, Utagawa Toyoharu, Utagawa Kunisada, and Katsushika Hokusai, among many others. This exhibition celebrates both the Grunwald Center's distinguished Japanese collection and Frank Lloyd Wright's significant contribution to the world of ukiyo-e prints.
Notes
1. Transcript of Wright's talk to Taliesin apprentices, September 29, 1957, Frank Lloyd Wright Foundation.
2. Frank Lloyd Wright, An Autobiography (New York: Duell, Sloan and Pearce, 1943), 230.
3. Kevin Nute, Frank Lloyd Wright and Japan: The Role of Traditional Japanese Art and Architecture in the Work of Frank Lloyd Wright (New York: Van Nostrand Reinhold, 1993), 105-8, and Wright, Hiroshige: An Exhibition of Colour Prints from the Collection of Frank Lloyd Wright (Chicago: Art Institute of Chicago, 1906).
4. See Julia Meech, Frank Lloyd Wright and the Art of Japan: The Architect's Other Passion (New York: Japan Society Gallery, 2001), chap. 7. 
Related Exhibition
Norton Simon Museum
An Assortment of Beauties: Japanese Woodblock Prints Collected by Frank Lloyd Wright
Through January 9, 2006
For more information visit www.nortonsimon.org.