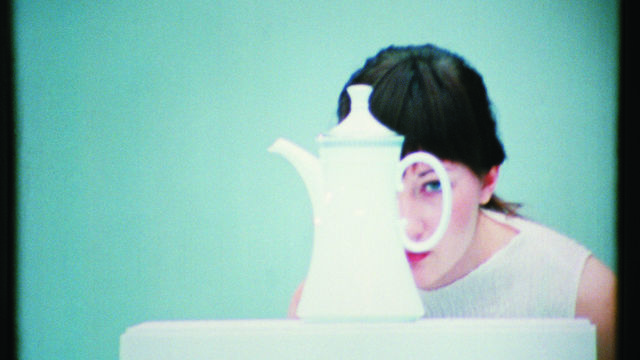 Hammer Projects: Runa Islam
–

This is a past exhibition
Be The First To See What You See As You See It (2004), a looped 16mm film by Runa Islam, portrays a young woman walking through a gallery of fine china displayed on pedestals. After toying with the objects, the woman begins gently pushing dishes, cups, and saucers off their stands to smash on the floor. Filmed in slow motion and based in part on the first slow motion test film which showed a man shattering a jug of water, the piece is, in part, an attempt to capture the unrecordable moment of transformation as the objects break into pieces.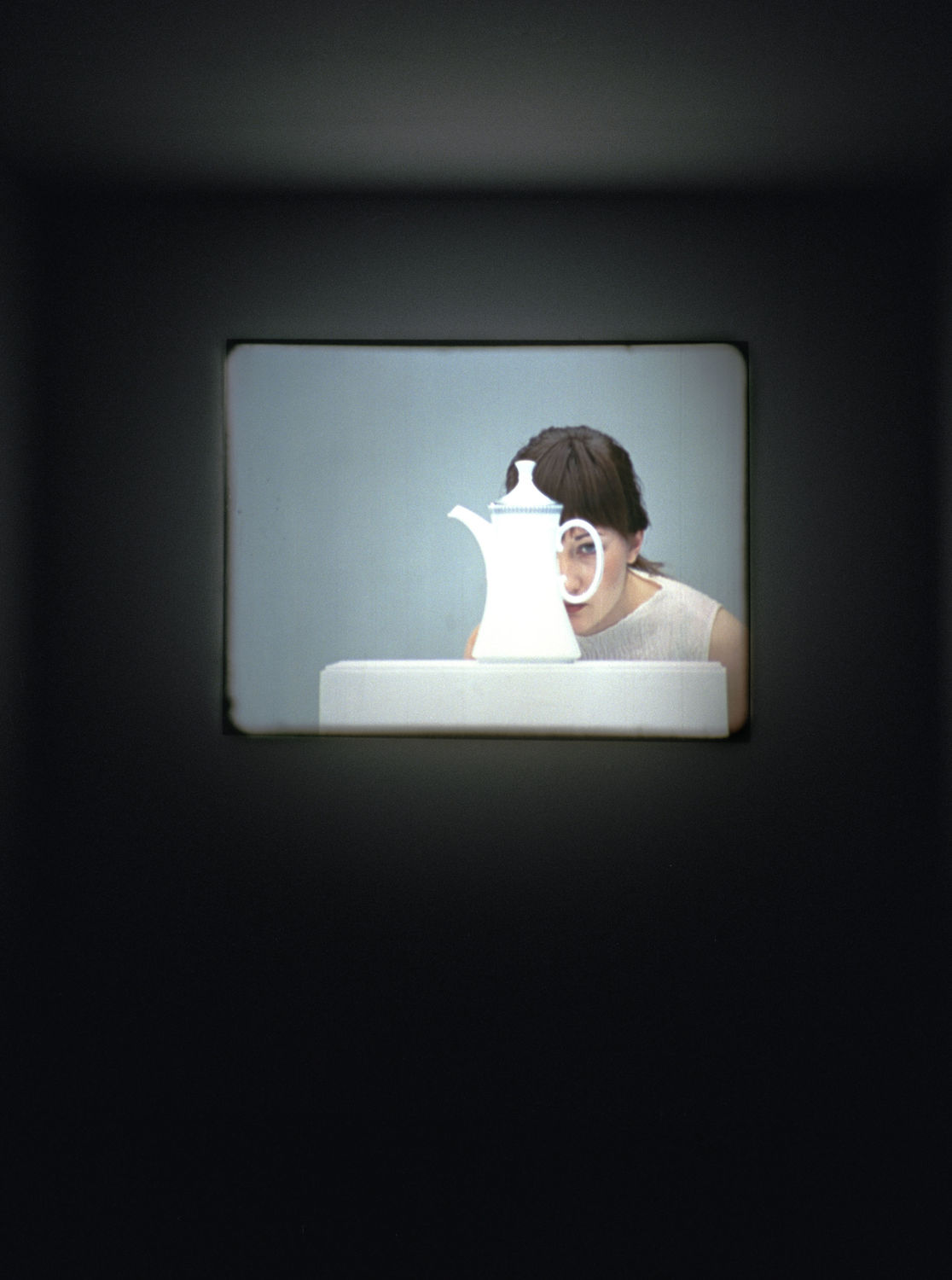 Biography
Runa Islam was born in 1970 in Dhaka, Bangladesh and currently lives in London. She has studied at the Royal College of Art, London and at the Rijksakademie van Beeldende Kunsten, Amsterdam. She works primarily in film and photography and her works have been shown in exhibitions and festivals throughout the world. Recent solo exhibitions include Scale (1/16 inch = 1 foot) at the Prefix Institute of Contemporary Art in Toronto and Visages & Voyages at the Dunkers Kulturhus, Helsingborg, Sweden. In 2005 Islam was also included in the 51st Venice Biennale and the Prague Biennale 2. Her work has been reviewed in Flash Art, Art Monthly, Artforum, and Time Out London.
Essay
By Janet Owen
A young woman scrutinizes, uses, and then proceeds to shatter an array of household china. Her blank blue-gray gaze never quite intersects with that of the viewer.
A young white woman scrutinizes a display of bone china objects. Lingering beside them, her pale, expressionless face invites comparison with porcelain.
A woman, neatly dressed, examines a selection of china objects, uses them to perform the very English rituals of teatime, and shatters them. There is a fragile saucer, whose purpose was once to protect pale linens but is now largely forgotten. There are two bells, the kind whose tinkling once summoned servants to a sitting room or boudoir. There is a columnar pot for brewing tea, a copy perhaps of the neoclassical designs that were once mass-produced to slake home markets newly thirsty for the product of distant plantations.
In a white space—a warehouse or a sanitized-for-the-day artist's studio perhaps—a young, dark-skinned, dark-eyed Bangladeshi British woman supervises the placement of these china objects and then directs her pale-skinned actress to successively scrutinize, use, and shatter them.
Inside the space of a luminous screen, some objects are broken and then are seen whole again. Others, offering a climax cut short by the next frame, are arrested in the moment before impact. Diegetic sounds—the discreet rattle of a spoon, milk pouring into tea, the sound of china hitting concrete—begin to subtly detach from the fabric of the visual narrative as cup and concrete meet in silence.
Like a game of Chinese whispers in which the whispers all occur at once but slowly, Runa Islam's Be the First to See What You See as You See It (2004) simultaneously speaks to a variety of possible interpretations. Tune into it via a feminist or a class-conscious ear, and overlaying a conversation with the discourse of the gaze is a tale of polite domesticity and its constraints rejected. Consider that Islam originates from Bangladesh but grew up in the U.K., and then the ritual enacted and the objects being fractured here occur as refused remnants of Britain's colonial past. Twist the tuning knob a little more, and what emerges is a film engaged with the anti-illusionist intentions of formalist cinema. Watch again as the actress touches the objects—as she thoughtfully rattles a lid or delicately twirls a plate upon its edge—and it is not so much a "shattering" that one sees occurring here as it is a visual and physical exploration of the properties and limits of the object.
Islam is an artist who courts the polymorphous read. The works she has made in her ten years as a practicing artist—primarily film, but also video and photographic projects—deliberately resist foreclosing on the possibilities of meaning. Which is not at all the same as saying that her films suggest so much that they cease to mean anything at all. Rather, as if repetaling a rose from the heart out, Islam takes potentially poetic events, moments, or images and then uses a variety of strategies to proliferate their poetry from within a rigorous framework.
Concerned with "seeing" as both a visual faculty and a perceptual act, Islam neatly forges the steel of her frames from an analysis of the technology we have invented to most closely approximate human visual mechanisms—an analysis, that is, of the stuff of film itself. Sometimes it is a visual analogy that provides the impetus for a film. The similarity between a shutter movement and the eyelid fluttering characteristic of REM sleep, for example, seeded Rapid Eye Movement (2002), a vivid intermixture of the dreams, realities, and memories of sleeping strangers on a train. Other pieces are informed by a more minute exploration of the human physiology on which film technology is predicated. Persistence of vision, for instance, is integral to the experience of Stare Out (Blink) (1998), an installation in which a negative portrait of a young girl regularly disappears, leaving the viewer momentarily haunted by its reappearance as a positive afterimage. Sometimes again—as with Tuin (1998), in which a multiply reenacted moment from Rainer Werner Fassbinder's Martha is shown on split screen—it is the use of cinematic devices and direct quotations from film history that propels an experience of multiple perspectives and multiplied time.
From such starting points, Islam's structural frameworks and the visual, emotional, and physical poetics of her films proceed to grow together. The logic of formalism entwines with that of movie making's "synthetic realism" to generate viewing experiences in which time performs strange folds and stutterings, memory and desire lap over present phenomena, and closure is remarkably elusive—experiences, in other words, that more nearly approach the poetics of life as it is lived than either a formalist or synthetic realist approach to filmmaking can perhaps manage alone.
Islam has described her work as "an attempt to re-enchant formalism,"1 but along with reenchantment there is also a resensualizing occurring here. For the thrall that we are held in by these purposefully beautiful film objects points us perpetually back to the "real": the real, that is, as it is perceived by the human senses and interpreted by our emotions and faculties; the real as it is represented on film; and the real as it exists in the objects of the world.
Refused those "I see" moments of closure when contemplation all but ceases, paused in the slippage between phenomena and apprehension, we are enjoined to be the first to see what we see as we see it. It might be a phenomenologist's call to arms. But what then, precisely, are we "seeing"? An actress exploring the properties of a plate? A teapot that suggests itself as a china echo of empire, with all the baggage of power and politics and possible perspectives that that entails? The object of a film, a thing of flickering light and sound? The objects of the body that sees and its mechanical equivalents that sometimes "see" on our behalf? All of these things. For ultimately, it would seem, what we are being invited to see here is ourselves seeing.
Notes
1. Asli Dogay Örs, "Ölçek, bir kurgu mu yoksa gerçeklik mi?" XXI, March 2004, 38.
Writer and curator Janet Owen was born in the U.K. and lives and works in Los Angeles, where she is currently a codirector of Raid Projects.
Hammer Projects are organized by James Elaine, and are made possible with support from The Horace W. Goldsmith Foundation, The Annenberg Foundation, the Los Angeles County Arts Commission, and members of the Hammer Circle.