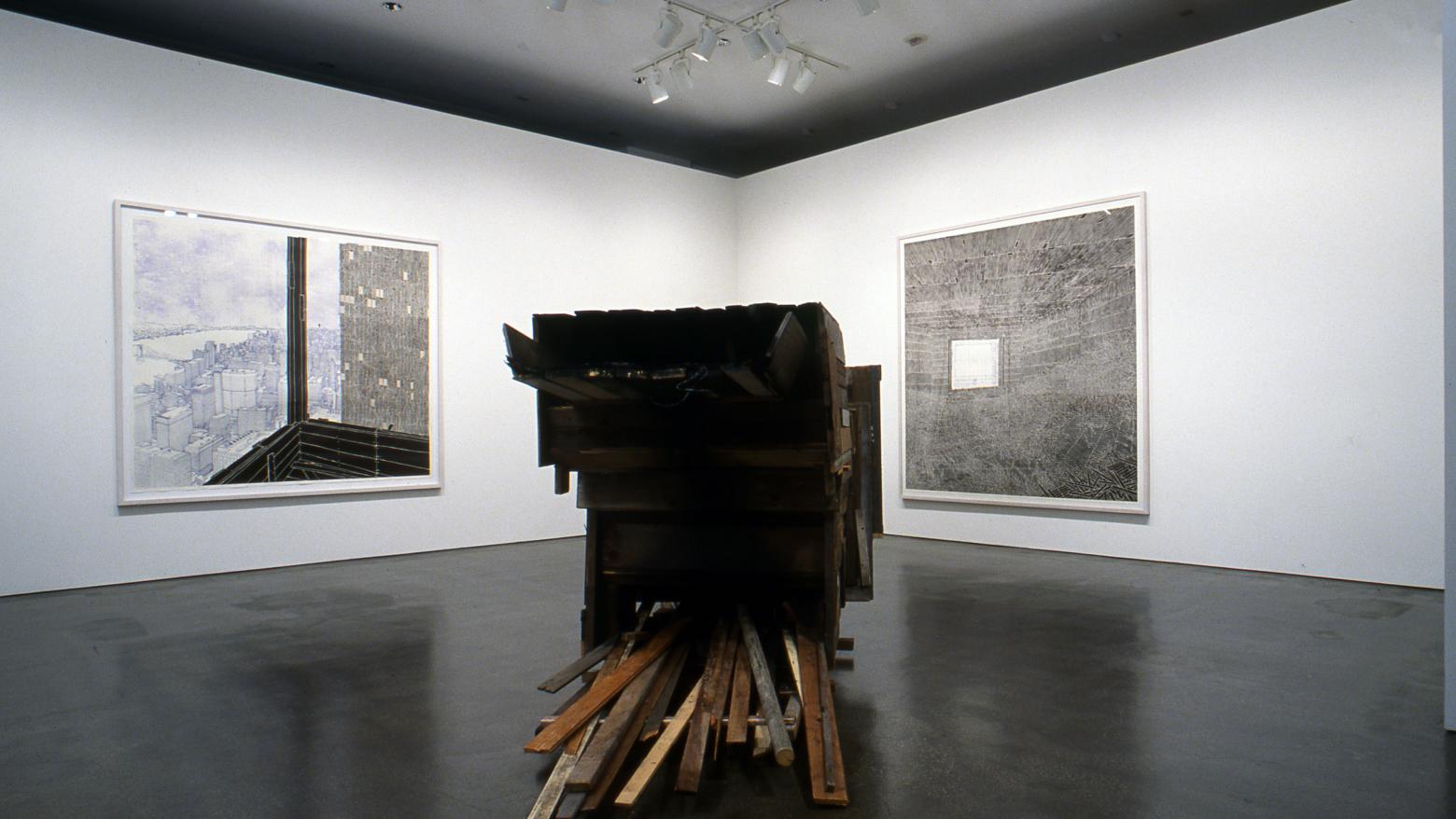 Hammer Projects: Rob Voerman
Jul 7–Oct 17, 2004
This is a past exhibition
Dutch artist Rob Voerman combines the formal language of makeshift sheds with the aesthetics of mass production and technology to obsessively construct sculptures and prints. Voerman's sculptures of office machines, created from discarded, weathered wood and other found materials, become objects whose apparent functionality is constantly belied by their haphazard fabrication. They are installed alongside large prints of cityscapes, which can be seen as reactions to the over-designed environment we live in. According to Voerman, his work seeks to unmask the "risk, uncertainty, and decay [that] are systematically concealed from daily life."
Organized by James Elaine, curator of Hammer Projects.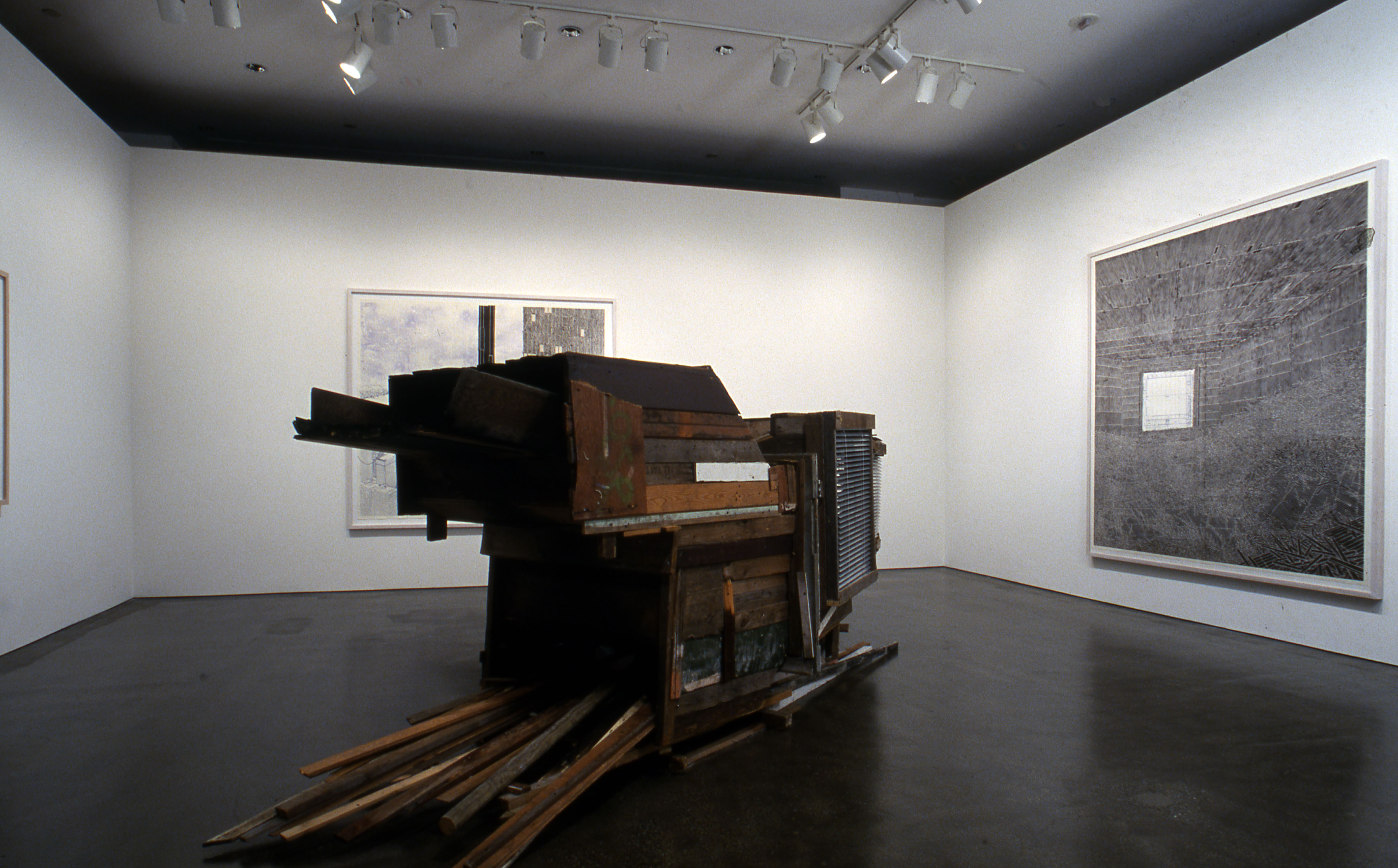 Biography
Rob Voerman was born in Deventer, the Netherlands, in 1966 and currently lives in Arnhem, the Netherlands. He studied sculpture at the Art Academy in Kampen and wrote his thesis on the concept of alchemy and its use in contemporary art. Voerman has exhibited extensively in Europe, most recently at Gallery Rhodes + Mann, London; Kunstverein Kohlenhof, Nuremberg; and Gallery Dick de Bruijn, Amsterdam. His work was included in the Eleventh International Print and Drawing Exhibition at the Taiwan Museum of Art (2003); the Grafik-Trienniale in Frechen, Germany (2002); and the European Biennial of Graphic Art in Bruges, Belgium (2002). In 2003 Voerman was awarded grants from the Mondriaan Foundation and the Royal Dutch Embassy in London. This Hammer Project marks the first showing of Voerman's work on the West Coast and his first solo exhibition in the United States.
Essay
By Aaron Betsky
Rob Voerman does not like slick surfaces. He transforms the neutrality of the off-white plastic containers that encase our office equipment and the anonymity of the mass-produced spaces of offices into assemblages of rough, recycled wood. Everything he makes is thought out but appears thrown together and layered, worn and frayed. Voerman doesn't even allow his etchings and drawings to be smooth presentations of pretty pictures. Instead, they exhibit chicken scratches and rough lines, fields of unevenly cut lines, and forms whose contours (as well as purposes) are uncertain. Contending that urban life has become increasingly devoid of the vagaries and realities of both human and natural existence, Voerman colonizes the empty plains of the cities he draws, constructing small huts and implements with which he can build a world dedicated not to the smooth functioning of things, but to something else, something less certain, something he cannot even yet name.
There is a romantic longing for the farm, the nineteenth-century factory, and the workshop in the work of Rob Voerman. He sees his atelier, itself a small colony in a former army barracks, as a continuation of a world of small-scale manufacturing that inhabits and contradicts the much larger and more abstract structures by which our environment is both physically and socially structured. He wants to be a farmer and a furrier, a carpenter and a blacksmith, in an era of consultants, executives, and operators of symbolic logic.
This does not mean that this young Dutch artist fetishizes nature or operates as a latter-day hippie. He is too fascinated with the mechanical world, with construction and with production, to make things that have an explicitly organic form or function. Most of his art takes the form of mundane, often technological objects such as photocopying machines, or of productive or even penal buildings with industrial overtones. The task Voerman has set himself is exactly to transform these objects through his particular craft into something that subverts, or at least questions, what they are by the way the artist makes them appear.
It is appropriate, then, that this artist chose the work of Rebecca Horn and Sigmar Polke, with a special attention to their interest in alchemy, as the topic of his thesis for the somewhat obscure Kampen Art Academy. Art as a way of rescuing some sense of coherence and the specific quality in things, perhaps as part of the mythology of an alternate world, leads him to create forms that remind one not only of the work of the artists he studied but also of a larger trend toward making art as a kind of rough fairy tale about postindustrial society. Operating as a bricoleur, Voerman invests the everyday, the already made, and the alien with meaning exactly by collecting, composing, and recrafting this detritus. When he draws, as opposed to making composite objects, he gives us visions of a grimy, industrial city with anonymous 1960s-era buildings that might be anywhere, deformed and intensified into a new kind of structure that appears to rule over this world without distancing itself from its ground. This method of reactivating what appears familiar and even forgettable is why the work is so rough: it accepts what we see around us and gives it back to us as something under construction. Through this process, Voerman transforms reality from something given to something he is still making.
Voerman's notion of assemblage is firmly rooted in modern art practices, as is the idea that a personal remaking of mass-produced goods, images, or spaces can allow us, through the artist, to participate in the power structures that otherwise appear to rule our world. In the Netherlands this tradition has taken a particular form that is less abstract and obtuse than the work one finds in Germany or France, and less slick and finished than is common in Great Britain or the United States. The work of Panamarenko, Armando, Wim T. Schippers, and, more recently, Mark Manders and Joep van Lieshout moves beyond the isolated world of art making into proposals for trains, planes, and automobiles, as well as for whole cities and industrial plants. The Dutch and the Flemish make art that is a hybrid of implement and sculpture, of painting and architectural proposal, of housing and installation.
For Voerman, this tradition is a reaction to the "overorganized" reality of the Netherlands, which bans any of the confusion and contingency that are the mark of human action. In the Netherlands, says the critic Wouter Vanstipthout (quoting Missy Elliott), "we are too blessed to be depressed," leaving room for human failure, absurdity, or comfort out of the carefully calibrated equations by which space is allocated, outfitted, assigned, and designed.1 You have to be quite extreme to be able to stand out in the flat landscape of the Netherlands.
The artist can become exactly that person who questions this smoothly functioning reality, and Voerman sees himself squarely in this role. The office interior becomes more like a primitive hut, the city becomes a place of industrial pollution and terror, and even nature becomes a place where, in the 2002 installation Working Hours, fluorescent lights mark out a space of alienation in a lush and verdant woods. The grittiness of the materials, but also the fact that the form of the photocopier in Brother of 2000 and Printcenter of 2001 now houses a functionless object, throws a wrench into the machinery by which Dutch society organizes itself.
Beyond what is perhaps a social action agenda inherent in the work, Voerman has also moved into an exploration of more enigmatic forms. His untitled prints of 2000 through 2002 show hybrid structures that combine pieces of satellite dishes, garden sheds, lunar landing modules, and the structures one sees in South American favelas into a clearly defined aesthetic without the "antifunction" that defines the other works. Their lack of titles is perhaps indicative of their status as "pure" artworks, which is to say that they offer visions of something beyond our daily life.
For Voerman, the logical next step that would combine these two tendencies in his work would be to imagine a functional world that is a variation on the reality he unmakes, while presenting something that we cannot yet understand. This utopian tendency was already present in the 2001 Groundstation, as well as in a composite structure for which he made a small prototype in his Mega Farm of 2004, but the artist says that it is now the focal point of his work, as presaged by his 2004 Midnight Breeze Passing. Here is not a perfect world, not a dystopia, but a place that is mythical: it is a version of our reality, inherent in its current structures, but transformed by a narrative that opens up other meanings within that logic. This is where the artist is now at work, gathering images from the past, from his own work, from the cities he visits, but also from his imagination, to make something that will be an autonomous work of art existing in his imagination but made real in his drawings and models.
Notes
1. See Ewout Dorman et al., eds., Too Blessed to Be Depressed: Crimson Architectural Historians, 1994-2002 (Rotterdam: Rotterdam-Maaskant Foundation; 010 Publishers, 2002).
Aaron Betsky is the director of the Netherlands Architecture Institute, the largest museum and archive of its kind in the world. He is also a critic and author of more than a dozen books, including, most recently, False Flat: Why Dutch Design Is So Good.
Hammer Projects are made possible with support from the Horace W. Goldsmith Foundation, The Annenberg Foundation, the Los Angeles County Arts Commission, and members of the Hammer Circle.
Additional support for Rob Voerman's Hammer Project has been received from the Mondrian Foundation and The Consulates General of The Netherlands in New York and Los Angeles.