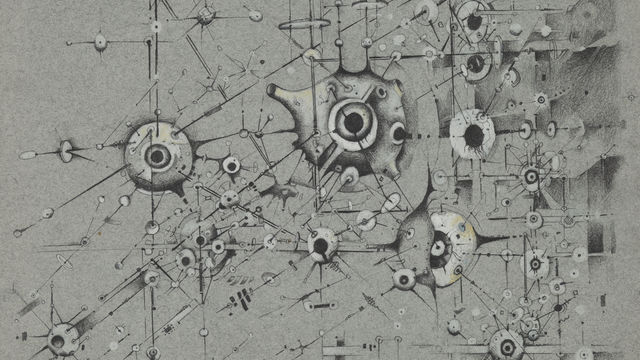 Lee Bontecou
–

This is a past exhibition
Lee Bontecou: A Retrospective
is the most comprehensive exhibition ever assembled of this influential 20th century American artist—one of the few women artists to receive major recognition in the 1960s. Co-organized by the Hammer Museum and the Museum of Contemporary Art, Chicago, the exhibition features approximately 70 sculptures and 80 drawings from private and public collections as well as from the artist's own holdings. It documents the complexity and scope of
Lee Bontecou
's art, from the late 1950s through 2003, with many works that have rarely or never before been publicly shown during the past 30 years.
The exhibition was curated by Elizabeth A.T. Smith, James W. Alsdorf Chief Curator at the Museum of Contemporary Art, Chicago, in association with Ann Philbin, director of the Hammer Museum.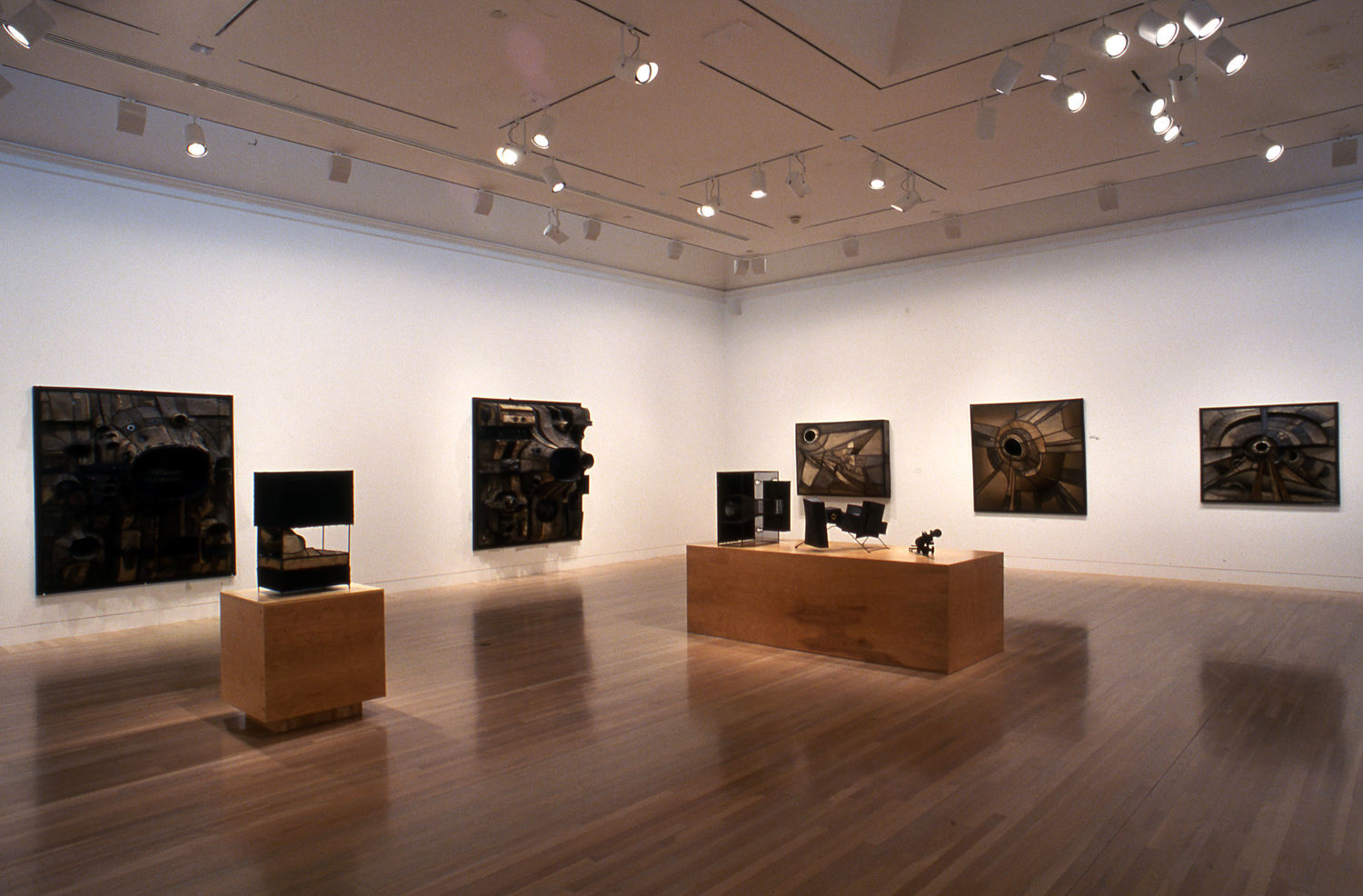 Essay
By Elizabeth A. T. Smith
One of the few women artists to achieve broad recognition in the 1960s, Lee Bontecou created a strikingly original body of work from the late 1950s to the present. Co-organized by the Museum of Contemporary Art, Chicago, and the Hammer Museum, this exhibition surveys almost fifty years of her work, including numerous recent sculptures and drawings that have never before been exhibited. It provides an extraordinary opportunity to reconsider an artist who has become a legendary figure due to the powerful impact of her work of the 1960s and 1970s and the relevance and interest it still holds for many younger artists.
Whether heroically scaled or intimate, Bontecou's predominantly abstract work has consistently incorporated figurative, organic, and mechanistic references to states of transformation between the natural and the man-made. From her early sculptures—wall-mounted, three-dimensional objects in which geometric fragments of canvas and other materials are stretched over and fastened onto welded metal framework—to the explosive intricacy of her most recent pieces, many of which are suspended in space, Bontecou's greatest preoccupation as an artist has been to encompass "as much of life as possible—no barriers—no boundaries—all freedom in every sense." 
Born in 1931 in Providence, Rhode Island, and raised in Westchester County, New York, Bontecou attended the Art Students League in New York from 1952 to 1955, followed by a period of residence in Rome. She worked in a vein of abstracted figuration, sculpting animal and bird forms that in their crudeness and vigor anticipated the direction of her subsequent work. Upon her return to New York, Bontecou arrived at the idea of creating lightweight welded frameworks resembling boxes and infilling them with wire mesh, canvas, and muslin to impart a painterly sense of depth and illusion. The resulting objects, while primarily geometric in form, resembled rough-hewn machines with a curiously handmade presence.
Beginning in 1959, a large circular opening began to recur in Bontecou's sculpture, projecting from the surface of the work itself and framing a dark, receding inset. She intended these blackened voids to evoke mystery and a range of emotive responses to the unknown, the wondrous, and the sublime, prompted in part by her fascination with scientific and technological advances surrounding the exploration of outer space. At the same time, this aspect of her work refers to the underbelly of human nature, encompassing fear, violence, brutality, and war. In a statement accompanying the Museum of Modern Art's 1963 exhibition Americans, Bontecou said that her goal was to "build things that express our relation to this country—to other countries—to this world—to other worlds—in terms of myself. To glimpse some of the fear, hope, ugliness, beauty, and mystery that exists in all of us and which hangs over all the young people today."
References to airplanes, the wings of birds, and other anthropomorphic and mechanomorphic elements increasingly reverberated within Bontecou's sculpture, including a monumental work commissioned by Lincoln Center for the New York State Theater, and in numerous drawings of the early and mid-1960s. By the later 1960s Bontecou began to further shift the direction of her sculpture, developing works made of balsa wood and silk, resembling chrysalis forms. She also began to experiment with synthetic materials such as fiberglass and epoxy, departing from the rugged textures and receding spaces of her earlier pieces in favor of ballooning forms that appeared more rounded, finished, and protective.
Around 1969–70 Bontecou made a group of vacuum-formed plastic works in the forms of flowers, plants, and fish, the sections of which were affixed to suggest overlapping gills, petals, plates of armor, or shells. Embodying curiously disturbing interpretations of their subjects, the fish are sharply scaled, with ferocious teeth, shown in the act of swallowing and ingesting smaller species, while the flowers and plants appear sinister and mutated. This body of her sculptures directly reflects the negative implications of human degradation of the natural world, transmitting a pronounced ecological message.
During the 1970s and 1980s Bontecou devoted herself primarily to teaching in the Art Department at Brooklyn College, continuing to work in both sculpture and drawing over the next two decades. Her recent works include small porcelain sculptures that evoke minuscule and mysterious landscapes or galaxies and a group of suspended objects resembling airborne hybrids of organic and mechanistic forms. Concurrently, she has made a series of more representational sculptures derived from the figures and heads of birds—coming full circle to the subject matter of some of her earliest works, but with a markedly different expression that is graceful and surreal, comical and frightening, and compellingly intricate.
Bontecou's innate sense of connection among nature, culture, and self and her emphatic commitment to a wide range of sources—from the art of ancient and non-Western cultures to abstract expressionism—have generated a profoundly original corpus of work that continues to evolve while eluding easy classification. Her continuous experimentation with materials and modes of making—while consistent in her use of certain key images and motifs—endows her work with an uncommon vibrancy and vitality. The lyricism and cornucopic sense of visual abundance emanating from her sculpture and drawing, in which recognizable forms from nature fuse with the abstract, are simultaneously unsettling, otherworldly, surreal, and fundamentally mysterious.
Elizabeth A. T. Smith is James W. Alsdorf Chief Curator at the Museum of Contemporary Art, Chicago.
Exhibition Schedule
Following its debut at the Hammer Museum, the exhibition travels to the following venues:
Museum of Contemporary Art
Chicago, IL
February 14 - May 30, 2004
MoMA QNS, The Museum of Modern Art
New York, NY
July 30 - September 27, 2004
The national tour is made possible by The Henry Luce Foundation, The National Endowment for the Arts, The Horace W. Goldsmith Foundation, Friedrike Merck, and Sarah-Ann and Werner H. Kramarsky. The accompanying catalogue was made possible, in part, by Agnes Gund and Daniel Shapiro, and The Ruth and Murray Gribin Foundation.