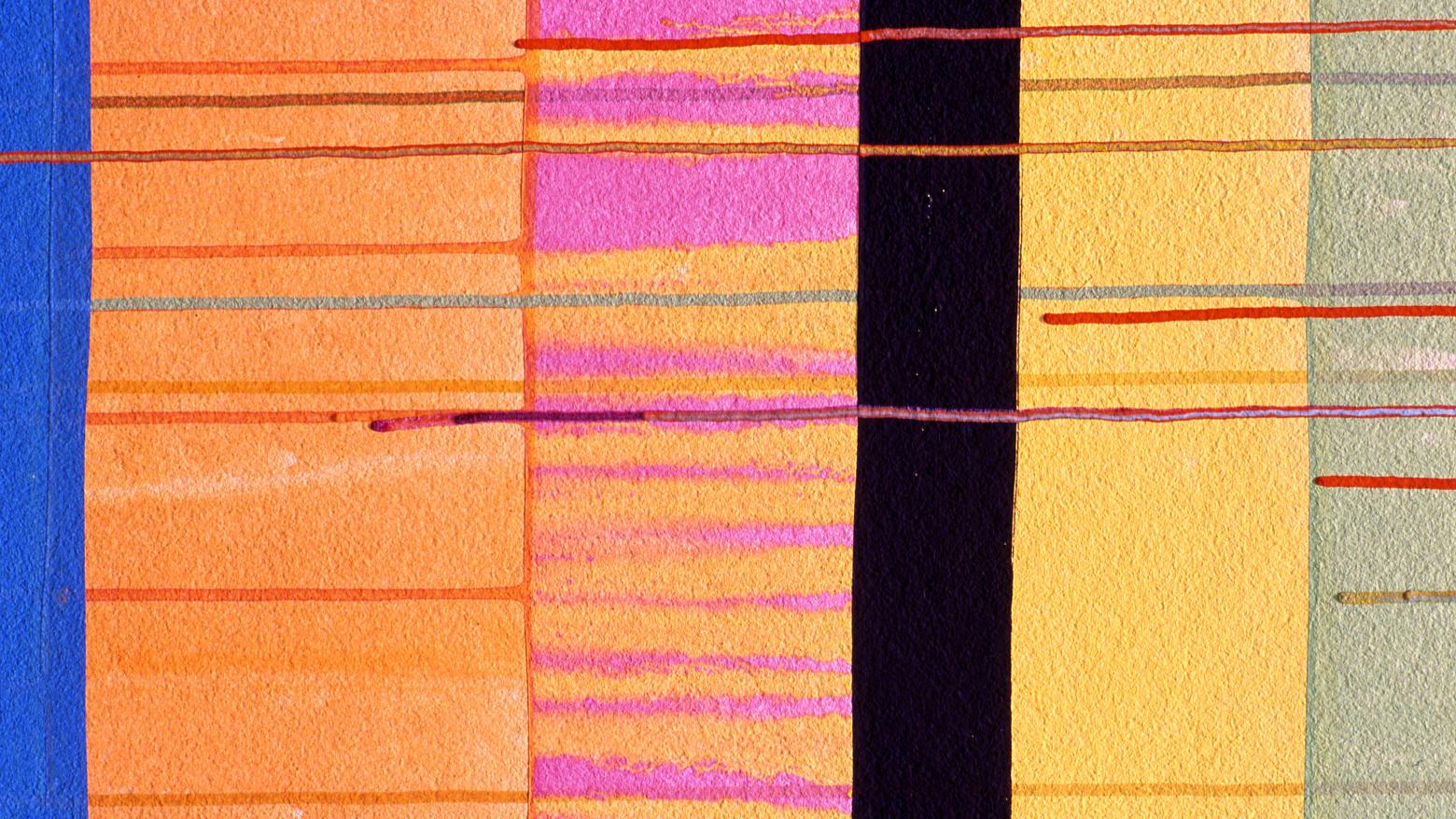 Hammer Projects: Markus Linnenbrink
May 1, 2003–Jan 31, 2004
This is a past exhibition
Markus Linnenbrink uses dry pigment, water, and an acrylic binder to paint bright parallel swaths of color on varying surfaces including canvas, floors, ceilings, and walls. He allows the paint to dribble and run in response to gravity, creating an uneven grid-like pattern of broad stripes and thin rivulets, highlighting the energy and atmosphere of the rooms they occupy. The large, site-specific work for the Hammer Museum's Lobby Wall Linnenbrink created in May 2003, surrounds and submerges viewers in his painting.
Organized by James Elaine, curator of Hammer Projects.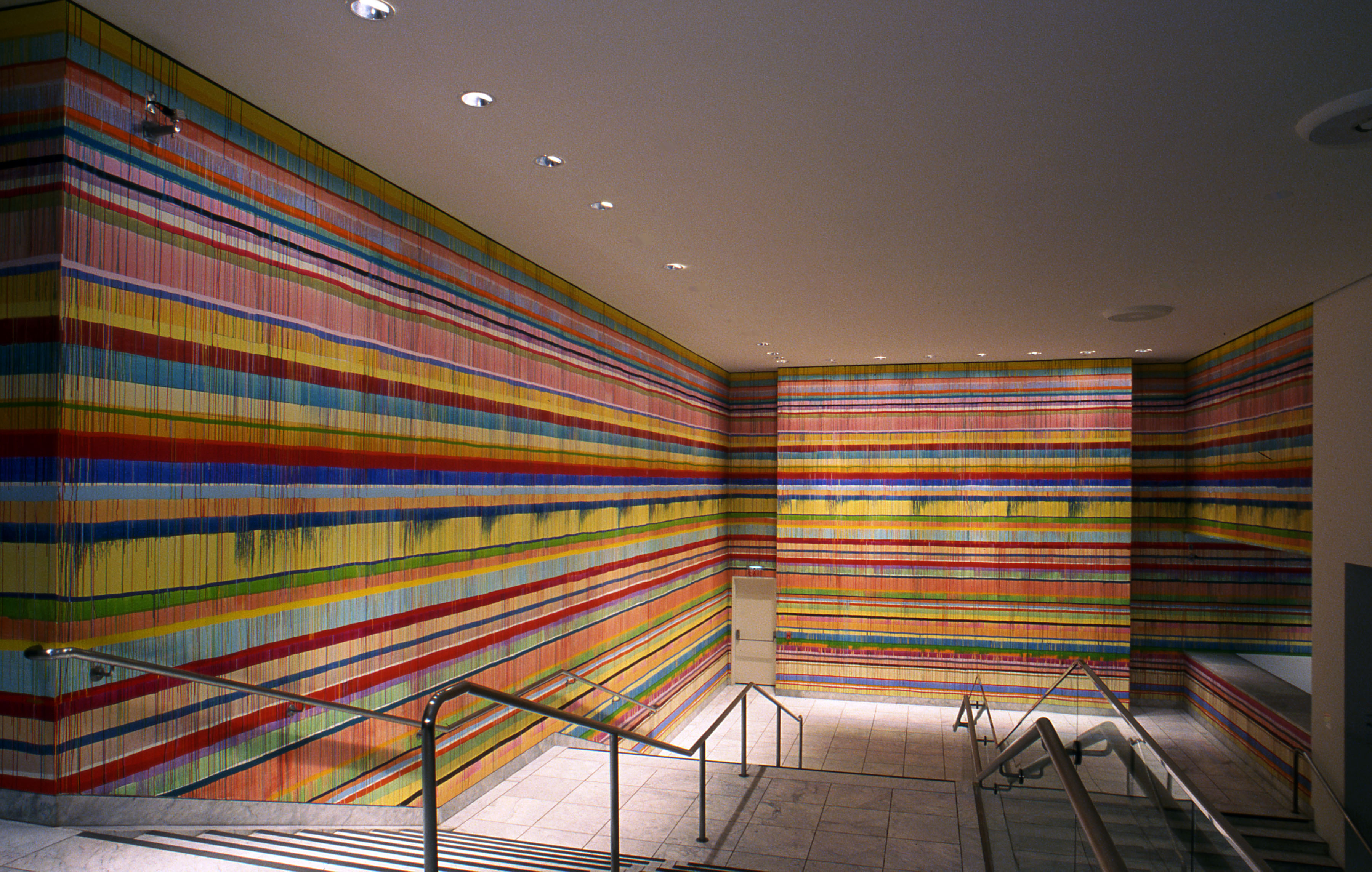 Biography
Markus Linnenbrink was born in 1961 in Dortmund, Germany, where he currently lives and works. He studied at the Academy of Fine Arts in Berlin and at the Gesamthochschule in Kassel. Recent solo exhibition venues include the Roy Boyd Gallery, Chicago; Margaret Thatcher Projects, New York; and Patricia Sweetow Gallery, San Francisco (all 2003), in the United States, and the Museum Katharinenof, Kranenburg, and Galerie Renate Schroder, Cologne (both 2002), in Germany. Group exhibition venues include the Kunstmuseum, Bonn; Haus Esters, Krefeld (both 2003); the Aldrich Museum of Contemporary Art, Israel; the Israel Museum, Jerusalem (all 2002); and the Block Museum of Art, Northwestern University, Evanston, Illinois (2000). His works range from painting and sculptures to large-scale, site-specific wall, floor, and ceiling works.
Essay
By Dominique Nahas
It is in the nature of stripes that they move things, says Markus Linnenbrink. By this remark he suggests that stripes form dynamic paths on and through which the eye can travel quickly. Typically stripes squeeze distractions out of space. Linnenbrink's artwork consists of stacked and layered colored lines that extend, ideally, forever in time and space. His stripes are hardly commonplace, however, and his implication of inexorable linearity is far from removed from our own subjective reality. We walk through his animated work as much as we come across it. We are immersed within the work as it surrounds us, denying Euclidean emptiness and irreversibility. As we are in it, we are in a layered environment that stretches and saturates. The work is simultaneously luminous, pulsating, and modulated. As we move along with its intensity, we are allowed, equally, to drift with it as well, carried along by its insistent lateral flows and downward drips. His gestural work of parallel bars asks us to consider the narrative implications of the works own making: its beginning, middle, and end and the layered and interstitial points that lie in between. In his wall painting for the UCLA Hammer Museum's lobby, the artist also considers our experience of making physical headway through the museum's open and closed spaces, through its corridors, entryways, passageways, and stairway. In dealing so adeptly with the constraints of architecture, Linnenbrink's artwork implicates social and architectural space and our customary ways of moving through it.
Linnenbrink uses dry pigment, water, and an acrylic binder to explore transparency, contrast, and consistency of paint while experimenting and responding in seemingly organic and intuitive ways to the particular environment and circumstances of a site. If his is abstracted, universalized space, it is also incongruously emotional, far from removed. The work is persuasive because the scale of the artist's striving is intensely personal. While enveloped in his brand of allover painting, it is hard for the viewer not to withdraw from the aggressive insinuation of horizon lines, laid over one another in quick succession. If Linnenbrink's are internal or subliminal landscapes, it's also certain that they aren't predicated on any particular point of view but instead rely on multiple viewpoints on the part of the maker and viewer. These latticelike spaces are realized from places and paths of experience. In Linnenbrink's art one feels and enriched perception that life-world experience is a function of change and unpredictability within and illusion of order. 
Close viewing of Linnenbrink's stripes rewards us by revealing ruptures in the field of sidelong vision. Subordinated runs, trickles, and tears form downward movements of paint that contrast with the lateral surges of color. Drenched physicality is one of the most visible aspects of the work, along with its overwhelming sense of an integration of opposites. What is most impressive is that Linnenbrink's hands-on way of working, while it demands that the viewer look and assess the inner workings of the piece itself in light of the architectural character of the site, never seems physically oppressive or overly determined. A delicately realized sense of freedom within constraint is the operative agenda that loops around and though this particular universe of form and light.
The artist's virtuosity lies in his use of opacity and translucency, nuanced aspects of the work that are interwoven through his treatment of scale and color. Its improvisational elements do not exclude us from a visual harmonics that allows for contrapuntal and spatial intervals in the form of coloristic spacings and overlays. This lets the eye easily move through the length and breadth of the work. The result is performative artwork that moves us emotionally. The bravado of Linnenbrink's laying on of hands, so to speak, onto the body of architecture creates an intricate experience for the viewer. A series of coloristic sweeps and eddies, one giving way to another, happens in endless progression. Environmental saturation and compression modulated by a sense of musicality and alienness are the touchstones that one feels in his space. Equilibrium between containment and release, contraction and compaction, guides the artist.
In his notes Linnenbrink mentions a "meeting ground" when he refers to his work. He is vested in creating and environment that is perplexing an soothing, a setting that he calls an "offering" to the viewer to "get into the space as deeply as one can." This ground allows us entry into a state of mind that wrestles with incommensurables: change within permanence, flux within repeatability. In False Papers: Essays on Exile and Memory, the writer Andre Aciman refers to the Hericletean territory of the psyche as it tries to memorialize the conditions of displacement and longing as having a palintropic quality. He qualifies this aspect by using phrases such as "which keeps turning . . . a going back to oneself . . . a flipping back to oneself." He continues: "I am always caught between two points, one of which is always a metaphor of the other. But that's not quite correct. I am two points caught in different spots." This self-reflexive, looping and encircling aspect permeates Linnenbrink's work, giving it added dimensionality and purpose.
The memorable characteristic of this work is that within it one can traffic in one's own sensations. It is a space, both mental and physical, that invites contemplation and rumination. As with Heraclitus's river, we see a constant flow and rush of time in all parts of Markus Linnenbrink's artwork. It is all of one kind, yet it is never the same.
Dominique Nahas is an independent curator and critic based in Manhattan.
Hammer Projects are made possible with support from The Horace W. Goldsmith Foundation, The Annenberg Foundation, the Los Angeles County Arts Commission and members of the Hammer Circle.