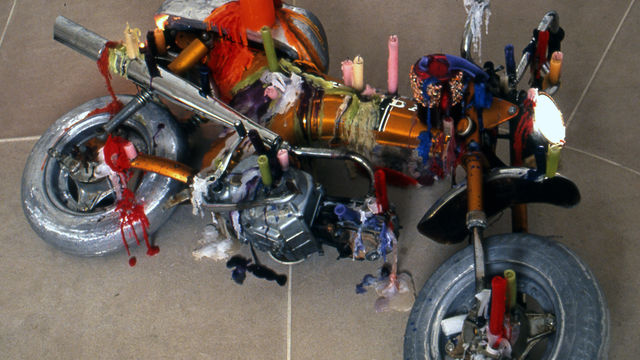 Hammer Projects: Mark Handforth
Sep 10–Dec 9, 2002
This is a past exhibition
In his sculptural installations, Mark Handforth transplants familiar objects into unfamiliar surroundings in order to reveal something new about the ways in which these things exist and function in our everyday lives. Born in Hong Kong, raised in England, and based in Miami since 1992, Handforth revels in the skewed perspectives and unintended consequences that result from cultural migration and displacement. In the Hammer's Vault Gallery, Handforth will present several recent sculptures, including a street lamppost that appears to have been stretched out and folded in upon itself, and a fluorescent light sculpture.
Hammer Projects are curated by James Elaine.
Biography
Born in 1969 in Hong Kong, Mark Handforth lives and works in Miami, Florida. His work has appeared in a number of solo and group shows in Europe and the United States. He has had solo exhibitions at Galleria Franco Noero, Turin, Italy (2002); Gavin Brown's Enterprise, New York (2002); and the Museum of Contemporary Art, North Miami (1996). He has participated in group exhibitions at Charlottenborg Exhibition Hall, Copenhagen (2002); Johanniterbrucke, Basel (2001); the Museum of Contemporary Art, North Miami (2000, 1999); and Gavin Brown's Enterprise (1998).
Essay
By Tim Griffin
One way to get a handle on Mark Handforth's approach to sculpture is to consider a scene from cinema: the final sequences of the Who's Quadrophenia (1979), in which the headlights of a single Vespa drift alone through the fog high on the seaside cliffs near Brighton. It's a romantic ending that takes place in a relentlessly modern setting, with the movie's teenage lead apparently driving toward a suicide in a landscape that, for all its sublime expanses, cannot be separated from its utilitarian function as a resort. The film depicts a world that, regardless of its refuge beauty, is inextricably tied to life lived on city streets.
The scene directly inspired one of Handforth's works for a recent exhibition in Turin, Italy. Outfitting a Vespa with water nozzles, he placed the vehicle in a courtyard behind his art gallery. To anyone who looked at the sculpture, the bike seemed enshrouded in a light cloud set in nature; those who walked closer felt a cool film of water falling upon their skin. This ultra-sculptural sensibility extended to optics, as the lit headlights created rainbow spectrums in the surrounding mist. Yet the lightly sublime experience was still embedded in the immediate context. Handforth picked a Vespa because the streets of the working-class neighborhood outside were lined with the vehicles; visitors to the gallery may very well have driven one to his exhibition. And so an out-of-this-world encounter is only a step away from the ordinary. Handforth's sculpture is romantic but never quite leaves reality behind, laden as it is with sociological content. 
In fact, taking the Quadrophenia metaphor to the cliff's edge, you could say that Handforth's sculpture is not modern, or postmodern, but rather mod. Trained during the early 1990s in Frankfurt, when Martin Kippenberger was lording over the city's art school, Handforth became interested in the deep cultural value of designed objects, while classmates such as Tobias Rehberger became connoisseurs of surfaces in designer culture. In other words, Handforth's sculptures may traffic in the well-pressed suits of modernism, but their motifs, unlike those of so many works of the past decade, always run counter to formal pastiche and instead resonate socially. The artist's most recent assemblages may have the tilted, expansive angles of classic Mark Di Suvero works-they might even evoke Alexander Calder's mobiles, as their parts dangle from the gallery ceiling-but they are unmistakably composed of the bent frames of highway light posts. Aesthetics end up recalling the dead-zone nighttime highways of the modern, industrial United States and, more specifically, the dark roads that skirt Handforth's adopted home of Miami. (As he takes his objects slightly out of modern circulation, so he has done with himself in Byronic fashion.)
In this regard, Handforth says that he is often interested in the "failures" of works by modernist sculptors-the ways in which they rust, accrue real cultural weight over time, or are actually misused by the public. (Looking again to English poets for a Romantic corollary, one could think of the lushly deteriorated world of Coleridge's "Kubla Kahn.") Handforth remembers the important pleasure of discovering, when he attended art school, that Henry Moore's bulbous torsos were called "turd in the square sculptures"-or that there was once an outcry in London against a Carl André sculpture that consisted of 120 bricks arranged in a rectangle. Handforth pays close attention to such slippages when it comes to fine art, and his practice can be seen as a sculptural turn on the Instamatic photographs that accompany Robert Smithson's essay A Tour of the Monuments of Passaic, New Jersey (1967). Smithson visited various industrial sites around the city, from pumping derrick to pipeline, and described them as works of art. In a similar fashion, Handforth looks for "sculpture" that already exists amid the cultural wreckage and then most often brings the object into the gallery setting, with the resulting tension creating a sociological poetry for all to see. (For one recent public work in Basel, Switzerland, he left his sculpture outside. He found graffiti on a wall and made a duplicate beneath a bridge of its scrawled message of failed romanticism, in blue neon lights that reflected upon the flowing waters: Claudia I love you kind of; 11:25pm.)
For the exhibition at the UCLA Hammer Museum, Handforth has selected an installation that is tailored to the site's history as the former home of Leonardo's Codex Leicester. Taking advantage of the gallery's chapel-like vaulted ceiling, he has lined the walls with rows of fluorescent lighting; on one end of the space, he used such lights to create a large mandala-like burst. Again he is playing with the work of a modern artist, Dan Flavin, using his signature medium to representational ends. (In the past, in fact, Handforth has used such lights to represent the Union Jack on gallery walls.) At the same time he admits that he likes the medium not for its neat minimalism, but because the lights are "as cheap as a ball-point pen," even while providing a mood-setting, beautiful contemporary light. And, putting aside his beloved Vespa, Handforth selected a Honda motorcycle that's more in tune with the Los Angeles environs-but that is no less romantic, since the vehicle drips with candle wax. Set amid another of his twisting lamppost sculptures, the piece becomes a relic for a uniquely American church.
The installation suggests that, in fact, not all of Handforth's artistic inspirations come out of modernism. As significant to him is the architect John Soane (1753-1837), whose designs, while announcing themselves as Neoclassical, variously resemble Art Deco and Minimalism-while Soane himself was an obsessive Romantic who would describe his yellow windows as having, for example, the "color of death." Such an intermingling of eras and moods played into one of the artist's least-known works: his design for the Passerby bar at Gavin Brown's Enterprise in New York City. Made to turn Adolf Loos's American Bar in Vienna on its head (and originally intended to have Soane-like onyx windows), the small room hosts a disco floor made by fellow gallery artist Piotr Uklanski, as well as Handforth's long bench made of simple planks that seem hardly removed from the lumberyard. The bar itself is made from wood that modern furniture designer George Nakashima had, before he died, intended to use to make a long dining table. Here the wood is cut into sections that do not line up perfectly, modeled as they are after Frank Lloyd Wright's Fallingwater, which may not be such a romantic idea, considering that one might fall down drunk. But, being in a bar that's as close to the street as it is to the art gallery, it's certainly where the kid in Quadrophenia, had he lived today, would have been riding for his drink of cool, cool rain.
Tim Griffin is associate editor of Artforum , and formerly art editor of Time Out New York . His book of cultural essays, Contamination , is available from Gabrius; in Stereo , a book of poems, is available from Shark Press.
Hammer Projects are made possible, in part, with support from the Horace W. Goldsmith Foundation and The Andy Warhol Foundation for the Visual Arts. Additional support has been provided by the Los Angeles County Art Commission.