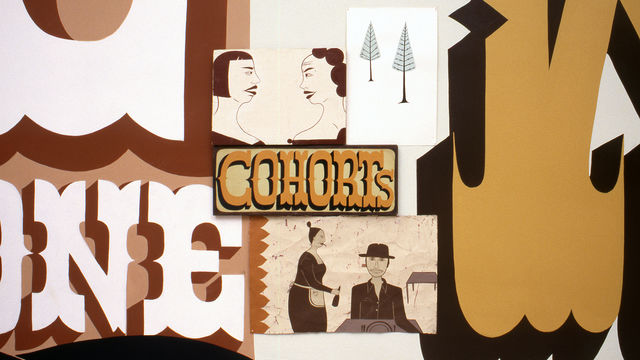 Hammer Projects: Margaret Kilgallen
–

This is a past exhibition
Margaret Kilgallen's paintings and murals are celebratory reminders of how people live and move in their day-to-day environments. Kilgallen uses a cartoon-like style to express the lighter side of life, and she inserts elements of folk art, tramp art, mural painting, and lettering in her works. Her depictions of common social scenes portray a range of subjects from vagabonds to surfer women. In her work, Kilgallen transforms the ordinary into the exceptional by giving familiar happenings and images a beauty of their own.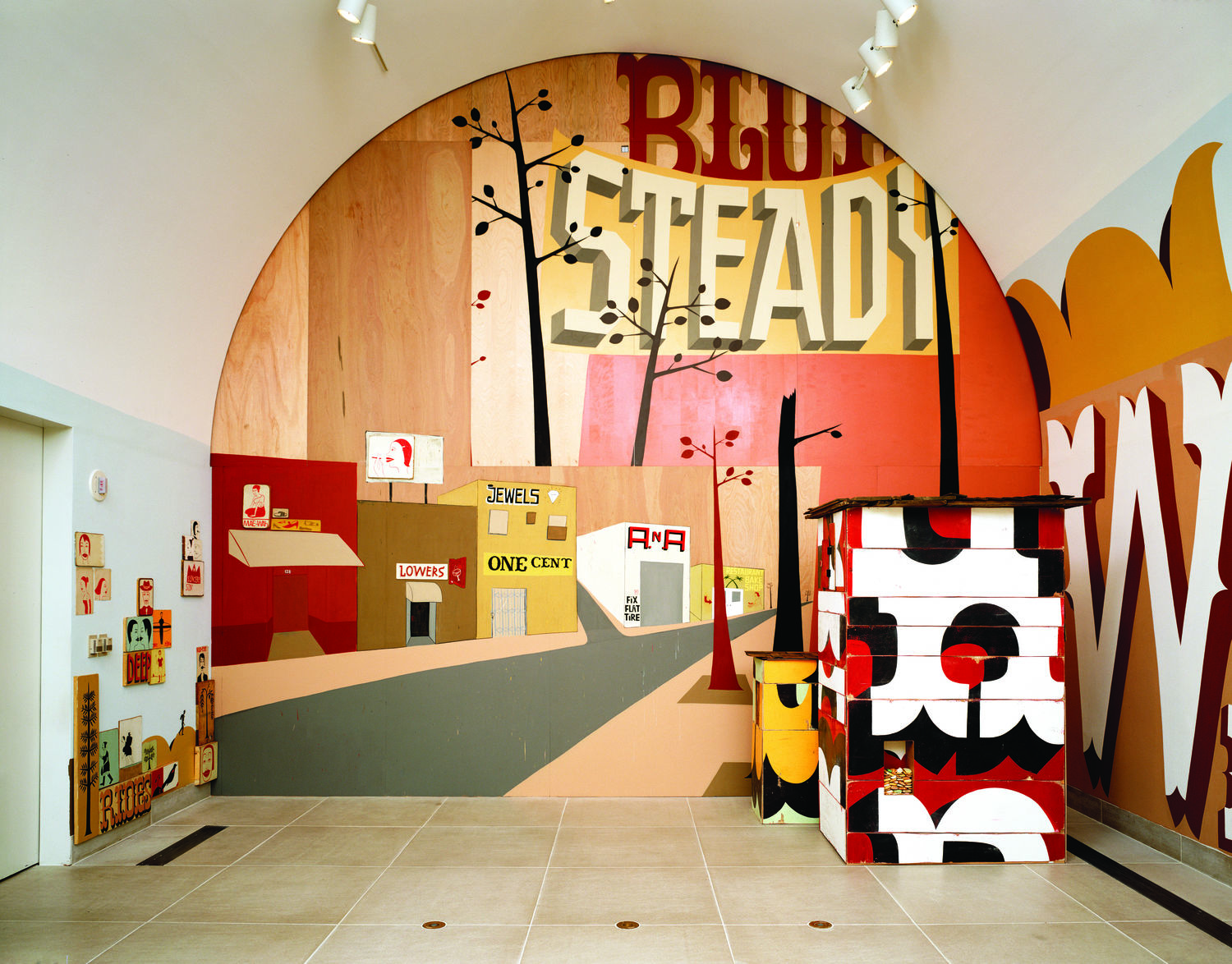 Biography
Margaret Kilgallen (1967-2001) was born in Washington, D.C. In 1989, she received a B.A. in printmaking at Colorado College. Her work has been exhibited at the Drawing Center and Deitch Projects in New York, Yerba Buena Center for the Arts in San Francisco, the Forum for Contemporary Art in Saint Louis, and the Institute of Contemporary Art in Boston. Most recently her work was shown in a solo exhibition at REDCAT in Los Angeles in 2005, where nearly 100 of Kilgallen's paintings and drawings were on display.
Essay
By Eugene Joo
A quirky, forgotten adjective in carnival display type some twenty feet high interrupted by another saying, a name, the backside of a woman in a too-tight dress, a number, a barren poplar or slightly bent acacia tree, the letter F rendered in ornate typography, a shelf of old soap, an uncooperative donkey, the word amok, a lone bird, the face of a fleshy-lipped woman. Margaret Kilgallen's passion for books, trains, folklore, and craft bursts onto the gallery walls, spinning page upon page, image upon image, in a glorious autumnal gust. The walls now house a series of displaced signs liberated from the rigidity of a singular narrative. Each gesture is a temporal moment buying for autonomy; each painted element demands its own intimate consideration.
Whether evidenced in the line work of Indian miniature painting, an image of a bird scratched on the side of a freight car, or her own painted and sewn works, the artist respects the maker's hand. Frequent family trips to western Maryland during her childhood taught Kilgallen great appreciation for Amish craftsmanship in quilting, furniture making, and sign painting—and for the philosophy behind it. As a result, says the artist, "I Have always had an admiration for things that are well made, or not even well made. What you have to make in order to live."1 On these trips Kilgallen was also exposed to "white, white country people" whose fiddle and banjo contests, craft fairs, and auctions showed her a way of life that has fueled an ongoing curiosity about folk traditions, especially old-time music, its history, and how that history is at the heart the history of the United States. 
Kilgallen explains: "I love the banjo and [the story of] how it came. The banjo came because of slaves, mostly from Senegal. When it first came to the United States, it was always played with drums, but the drums were outlawed because they drew too much attention, they would draw the slaves together, and that gave them too much power, so they outlawed it being played like that. And it got mixed with the violin and other kinds of European instruments, because poor whites where playing with poor blacks, or because blacks would go play at some party in some white town. Traveling musicians—things get mixed. There's also the locality of music. And how things get separated."2
Kilgallen's interest in the migration of the banjo is part of a larger fascination with those parts of society that survive on the margins even as they disappear from mainstream memory. Hers is not a centrist's nostalgia, a longing for a perfect past. Rather, she craves the texture of decline, to linger on the last breaths of endangered but determined forms of expression.
Letterpress printing, old books, sign painting, hobo train writing, caricature, religious and decorative arts, and the culture of wandering inform the core of Kilgallen's symbolic world. Freight car markings left behind by "Bozo Texino" or "Colossus of Roads" may appear in the work, while other markings occasionally transform into trees, birds, places, and numbers. A painting of women's shoes is reminiscent of a handmade repair shop sign in the Tenderloin district of San Francisco. While the roots of these images may not be immediately apparent to the gallery-going public, they are sweetly familiar and truly nonhierarchical, evoking everyday places, markings, and people found throughout California.
Kilgallen has been a resident of the San Francisco Bay Area for the past decade, and the content, style, scale, and color of her work often reflect her adopted home and her many travels in the region. Like the WPA and Mexican muralists so influential to generations of San Francisco painters, Kilgallen consciously employs a figurative style that is accessible to the public. And like many of her contemporaries, she works in both formal and informal exhibition spaces, both inside and outside, commissioned and unsanctioned. But unlike most of her peers, Kilgallen refuses to engage or even acknowledge the city's consumer culture, with its frenzied barrage of advertising, keeping all traces of contemporary technology absent from the work. Things once again take time. Everything is made by hand. Everything is in relation to the scale of the human body.
According to the artist, her repertoire of symbols, typefaces, words, and icons makes up a wardrobe, their juxtaposition simply her choosing, her fancy. As with heirloom treasures, their personal significance often remains veiled, the specific sign perhaps a sentimental reference to a passerby or a street, a generation or a compliment. Among these fragments Kilgallen celebrates the common and the very remarkable lives of everyday people.
Lately Kilgallen has become fascinated with how California's environment has shaped its history and how labor has affected where and how people have settled.3 This interest can be attributed in part to a vibrant oral tradition in her family, whose members have recalled the difficulty of survival and the onetime unlikelihood of their own incorporation as Americans. According to Kilgallen: "My work is narrative, but it doesn't have a definite narrative. I have definite things that I think about. And that's because growing up, my mother had the most amazing stories of survival from her life."4 The oral tradition of her mother also explains Kilgallen's identification with immigrant women and her sense of the centrality of women in folk culture and, by extension, nation building.
Matokie, Pearl, Concha, Mae-Wah, Meta, Pilar: women whose lives embody atypical yet passionate agendas of adventure and family, reinvention and tradition. The women Kilgallen names and images can be nurturing and maternal but disrupt a simple nostalgia for domesticity. They are represented by their names or silhouettes as often as by their portraits, and they determine the energy, overall aesthetic, and operating procedure of the work. In the masculinist narrative of wandering and exile, woman signifies home, stability, reproduction. Woman is the destination. She is refuge. But here the artist is woman, is wanderer. Her reflection represents sensuality, transculturation, innovation. She is migrant, dreamer, housewife, and trailblazer. Her expertise is acquired. She works on her craft, her music, her life, her sport. She cooks, cleans, smokes, drinks, shoots, laughs, and fights.
Kilgallen's mark is her personal lore—a poetically layered figuration to outmatch any written or spoken tale. Relying on her many skills of craft, the artist offers us a glimpse of what is and was always there: everyday greatness and beauty, the ordinary yet exceptional life of each mother, exile, laborer, transient. Uncovering for a moment the quiet textures of existence, Margaret Kilgallen reminds us of the very magnitude of the quotidian.
Notes
1. Conversation with the author, December 3, 1999.
2. Conversation with the author, December 3, 1999; see the discussion of the halam, a Wolof instrument, in Cecelia Conway, African Banjo Echoes in Appalachia (Knoxville: University of Tennessee Press, 1995).
3. See Mike Davis, Ecology of Fear (New York: Vintage, 1999).
4. Conversation with the author, December 3, 1999.
Eungie Joo is a doctoral candidate in the Department of Ethnic Studies at the University of California, Berkeley.
Hammer Projects is made possible, in part, with support from the Horace W. Goldsmith Foundation, Peter Norton Family Foundation, and the Andy Warhol Foundation for the Visual Arts.