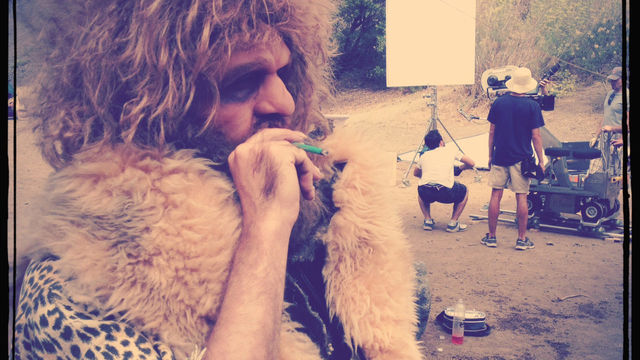 Nathaniel Mellors
2013–2014
British artist Nathaniel Mellors makes irreverent and absurd videos, sculptures, performances and writings that challenge ideas of taste, morality, and intelligence. Mellors's seminal Ourhouse (2010- ongoing) series features a cast of misfit characters enacting the decline of an eccentric British family. A more recent work, The Saprophage (2012), examines the literal and metaphoric waste produced by contemporary society. For his residency, Mellors produced a new film (in collaboration with Commonwealth Projects), entitled The Sophisticated Neanderthal Interview. The film (35mm film/HD transfer) features an interview between a naive contemporary young man (Truson, a character from Ourhouse) and an apparently real Neanderthal man. The Neanderthal is cleverer than Truson and plays with him and his expectations of primitivism. The interview appears to take place in a version of the mythic "Eden" ("E-Den"). This site is presented as a metaphoric place—Eden as a metaphor for the shift between a sustainable mode of human existence (hunter-gatherer) in the Upper Paleolithic to a Neolithic mode of existence based on the "knowledge" of farming and ownership of land which is the beginning of our modern system and the point at which we enter an economy of ownership which is ultimately ecologically untenable. The Neanderthal has been thrown out of the caves by an organization called "The Sporgo" which, he claims, owns the caves and controls cave art. The work also draws on the idea of the emergence of art as a marker of human consciousness and the idea that art and religion are hard-wired into the architecture of the human brain. It also plays off the formerly accepted idea that Neanderthals were not capable of making art, an idea that has been recently brought into question. Hence the eponymous "Sophisticated Neanderthal" character who is cleverer than his interviewer. The Sophisticated Neanderthal Interview was filmed in the original Bat cave from the 1960s television series Batman, in Griffith Park in Hollywood.  
Biography
Nathaniel Mellors was born in Doncaster, England in 1974. He currently lives and works in Amsterdam & Los Angeles. He studied at the Royal College of Art, London and the Ruskin School, Oxford University. Recent solo exhibitions include: Nathaniel Mellors: The Nest, Cobra Museum, Amstelveen, Netherlands (2011); Performa 2011, New York; Nathaniel Mellors: Ourhouse, ICA, London (2011); and Ourhouse, De Hallen, Haarlem (2010). Mellors has been featured in several important group exhibitions including British Art Show 7: In The Days of the Comet, touring: The Slaughterhouse, Plymouth; CCA, Glasgow; Hayward Gallery, London (2011); La Biennale di Venezia - 54th International Art Exhibition – ILLUMinations, Venice, Italy (2011); Un'Expressione Geografica, Fondazione Sandretto Re Rebaudengo, Turin, Italy (2011); and Altermodern, Tate Triennial 2009, Tate Britain, London. He is the recipient of the 2011 Cobra Art Prize, the Montehermoso Visual Arts Grant, Rijksakademie van Beeldende Kunsten, Amsterdam Production Residency.
The Hammer Museum's Artist Residency Program is supported through a generous grant from The Simms/Mann Family Foundation. The residency program was initiated with funding from The James Irvine Foundation and the Nimoy Foundation.