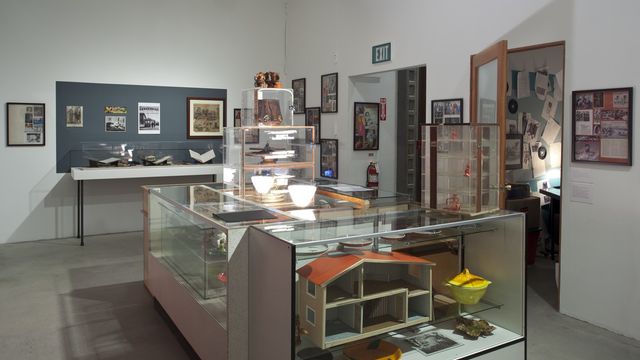 Vincent Ramos transforms archival material into new work, recovering the lost histories of Los Angeles's marginalized communities and providing a deeper understanding of the history that we are taught. Ramos was given a residency at the Hammer Museum in preparation for Made in L.A. 2012, in which he connected his family in Venice Beach to beatnik culture, the West Coast conceptual art, and the representation of Mexicans and Mexican-Americans in Hollywood. Photographs, stories, and mementos that Ramos has collected from his family are the starting points for his research, which branches out in compelling directions. Preserving his family's history is a way of honoring the working-class individuals who paved the way for an increasingly gentrified city. The resulting work was an installation of ephemeral material collected in his research, new drawings, and a performance by Christie Lynn Herring.
Biography
Vincent Ramos (b. 1973, Santa Monica, CA) received his BA from Otis College, Los Angeles (2002) and his MFA from California Institute of the Arts, Valencia, CA (2007). His work has been shown in solo exhibitions internationally including Las Cienegas Projects, Los Angeles (2011); 18th Street Art Center, Santa Monica, CA (2008); and Crisp, London and Los Angeles (2008). Awards for his work include the 2015 Friends of Contemporary Arts Fellowship; Legacy Artist in Residence Fellowship, 18th Street Arts Center (2011); and the California Community Foundation Emerging Artist Fellowship (2010). Ramos's public work El Monte Legion Stadium Nocturne (2014) can be seen at the El Monte Station of the Los Angeles Metro.
The Hammer Museum's Artist Residency Program was initiated with funding from the Nimoy Foundation and is supported through a significant grant from the James Irvine Foundation.