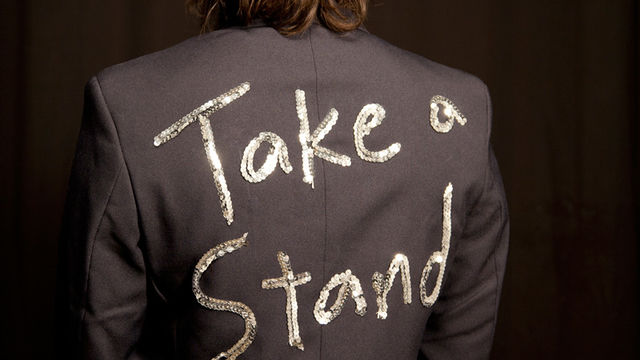 Lisa Anne Auerbach: United We Stand
–

This is a past residency
In spring 2011, artist Lisa Anne Auerbach trained as a Hammer security guard to gain insight on the role of guards at the museum. She subsequently worked shifts in the galleries that informed her Public Engagement project, United We Stand. For her subtle intervention, Auerbach replaced the guards' standard blazers with a new set of blazers, tailored for each guard and bearing a slogan on the back related to standing. She honed in on standing as she found it to be a definitive element of her experience as a guard, physically taxing and particular to the guards' job at the museum. The phrases were selected by the guards and transferred onto the garments in their own handwriting. Hammer guards will wear the blazers by Auerbach throughout the museum from February until the end of April.
Biography
Lisa Anne Auerbach runs a modest publishing and propaganda empire out of a former stuccolow in South Los Angeles. When she's not on her bike, she's knitting inflammatory, slogan-adorned sweaters and banners, making photographs of overlooked landmarks, and putting small publications out into the big world. With Saddlesore, American Homebody, American Stuccolow, and Last Week In the Project Space, she has made mountains out of molehills and continued the tradition of insisting that the personal is political. Her sweaters, small publications, and photographs have been shown in museums, galleries, cooperative bicycle repair shops, kunsthals, and on vacant desert lots. 
Recent solo exhibitions include "Torn Porn" at Gavlak Gallery, Palm Beach, FL, 2011, "The Tract House: A Darwin Addition," APS Museum & Philagrafika2010: Out of Print, Philadelphia, PA; "If Nothing Changes, It Changes Nothing" at Printed Matter, NY, 2008; "Take This Knitting Machine and Shove It" at Nottingham Contemporary, Nottingham, England, 2009, University of Michigan Museum of Art UMMA Projects, 2009; and an exhibition of political campaign sweaters at the Aspen Art Museum in Aspen, Colorado, 2008. Her work was included in the recent group exhibitions "Art and Social Justice, Union Theological Seminary, NY; "Nine Lives: Visionary Artists from Los Angeles" at the Hammer Museum, LA, CA; "Read Me: Text in Art," at the Armory Center in Pasadena, CA; "Words Fail Me" at Museum of Contemporary Art, Detroit; "The Way That We Rhyme" at Yerba Buena Center for the Arts, San Francisco, CA; and her Unicycle Shop was located for the weekend at High Desert Test Sites, Joshua Tree, CA. Her project "The Tract House" occupied a small space in Baltimore as part of the "Cottage Industry" exhibition at the Contemporary Museum in 2008, distributing free tracts on all matter of subjects and viewpoints. 
Her book, Unicycle Shop, a documentation of the artwork of the same name, was published by Onestar Press in Paris in 2007 and Charted Knitting Patterns for Sweaters That Talk Back, was published by Printed Matter in 2008. A catalogue to accompany her solo exhibition at University of Michigan Museum of Art was published in 2010.
She is the recipient of a 2007 California Community Foundation Fellowship for Visual Artists, a 2009 Louis Comfort Tiffany Award, and is represented by Gavlak Gallery in Palm Beach, Florida. She is an Assistant Professor of Art at Pomona College.