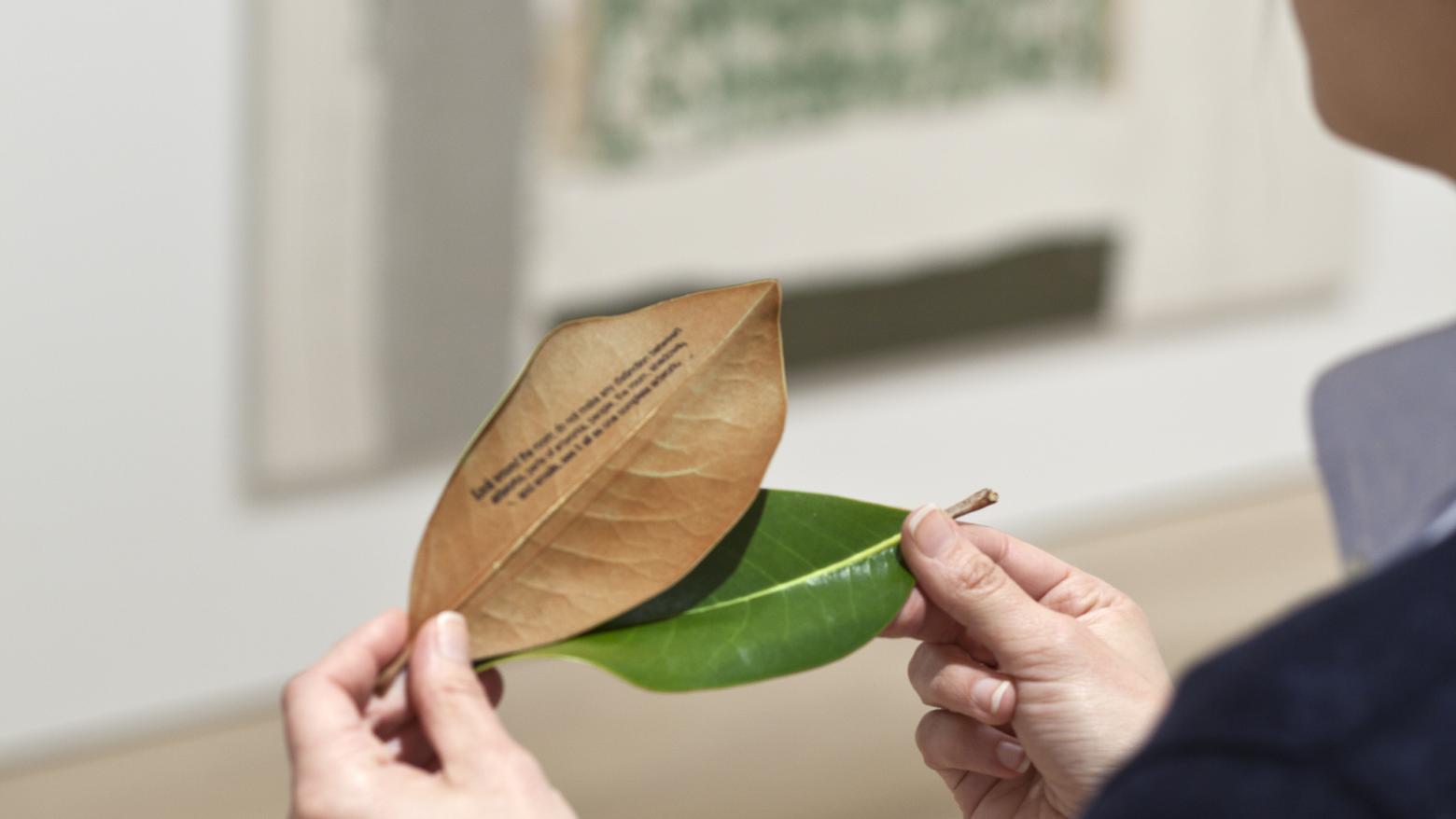 Charles Long inaugurated AIR 2011 with an interpretive piece for All of this and nothing, the Hammer Invitational, January 30 – April 24, 2011. Long encouraged visitors to consider the works in the exhibition in different ways with a series of prompts stamped upon leaves, which visitors may pick up at the exhibition entrance and refer to throughout the show.
Biography
Charles Long. Born 1958, Long Branch, NJ Resides Los Angeles, CA Education B.F.A., University of the Arts, Phila, PA; Whitney Independent Study Program, New York, NY; M.F.A., Yale University, New Haven, CT.
Charles Long is an internationally exhibited artist with over thirty solo shows at such venues as Site Santa Fe, St. Louis Art Museum; Orange County Museum of Art, Newport Beach; Sperone Gallery, Rome; London Projects, UK and Tanya Bonakdar Gallery in NYC. 
He is the recipient of a Guggenheim Fellowship, two NEA Grants, two Pollock-Krasner Grants and a Louis Comfort Tiffany grant. Long has taught at the California Institute of the Arts, Art Center College of Art and Design and Otis College of Art and Design and Harvard University. 
His work has been included in many significant museum exhibitions such as the1997 Biennial, Whitney Museum of American Art New York; Open Ends, The Museum of Modern Art; NYC. Performance Anxiety, MCA, Chicago; Happiness, Mori Art Museum, Tokyo; Arte Contemporáneo Internaciona, Museo de Arte Moderno, Mexico City; ART/MUSIC: rock, pop, and techno Museum of Contemporary Art, Sydney; Almost Warm and Fuzzy, Des Moines Art Center, The Shape of Color: Excursions in Color Field Art, AGO/Art Gallery of Ontario, Canada; Gone Formalism, The Institute of Contemporary Art, Philadelphia, PA; The Uncertainty of Objects and Ideas, Hirshorn Museum, Washington D.C. 
Long's sculptures have explored the abstract autonomous art object as a psychological investigation into the nature self and others and have been made from diverse media such as coffee grounds, rubber and hair from Abraham Lincoln. He has collaborated with pop musicians such as Stereolab, Mark Mothersbaugh of Devo and with the renown choreographer Merce Cunningham. Since his relocation from NYC to LA Long's work has been inspired by the Los Angeles River which runs adjacent to his studio. Each year, after the furious flood season, a verdant and abundant growth of grasses, thickets, and trees emerges from the discarded office furniture, bedsprings, and shopping carts that get washed into the concrete channel providing a providing a dwelling for mallards, osprey, crayfish and heron. Captivated by the river and inspired by its unbiased intermingling of these elements, Long creates photographs, video and sculpture in and about the river and the myriad of imagery and meanings it offers. In 2005 he had a solo museum show at Site Sante Fe, NM where he exhibited these new works. 
Charles Long is represented by Shoshana Wayne Gallery, Santa Monica, CA and the Tanya Bonakdar Gallery, NYC, NY.