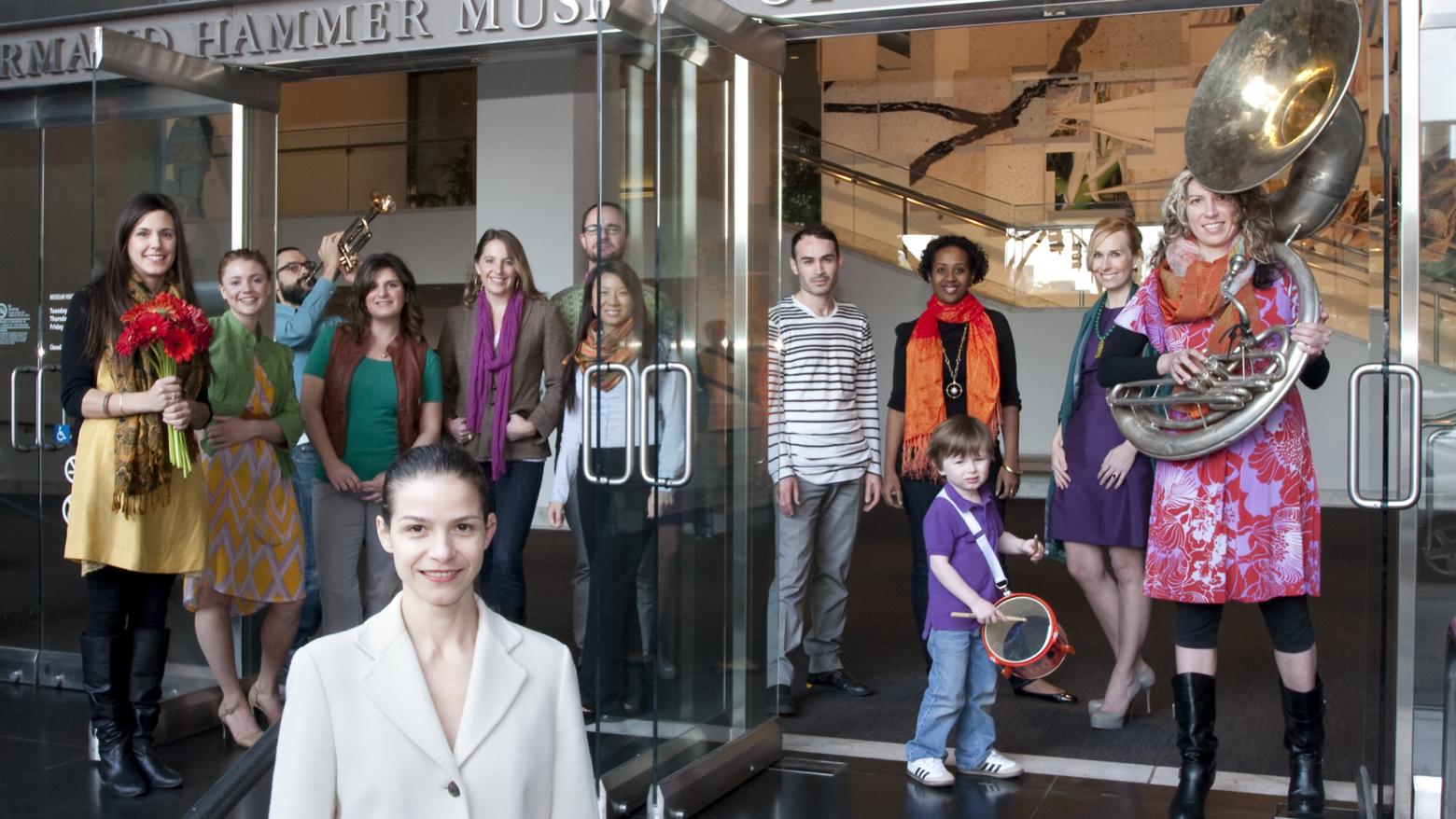 Einstein thought the most important question facing humanity should be, "Is the universe a friendly place?" and Kurt Vonnegut asked that we practice "A little less love, and a little more common decency."  Greeting Committee, by Ana Prvacki, considers these ideas by magnifying and zooming in on the protocols and customs of basic hospitality routines, such as greetings, salutations and welcoming. For her project at the Hammer, visitors were invited to observe or participate in interventions encouraging gestures of welcoming in the Wilshire lobby Thursday, April 7 through Sunday, April 10 from 12-4pm each day.
Biography
Ana Prvacki, (b. 1976, Serbia or Yugoslavia) is an artist based in Los Angeles. Prvacki's work takes the form of diverse projects and enterprises that draw on performance, daily practices, consumer aesthetics and popular concerns. Her installations are often participatory, promoting and/or providing products and services to the audience. Ana Prvacki has participated in numerous exhibitions including Speculative Futures, Sculpture Center at Bloomberg, New York, 2011, Repetition  Island, Centre Pompidou, 2010,  Performing Practice, Isabella Stewart Gardner Museum, Boston, 2010, The Girl Effect, Lombard Freid Projects, New York, 2009, Wandering Band, Castello di Rivoli Museo d'Arte Contemporanea, 2009, the Sydney Biennial, 2008, 25 Years Later: Welcome to Art in General, New York, 2007, the Singapore Biennial, 2006 and Turin Triennale, 2005 among others.
 
On site Ana will work with four etiquette instructors to facilitate social and public aspects of etiquette practices and gestures.
Iris Doyle was trained and certified by the Etiquette & Leadership Institute, the leader in training and certifying etiquette consultants to teach children, teens and collegians. Iris Doyle earned a Bachelor of Science Degree in Management at Pepperdine University.
 
Iris Doyle of Bakersfield, California is a Certified Children's Etiquette Consultant offering classes to ages 8-22 in Children's Etiquette for Today, Dining Skills for Children, Teen Etiquette for Today, Dining Skills For Teens, Professional Business Savvy, Professional Dining Savvy and Employment and You - Preparing for A Job Search.
 
Iris Doyle's mission is to provide contemporary universally-accepted protocol and etiquette training in the highest professional manner.
Lisa Gaché is the foremost etiquette, manners and life skills expert for children from the parenting perspective. The Los Angeles Times named her company, Beverly Hills Manners, the etiquette school to "teach your kids to be polite." 
Lisa's philosophy has always been to teach manners in a fun and entertaining way, with a here's-why-it's-relative-to-you approach, that has proven to be a hit with both kids and their parents. Over the years, BHM has partnered with leading brand names to spread the word – from American Girl Place, Tiffany & Co. and the Montage in Beverly Hills to the famed Hotel Bel-Air and the Four Seasons-Westlake Village.
Lisa's straightforward and doable advice has been featured on CNN, NPR, KTLA and "The Today Show" and in popular publications from USA Today and the New York Post to Woman's Daymagazine. Her contributions to blogs and websites range from the Los Angeles Times, AOL and The Huffington Post to SheKnows.com and MomLogic.com, as well as numerous parenting websites including ParentsAsk, Momversation, New Parent and Buttoned Up. Lisa has been a guest expert on a number of reality shows including "Charm School" on VH1, "Living with Ed" for the Discovery Channel and the soon to be aired "Mrs. Anka's New PA".
Lisa has established herself as the go-to-gal for all things manners in Los Angeles. This hard-earned status led to an opportunity to create a six week pilot etiquette program for the Housing Authority of the City of Los Angeles. In between work engagements, Lisa donates her time providing etiquette instruction to organizations such as Aviva Family and Children's Servicesand countless local schools for their fundraising efforts. She is also a committee member for P.S. Arts, a charitable organization dedicated to providing arts education to underprivileged schools.
 
In the fall of 2009, after almost eight years of working in her field, Lisa furthered her education by enrolling in The Protocol School of Washington, the first and only nationally accredited school to meet the high standards set by the ACCET and the US Department of Education. She received her certification as aCorporate Etiquette and International Protocol Consultant.
 
Lisa is currently writing her debut book—the first fun and humorous parenting guide on manners for kids and teens that will include quizzes, takeaways, celebrity quotes, and useful information presented in a fresh way for modern families.  Her first manners App was released in early 2011 for both the iPhone and the Android.
 
ViKi (Vartouhi) Keshishyan is the founder and owner of Universal Etiquette. Trained and certified by The Protocol School of Washingtonâ, first and only nationally accredited business etiquette and international protocol training school in the USA, and by The Etiquette and Leadership Instituteâ, LLC, which was formed during the merger of Children's Division of The PSOW and Perfectly Polished, Inc, ViKi (Vartouhi) Keshishyan is ready to share her passion for civility and knowledge as an etiquette consultant.
 
Ms. Keshishyan holds degrees in teaching languages and literature. Her passion for teaching etiquette comes in part from her many years of interaction with children as a teacher and tutor and numerous years of experience in the corporate world. Ms. Keshishian worked in the international food industry and as a cultural consultant for various marketing enterprises. Her skills in intercultural communication derive from her years of quality education as well as her extensive multicultural background.
 
Ms. Keshishyan speaks three languages and enjoys applying her formal and informal education in the areas of etiquette and civility.
 
Her Personal Motto is if we are facing in the right direction, all we need to do is keep walking. Universal Etiquette's goal is to serve the needs of its clients by providing expert guidance on matters of business and social etiquette and international protocol.
Mitra Manesh, founder of Rumi Rooms Consulting passionately practices, teaches, and promotes mindfulness living and working. She does this by providing Workplace Wellness Consulting, and teaching mindfulness and meditation. Mitra has more than 20 years of senior level consulting experience, and her clients include multi-national corporations like Hugo Boss, KPMG Consulting, Thomas Cook, Anderson Consulting, Labatt Brewing Company, and the Insurance Bureau of Canada. 
In addition, Mitra has served as a Commissioner for the Human Rights Commission of Ontario, Canada; Managing Partner of a private sector management company in Australia; national on-air freelance journalist for the Canadian Broadcast Corporation, CBC, and Omni TV; and Executive Director of a non-profit organization.
Since 1985 Mitra has been studying and practicing various meditation and mindfulness techniques. She trained at the Maharishi Transcendental Meditation Center in Australia, and received private lessons and teachings from renowned senior Buddhist monk the Venerable Dr. Vivekananda while traveling with him in Asia. She also studied and practiced Tao meditation, and graduated from the Sacred Path Program at the Shambhala Meditation Center of Los Angles. Currently, Mitra is involved in the creation of  the first generation of Certified Mindfulness Facilitators at the UCLA Mindful Awareness Research Center.  Through it all, Mitra has learned, tested, and benefited from many methods and aspects of mindfulness and meditation practices. 
Born in the land of Rumi, and subjected to the same migration experience as the master, Mitra  left her native land, Iran, at a young age to discover, grow and learn . She has lived, worked and studied in North America, Europe, Australia and Asia, and has traveled to more than 57 countries. She grew up with Rumi's poetry as a child, and became a student of Rumi's philosophy as an adult, hence the creation of Rumi Rooms!
Mitra is a recipient of many awards and medals including the prestigious "Golden Jubilee Medal," presented by Queen Elizabeth II in 2003, in recognition of her "outstanding and exemplary contributions" to society.
Daryl Trainor Twerdahl's Southern upbringing was an ideal background for someone who became a certified instructor in etiquette and protocol.
 
She hales from Greasy Corner, Arkansas, where entertaining with style was a real art.  After graduating from the Hutchinson School in Memphis, and Hollins College in Roanoke, Virginia, Daryl received a Masters' Degree in Irish Studies from University College in Dublin, Ireland.
 
With an early career in retail including a stint at Williams Sonoma, the cooking bug bit.  "Growing up, we always had a cook so that I never really appreciated the art and skill of good cooking.  But having many Southern friends who were fine cooks, living in Europe, and enjoying the emerging California cooking scene in the 1970s really gave me an appreciation and love for fine cooking and dining", commented Daryl.
 
Village Catering is a full-service catering company serving clients in the greater Los Angeles area.  The Company specializes in serving groups of 20 to 200 people.  Clients include individual families, corporate clients and major law firms.  "We call it 'catering with a personal touch' because every menu we prepare is tailored to the client and their particular likes and dislikes.  We create sophisticated menus, but for great nostalgic memories we also prepare dishes for our clients from their grandmothers' and great-grandmothers' recipes.  We do formal multi-course meals as well as jambalaya or extra hot chili based on our clients' wishes.  I don't think we have ever repeated a menu from one client to another."
 
Village Catering and the work of Daryl Trainor Twerdahl have been featured in Gourmet, Bon Appetite, L.A. Weekly, L.A. Style, Gault Mileau, Los Angeles' Magazine's "Best of L.A." and most recently in Town and Country.
Daryl has been a teacher and lecturer for schools, clubs, commercial firms and for the Young Presidents' Organization.  She is also a graduate of the Washington School of Protocol and founder of The Los Angeles School of Etiquette and Protocol, a firm specializing in training children, students, business executives and others in contemporary, practical etiquette and protocol. She has been featured on The Today Show with Matt Lauer. In May, 2009, Daryl was named as one of the "Women who Make a Difference" in Los Angeles by the Los Angeles Business Journal.